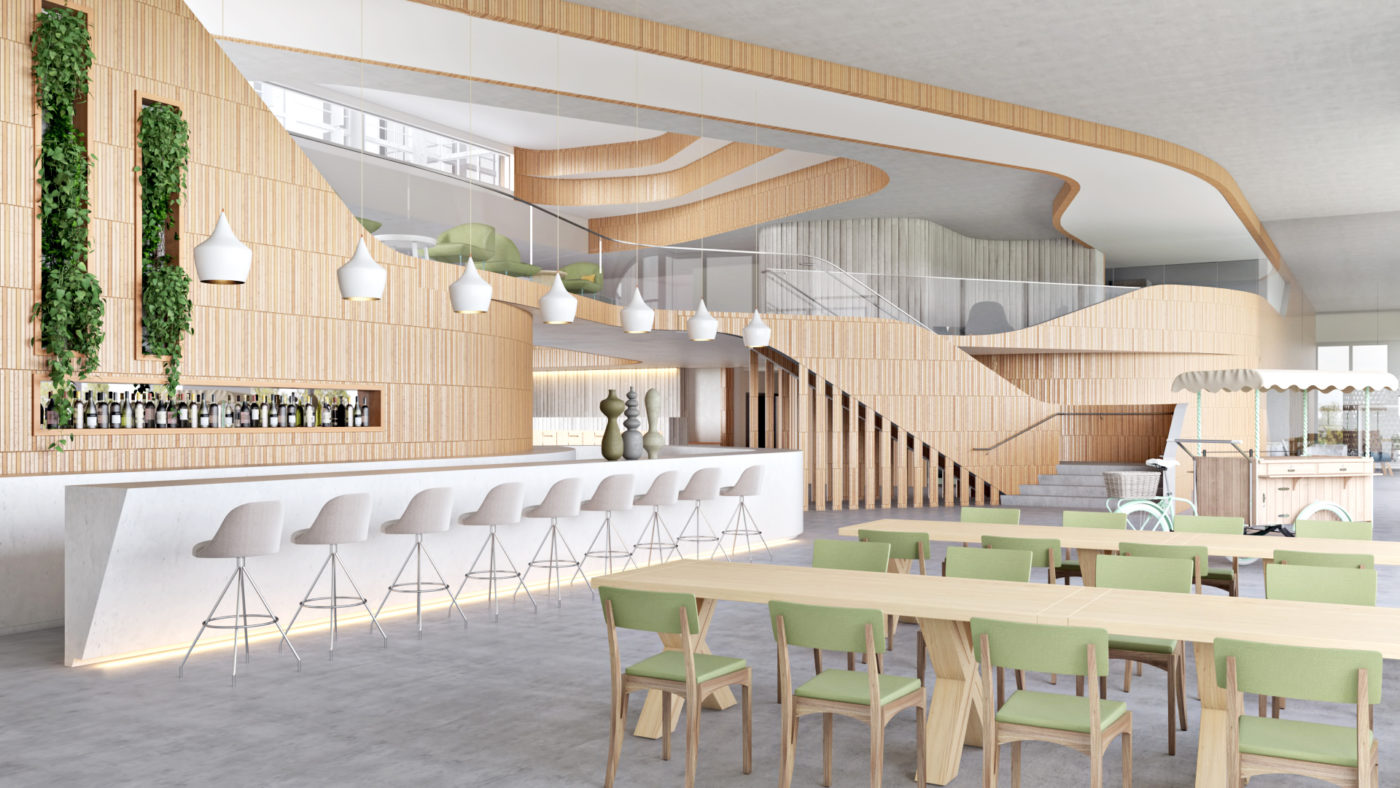 Arrowstreet is the interior architectural designer for this new 326-unit residential community located at Yards West in Washington DC. The design concept is inspired by the Danish word "Hygge" defined as the art of building sanctuary and community and paying attention to what makes us feel open-hearted and alive.
You are welcomed to Vela by an integrated coffee and wine bar that opens to an interior fireplaced courtyard. The layout of the building wraps around this central space, creating a connection to nature and feeling of warmth throughout. Scandinavian furniture, lighting, and accessories provide a comfortable sanctuary from a long day. Diverse coworking solutions provide a relaxing yet connected place to work from home. A feature fitness stair leading up to an outdoor green roof is prominently located in the lobby encouraging an active and healthy lifestyle. Materials and products used in the design were evaluated and thoughtfully selected to contribute to this sustainable and healthy living experience.
The "Hygge" lifestyle brand extends into the residences with unique Scandinavian furniture and accessory selections throughout providing a warm, calming, and relaxing interior environment. Subtle shades of neutrals, woven textiles, and European linens are layered and placed for a soft and cozy living space. One-of-a-kind pottery, weavings, and artwork add a personal touch to welcome residents home.
Project Details
LOCATION
WASHINGTON, DC
CLIENT/OWNER
SIZE
300,000 SF
Team
Related News
Interior Design Process
Array ( [0] => Array ( [ID] => 33266 [id] => 33266 [title] => Arrowstreet_Rowan_HyggeBoard1 [filename] => Arrowstreet_Rowan_HyggeBoard1.jpg [filesize] => 512461 [url] => https://cdn.arrowstreet.com/wp-content/uploads/2020/02/19213939/Arrowstreet_Rowan_HyggeBoard1.jpg [link] => https://www.arrowstreet.com/portfolio/rowan/arrowstreet_rowan_hyggeboard1/ [alt] => [author] => 134 [description] => [caption] => [name] => arrowstreet_rowan_hyggeboard1 [status] => inherit [uploaded_to] => 33003 [date] => 2020-03-12 15:10:33 [modified] => 2020-03-12 15:10:33 [menu_order] => 0 [mime_type] => image/jpeg [type] => image [subtype] => jpeg [icon] => https://www.arrowstreet.com/wp-includes/images/media/default.png [width] => 1801 [height] => 1200 [sizes] => Array ( [thumbnail] => https://cdn.arrowstreet.com/wp-content/uploads/2020/02/19213939/Arrowstreet_Rowan_HyggeBoard1-500x337.jpg [thumbnail-width] => 500 [thumbnail-height] => 337 [medium] => https://cdn.arrowstreet.com/wp-content/uploads/2020/02/19213939/Arrowstreet_Rowan_HyggeBoard1-900x600.jpg [medium-width] => 900 [medium-height] => 600 [medium_large] => https://cdn.arrowstreet.com/wp-content/uploads/2020/02/19213939/Arrowstreet_Rowan_HyggeBoard1-768x512.jpg [medium_large-width] => 768 [medium_large-height] => 512 [large] => https://cdn.arrowstreet.com/wp-content/uploads/2020/02/19213939/Arrowstreet_Rowan_HyggeBoard1-1400x933.jpg [large-width] => 1140 [large-height] => 760 [1536x1536] => https://cdn.arrowstreet.com/wp-content/uploads/2020/02/19213939/Arrowstreet_Rowan_HyggeBoard1-1536x1023.jpg [1536x1536-width] => 1536 [1536x1536-height] => 1023 [2048x2048] => https://cdn.arrowstreet.com/wp-content/uploads/2020/02/19213939/Arrowstreet_Rowan_HyggeBoard1.jpg [2048x2048-width] => 1801 [2048x2048-height] => 1200 ) ) [1] => Array ( [ID] => 33267 [id] => 33267 [title] => Arrowstreet_Rowan_HyggeBoard2 [filename] => Arrowstreet_Rowan_HyggeBoard2.jpg [filesize] => 518327 [url] => https://cdn.arrowstreet.com/wp-content/uploads/2020/02/19213938/Arrowstreet_Rowan_HyggeBoard2.jpg [link] => https://www.arrowstreet.com/portfolio/rowan/arrowstreet_rowan_hyggeboard2/ [alt] => [author] => 134 [description] => [caption] => [name] => arrowstreet_rowan_hyggeboard2 [status] => inherit [uploaded_to] => 33003 [date] => 2020-03-12 15:10:36 [modified] => 2020-03-12 15:10:36 [menu_order] => 0 [mime_type] => image/jpeg [type] => image [subtype] => jpeg [icon] => https://www.arrowstreet.com/wp-includes/images/media/default.png [width] => 1801 [height] => 1200 [sizes] => Array ( [thumbnail] => https://cdn.arrowstreet.com/wp-content/uploads/2020/02/19213938/Arrowstreet_Rowan_HyggeBoard2-500x337.jpg [thumbnail-width] => 500 [thumbnail-height] => 337 [medium] => https://cdn.arrowstreet.com/wp-content/uploads/2020/02/19213938/Arrowstreet_Rowan_HyggeBoard2-900x600.jpg [medium-width] => 900 [medium-height] => 600 [medium_large] => https://cdn.arrowstreet.com/wp-content/uploads/2020/02/19213938/Arrowstreet_Rowan_HyggeBoard2-768x512.jpg [medium_large-width] => 768 [medium_large-height] => 512 [large] => https://cdn.arrowstreet.com/wp-content/uploads/2020/02/19213938/Arrowstreet_Rowan_HyggeBoard2-1400x933.jpg [large-width] => 1140 [large-height] => 760 [1536x1536] => https://cdn.arrowstreet.com/wp-content/uploads/2020/02/19213938/Arrowstreet_Rowan_HyggeBoard2-1536x1023.jpg [1536x1536-width] => 1536 [1536x1536-height] => 1023 [2048x2048] => https://cdn.arrowstreet.com/wp-content/uploads/2020/02/19213938/Arrowstreet_Rowan_HyggeBoard2.jpg [2048x2048-width] => 1801 [2048x2048-height] => 1200 ) ) [2] => Array ( [ID] => 33265 [id] => 33265 [title] => Arrowstreet_Rowan_HyggeBoard3 [filename] => Arrowstreet_Rowan_HyggeBoard3.jpg [filesize] => 552758 [url] => https://cdn.arrowstreet.com/wp-content/uploads/2020/02/19213940/Arrowstreet_Rowan_HyggeBoard3.jpg [link] => https://www.arrowstreet.com/portfolio/rowan/arrowstreet_rowan_hyggeboard3/ [alt] => [author] => 134 [description] => [caption] => [name] => arrowstreet_rowan_hyggeboard3 [status] => inherit [uploaded_to] => 33003 [date] => 2020-03-12 15:10:31 [modified] => 2020-03-12 15:10:42 [menu_order] => 0 [mime_type] => image/jpeg [type] => image [subtype] => jpeg [icon] => https://www.arrowstreet.com/wp-includes/images/media/default.png [width] => 1801 [height] => 1200 [sizes] => Array ( [thumbnail] => https://cdn.arrowstreet.com/wp-content/uploads/2020/02/19213940/Arrowstreet_Rowan_HyggeBoard3-500x337.jpg [thumbnail-width] => 500 [thumbnail-height] => 337 [medium] => https://cdn.arrowstreet.com/wp-content/uploads/2020/02/19213940/Arrowstreet_Rowan_HyggeBoard3-900x600.jpg [medium-width] => 900 [medium-height] => 600 [medium_large] => https://cdn.arrowstreet.com/wp-content/uploads/2020/02/19213940/Arrowstreet_Rowan_HyggeBoard3-768x512.jpg [medium_large-width] => 768 [medium_large-height] => 512 [large] => https://cdn.arrowstreet.com/wp-content/uploads/2020/02/19213940/Arrowstreet_Rowan_HyggeBoard3-1400x933.jpg [large-width] => 1140 [large-height] => 760 [1536x1536] => https://cdn.arrowstreet.com/wp-content/uploads/2020/02/19213940/Arrowstreet_Rowan_HyggeBoard3-1536x1023.jpg [1536x1536-width] => 1536 [1536x1536-height] => 1023 [2048x2048] => https://cdn.arrowstreet.com/wp-content/uploads/2020/02/19213940/Arrowstreet_Rowan_HyggeBoard3.jpg [2048x2048-width] => 1801 [2048x2048-height] => 1200 ) ) )