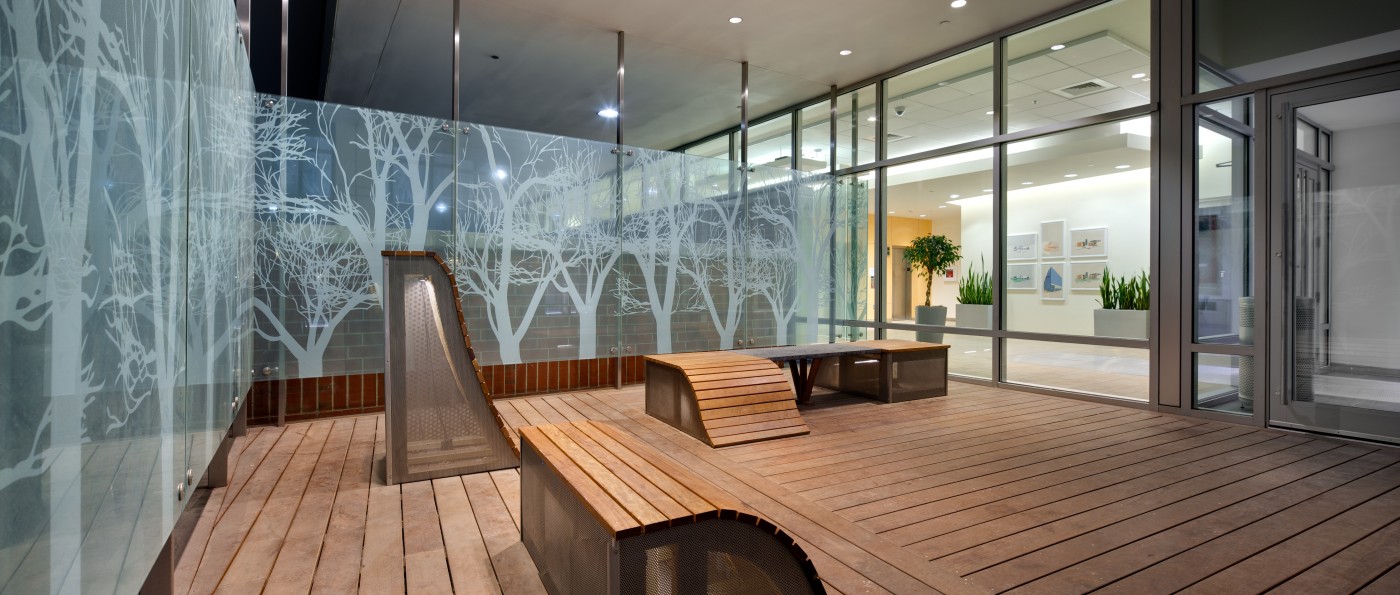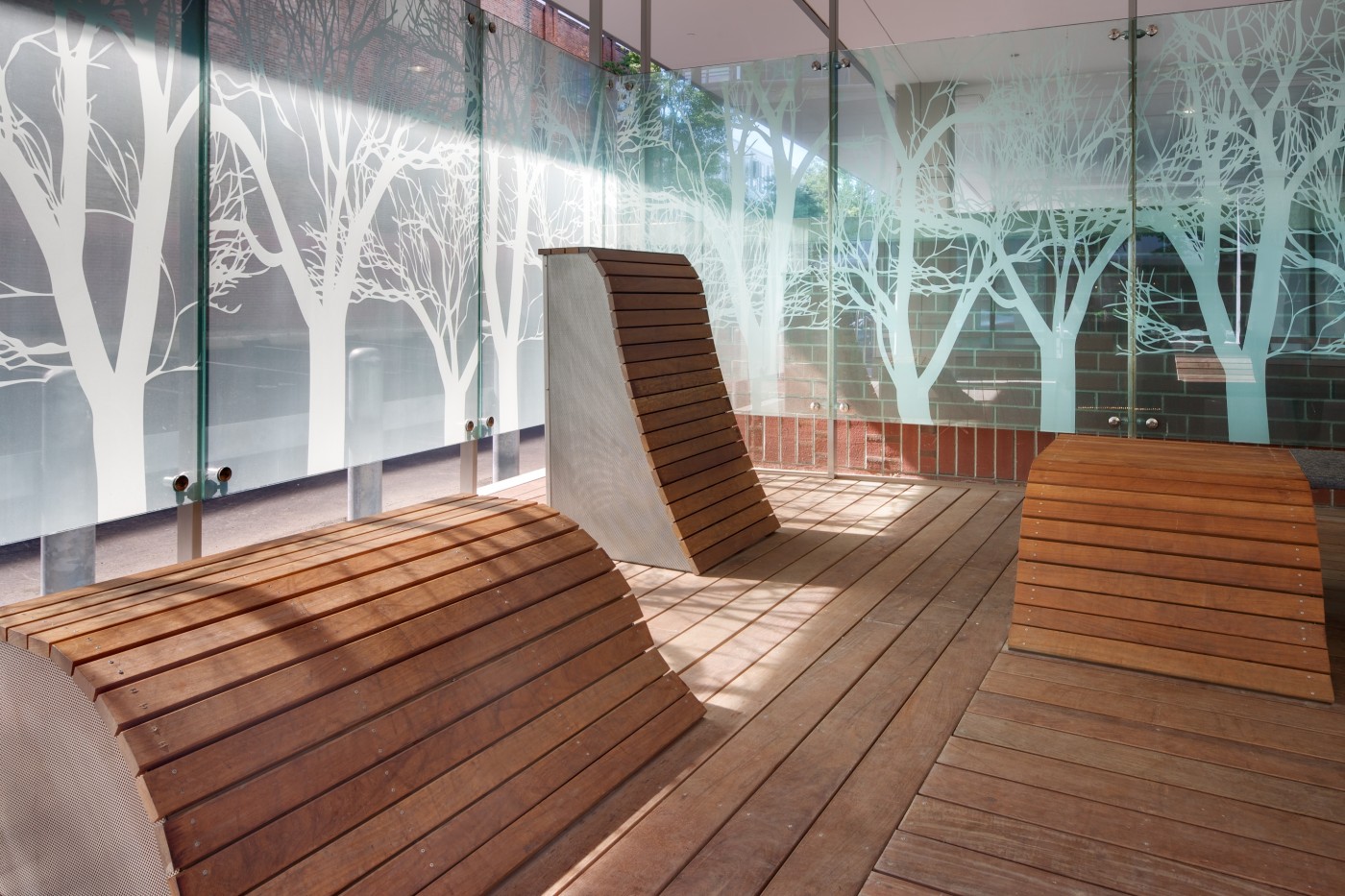 Arrowstreet assisted with the repositioning of this four-story building for office and light lab uses. Renovations to public spaces and amenities included the exterior façade and lobby area. An updated streetscape added bike racks and a glass-paneled courtyard to the structure, part of a campus of three buildings recently acquired by BioMed Realty Trust. These renovations have imparted a new identity and will attract high-tech tenants into the Kendall Square life sciences marketplace.
Project Details
location
Cambridge, MA
client/owner
BioMed Realty Trust,Inc.
Size
65,000 SF
categories
Office/Lab
Team
Quote
"We've enjoyed the support and positive reactions from people in the building, the neighbors, and the city. It's fun projects like this that get people excited and make designers feel good about what we do."
– Mike Conlan, Arrowstreet
Photos by Ed Wonsek ArtWorks Inc.
Architectural Plans / Process
Array ( [0] => Array ( [ID] => 14312 [id] => 14312 [title] => 2_Cambridge_TreeGraphic [filename] => 2_Cambridge_TreeGraphic.jpg [filesize] => 183519 [url] => https://cdn.arrowstreet.com/wp-content/uploads/2015/03/19223441/2_Cambridge_TreeGraphic.jpg [link] => https://www.arrowstreet.com/portfolio/2-cambridge-place/2_cambridge_treegraphic/ [alt] => [author] => 147 [description] => [caption] => [name] => 2_cambridge_treegraphic [status] => inherit [uploaded_to] => 12998 [date] => 2015-03-18 13:17:53 [modified] => 2015-03-18 13:17:53 [menu_order] => 0 [mime_type] => image/jpeg [type] => image [subtype] => jpeg [icon] => https://www.arrowstreet.com/wp-includes/images/media/default.png [width] => 641 [height] => 271 [sizes] => Array ( [thumbnail] => https://cdn.arrowstreet.com/wp-content/uploads/2015/03/19223441/2_Cambridge_TreeGraphic-500x271.jpg [thumbnail-width] => 500 [thumbnail-height] => 271 [medium] => https://cdn.arrowstreet.com/wp-content/uploads/2015/03/19223441/2_Cambridge_TreeGraphic.jpg [medium-width] => 641 [medium-height] => 271 [medium_large] => https://cdn.arrowstreet.com/wp-content/uploads/2015/03/19223441/2_Cambridge_TreeGraphic.jpg [medium_large-width] => 641 [medium_large-height] => 271 [large] => https://cdn.arrowstreet.com/wp-content/uploads/2015/03/19223441/2_Cambridge_TreeGraphic.jpg [large-width] => 641 [large-height] => 271 [1536x1536] => https://cdn.arrowstreet.com/wp-content/uploads/2015/03/19223441/2_Cambridge_TreeGraphic.jpg [1536x1536-width] => 641 [1536x1536-height] => 271 [2048x2048] => https://cdn.arrowstreet.com/wp-content/uploads/2015/03/19223441/2_Cambridge_TreeGraphic.jpg [2048x2048-width] => 641 [2048x2048-height] => 271 ) ) [1] => Array ( [ID] => 14310 [id] => 14310 [title] => 2_Cambridge_Entry_Concept [filename] => 2_Cambridge_Entry_Concept.jpg [filesize] => 132207 [url] => https://cdn.arrowstreet.com/wp-content/uploads/2015/03/19223442/2_Cambridge_Entry_Concept.jpg [link] => https://www.arrowstreet.com/portfolio/2-cambridge-place/2_cambridge_entry_concept/ [alt] => [author] => 147 [description] => [caption] => [name] => 2_cambridge_entry_concept [status] => inherit [uploaded_to] => 12998 [date] => 2015-03-18 13:17:52 [modified] => 2015-03-18 13:17:52 [menu_order] => 0 [mime_type] => image/jpeg [type] => image [subtype] => jpeg [icon] => https://www.arrowstreet.com/wp-includes/images/media/default.png [width] => 649 [height] => 358 [sizes] => Array ( [thumbnail] => https://cdn.arrowstreet.com/wp-content/uploads/2015/03/19223442/2_Cambridge_Entry_Concept-500x337.jpg [thumbnail-width] => 500 [thumbnail-height] => 337 [medium] => https://cdn.arrowstreet.com/wp-content/uploads/2015/03/19223442/2_Cambridge_Entry_Concept.jpg [medium-width] => 649 [medium-height] => 358 [medium_large] => https://cdn.arrowstreet.com/wp-content/uploads/2015/03/19223442/2_Cambridge_Entry_Concept.jpg [medium_large-width] => 649 [medium_large-height] => 358 [large] => https://cdn.arrowstreet.com/wp-content/uploads/2015/03/19223442/2_Cambridge_Entry_Concept.jpg [large-width] => 649 [large-height] => 358 [1536x1536] => https://cdn.arrowstreet.com/wp-content/uploads/2015/03/19223442/2_Cambridge_Entry_Concept.jpg [1536x1536-width] => 649 [1536x1536-height] => 358 [2048x2048] => https://cdn.arrowstreet.com/wp-content/uploads/2015/03/19223442/2_Cambridge_Entry_Concept.jpg [2048x2048-width] => 649 [2048x2048-height] => 358 ) ) [2] => Array ( [ID] => 14304 [id] => 14304 [title] => 2_Cambridge_Elevation [filename] => 2_Cambridge_Elevation.jpg [filesize] => 416074 [url] => https://cdn.arrowstreet.com/wp-content/uploads/2015/03/19223442/2_Cambridge_Elevation.jpg [link] => https://www.arrowstreet.com/portfolio/2-cambridge-place/2_cambridge_elevation/ [alt] => [author] => 147 [description] => [caption] => [name] => 2_cambridge_elevation [status] => inherit [uploaded_to] => 12998 [date] => 2015-03-18 13:10:38 [modified] => 2015-03-18 13:10:38 [menu_order] => 0 [mime_type] => image/jpeg [type] => image [subtype] => jpeg [icon] => https://www.arrowstreet.com/wp-includes/images/media/default.png [width] => 1574 [height] => 584 [sizes] => Array ( [thumbnail] => https://cdn.arrowstreet.com/wp-content/uploads/2015/03/19223442/2_Cambridge_Elevation-500x337.jpg [thumbnail-width] => 500 [thumbnail-height] => 337 [medium] => https://cdn.arrowstreet.com/wp-content/uploads/2015/03/19223442/2_Cambridge_Elevation-900x334.jpg [medium-width] => 900 [medium-height] => 334 [medium_large] => https://cdn.arrowstreet.com/wp-content/uploads/2015/03/19223442/2_Cambridge_Elevation.jpg [medium_large-width] => 768 [medium_large-height] => 285 [large] => https://cdn.arrowstreet.com/wp-content/uploads/2015/03/19223442/2_Cambridge_Elevation-1400x519.jpg [large-width] => 1140 [large-height] => 423 [1536x1536] => https://cdn.arrowstreet.com/wp-content/uploads/2015/03/19223442/2_Cambridge_Elevation.jpg [1536x1536-width] => 1536 [1536x1536-height] => 570 [2048x2048] => https://cdn.arrowstreet.com/wp-content/uploads/2015/03/19223442/2_Cambridge_Elevation.jpg [2048x2048-width] => 1574 [2048x2048-height] => 584 ) ) [3] => Array ( [ID] => 14317 [id] => 14317 [title] => 210BroadwayExterior3a [filename] => 210BroadwayExterior3a.jpg [filesize] => 3392099 [url] => https://cdn.arrowstreet.com/wp-content/uploads/2015/03/19223441/210BroadwayExterior3a.jpg [link] => https://www.arrowstreet.com/portfolio/2-cambridge-place/210broadwayexterior3a/ [alt] => [author] => 147 [description] => [caption] => [name] => 210broadwayexterior3a [status] => inherit [uploaded_to] => 12998 [date] => 2015-03-18 13:21:59 [modified] => 2015-03-18 13:21:59 [menu_order] => 0 [mime_type] => image/jpeg [type] => image [subtype] => jpeg [icon] => https://www.arrowstreet.com/wp-includes/images/media/default.png [width] => 2444 [height] => 1793 [sizes] => Array ( [thumbnail] => https://cdn.arrowstreet.com/wp-content/uploads/2015/03/19223441/210BroadwayExterior3a-500x337.jpg [thumbnail-width] => 500 [thumbnail-height] => 337 [medium] => https://cdn.arrowstreet.com/wp-content/uploads/2015/03/19223441/210BroadwayExterior3a-900x660.jpg [medium-width] => 900 [medium-height] => 660 [medium_large] => https://cdn.arrowstreet.com/wp-content/uploads/2015/03/19223441/210BroadwayExterior3a.jpg [medium_large-width] => 768 [medium_large-height] => 563 [large] => https://cdn.arrowstreet.com/wp-content/uploads/2015/03/19223441/210BroadwayExterior3a-1400x1027.jpg [large-width] => 1140 [large-height] => 836 [1536x1536] => https://cdn.arrowstreet.com/wp-content/uploads/2015/03/19223441/210BroadwayExterior3a.jpg [1536x1536-width] => 1536 [1536x1536-height] => 1127 [2048x2048] => https://cdn.arrowstreet.com/wp-content/uploads/2015/03/19223441/210BroadwayExterior3a.jpg [2048x2048-width] => 2048 [2048x2048-height] => 1502 ) ) )