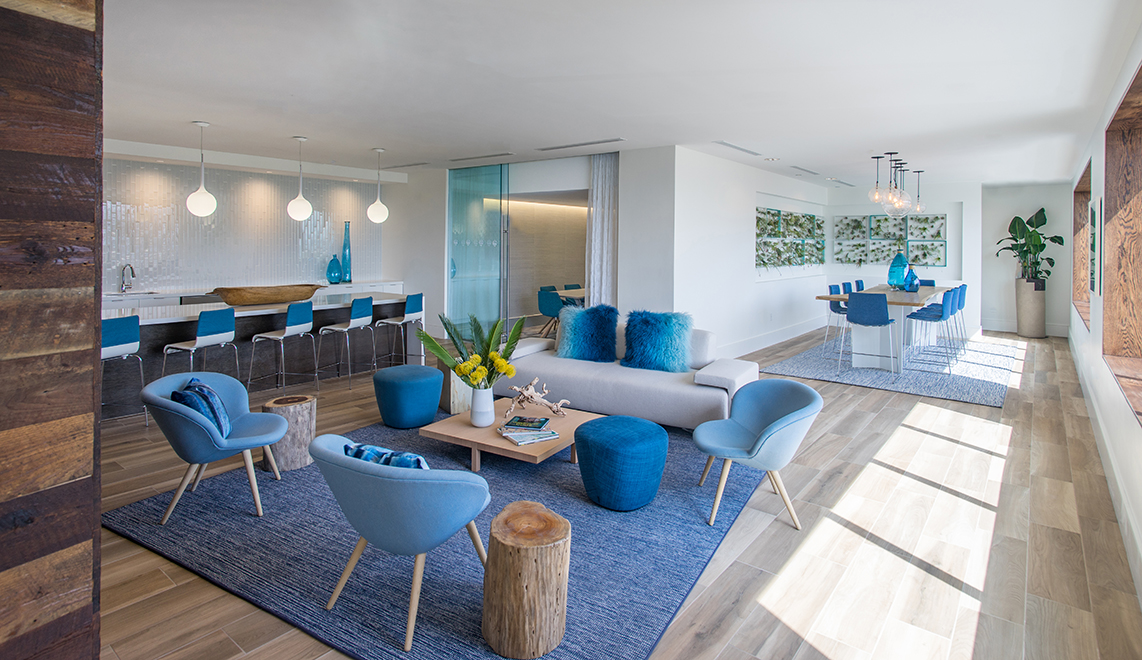 Arrowstreet's interior design group worked in sync with the architectural team to create interior spaces that complimented the vision for this new 230 unit residential development on Revere Beach in Massachusetts. The interior design embraces the lively beach lifestyle of Revere Beach, using colors, tones, and textures of the ocean to create a sophisticated coastal living experience.
The amenity spaces offer a variety of choices for the tenants to relax, play, and entertain, including: a private dining area, ocean view community gathering space, and gym. Several reclaimed wood fireplace seating areas with hues and textures of blues and greens create a soothing, beach-side experience for tenants and their guests.
As you enter the resident corridors, nostalgic images of historic Revere Beach provide an element of whimsy, and create distinct neighborhoods. The interior of the spacious, sun-filled units are bright, and the soothing ocean colors and driftwood tones reflect the view outside.
The design is extended to the outdoor living spaces, with beautiful patios, pool, and deck areas that include barbecues and a variety of outdoor seating options. The rooftop deck provides an oasis for sun lovers and ocean watchers with quiet, comfortable seating areas ideal for relaxing and enjoying Oceanside living.
Project Details
LOCATION
REVERE, MA
CLIENT/OWNER
UPTON + PARTNERS
Quote
"Living at 650 ocean ave is the most pure form of tranquility. From the sun rise waking you up, to the stress free day to day living, someone is always there to help and you truly feel like you're on a vacation everyday."
– Ocean 650 Resident
Photos by Eric Roth Photography, Anthony Crisafulli Photography
Interior Design Process
Array ( [0] => Array ( [ID] => 24613 [id] => 24613 [title] => 650 Ocean-Page2 [filename] => 650-Ocean-Page2.jpg [filesize] => 139698 [url] => https://cdn.arrowstreet.com/wp-content/uploads/2016/02/19221119/650-Ocean-Page2.jpg [link] => https://www.arrowstreet.com/portfolio/650-ocean-avenue-interiors/650-ocean-page2/ [alt] => [author] => 43 [description] => [caption] => [name] => 650-ocean-page2 [status] => inherit [uploaded_to] => 19810 [date] => 2017-01-09 21:38:32 [modified] => 2017-01-09 21:38:44 [menu_order] => 0 [mime_type] => image/jpeg [type] => image [subtype] => jpeg [icon] => https://www.arrowstreet.com/wp-includes/images/media/default.png [width] => 1224 [height] => 792 [sizes] => Array ( [thumbnail] => https://cdn.arrowstreet.com/wp-content/uploads/2016/02/19221119/650-Ocean-Page2-500x337.jpg [thumbnail-width] => 500 [thumbnail-height] => 337 [medium] => https://cdn.arrowstreet.com/wp-content/uploads/2016/02/19221119/650-Ocean-Page2-900x582.jpg [medium-width] => 900 [medium-height] => 582 [medium_large] => https://cdn.arrowstreet.com/wp-content/uploads/2016/02/19221119/650-Ocean-Page2-768x497.jpg [medium_large-width] => 768 [medium_large-height] => 497 [large] => https://cdn.arrowstreet.com/wp-content/uploads/2016/02/19221119/650-Ocean-Page2.jpg [large-width] => 1140 [large-height] => 738 [1536x1536] => https://cdn.arrowstreet.com/wp-content/uploads/2016/02/19221119/650-Ocean-Page2.jpg [1536x1536-width] => 1224 [1536x1536-height] => 792 [2048x2048] => https://cdn.arrowstreet.com/wp-content/uploads/2016/02/19221119/650-Ocean-Page2.jpg [2048x2048-width] => 1224 [2048x2048-height] => 792 ) ) [1] => Array ( [ID] => 24617 [id] => 24617 [title] => 650 Ocean-Page [filename] => 650-Ocean-Page.jpg [filesize] => 137694 [url] => https://cdn.arrowstreet.com/wp-content/uploads/2016/02/19221117/650-Ocean-Page.jpg [link] => https://www.arrowstreet.com/portfolio/650-ocean-avenue-interiors/650-ocean-page/ [alt] => [author] => 43 [description] => [caption] => [name] => 650-ocean-page [status] => inherit [uploaded_to] => 19810 [date] => 2017-01-09 21:38:41 [modified] => 2017-01-09 21:38:41 [menu_order] => 0 [mime_type] => image/jpeg [type] => image [subtype] => jpeg [icon] => https://www.arrowstreet.com/wp-includes/images/media/default.png [width] => 1224 [height] => 792 [sizes] => Array ( [thumbnail] => https://cdn.arrowstreet.com/wp-content/uploads/2016/02/19221117/650-Ocean-Page-500x337.jpg [thumbnail-width] => 500 [thumbnail-height] => 337 [medium] => https://cdn.arrowstreet.com/wp-content/uploads/2016/02/19221117/650-Ocean-Page-900x582.jpg [medium-width] => 900 [medium-height] => 582 [medium_large] => https://cdn.arrowstreet.com/wp-content/uploads/2016/02/19221117/650-Ocean-Page-768x497.jpg [medium_large-width] => 768 [medium_large-height] => 497 [large] => https://cdn.arrowstreet.com/wp-content/uploads/2016/02/19221117/650-Ocean-Page.jpg [large-width] => 1140 [large-height] => 738 [1536x1536] => https://cdn.arrowstreet.com/wp-content/uploads/2016/02/19221117/650-Ocean-Page.jpg [1536x1536-width] => 1224 [1536x1536-height] => 792 [2048x2048] => https://cdn.arrowstreet.com/wp-content/uploads/2016/02/19221117/650-Ocean-Page.jpg [2048x2048-width] => 1224 [2048x2048-height] => 792 ) ) [2] => Array ( [ID] => 24615 [id] => 24615 [title] => 650 Ocean-Page4 [filename] => 650-Ocean-Page4.jpg [filesize] => 130439 [url] => https://cdn.arrowstreet.com/wp-content/uploads/2016/02/19221118/650-Ocean-Page4.jpg [link] => https://www.arrowstreet.com/portfolio/650-ocean-avenue-interiors/650-ocean-page4/ [alt] => [author] => 43 [description] => [caption] => [name] => 650-ocean-page4 [status] => inherit [uploaded_to] => 19810 [date] => 2017-01-09 21:38:34 [modified] => 2017-01-09 21:38:34 [menu_order] => 0 [mime_type] => image/jpeg [type] => image [subtype] => jpeg [icon] => https://www.arrowstreet.com/wp-includes/images/media/default.png [width] => 1224 [height] => 792 [sizes] => Array ( [thumbnail] => https://cdn.arrowstreet.com/wp-content/uploads/2016/02/19221118/650-Ocean-Page4-500x337.jpg [thumbnail-width] => 500 [thumbnail-height] => 337 [medium] => https://cdn.arrowstreet.com/wp-content/uploads/2016/02/19221118/650-Ocean-Page4-900x582.jpg [medium-width] => 900 [medium-height] => 582 [medium_large] => https://cdn.arrowstreet.com/wp-content/uploads/2016/02/19221118/650-Ocean-Page4-768x497.jpg [medium_large-width] => 768 [medium_large-height] => 497 [large] => https://cdn.arrowstreet.com/wp-content/uploads/2016/02/19221118/650-Ocean-Page4.jpg [large-width] => 1140 [large-height] => 738 [1536x1536] => https://cdn.arrowstreet.com/wp-content/uploads/2016/02/19221118/650-Ocean-Page4.jpg [1536x1536-width] => 1224 [1536x1536-height] => 792 [2048x2048] => https://cdn.arrowstreet.com/wp-content/uploads/2016/02/19221118/650-Ocean-Page4.jpg [2048x2048-width] => 1224 [2048x2048-height] => 792 ) ) [3] => Array ( [ID] => 24614 [id] => 24614 [title] => 650 Ocean-Page3 [filename] => 650-Ocean-Page3.jpg [filesize] => 121201 [url] => https://cdn.arrowstreet.com/wp-content/uploads/2016/02/19221119/650-Ocean-Page3.jpg [link] => https://www.arrowstreet.com/portfolio/650-ocean-avenue-interiors/650-ocean-page3/ [alt] => [author] => 43 [description] => [caption] => [name] => 650-ocean-page3 [status] => inherit [uploaded_to] => 19810 [date] => 2017-01-09 21:38:33 [modified] => 2017-01-09 21:38:33 [menu_order] => 0 [mime_type] => image/jpeg [type] => image [subtype] => jpeg [icon] => https://www.arrowstreet.com/wp-includes/images/media/default.png [width] => 1224 [height] => 792 [sizes] => Array ( [thumbnail] => https://cdn.arrowstreet.com/wp-content/uploads/2016/02/19221119/650-Ocean-Page3-500x337.jpg [thumbnail-width] => 500 [thumbnail-height] => 337 [medium] => https://cdn.arrowstreet.com/wp-content/uploads/2016/02/19221119/650-Ocean-Page3-900x582.jpg [medium-width] => 900 [medium-height] => 582 [medium_large] => https://cdn.arrowstreet.com/wp-content/uploads/2016/02/19221119/650-Ocean-Page3-768x497.jpg [medium_large-width] => 768 [medium_large-height] => 497 [large] => https://cdn.arrowstreet.com/wp-content/uploads/2016/02/19221119/650-Ocean-Page3.jpg [large-width] => 1140 [large-height] => 738 [1536x1536] => https://cdn.arrowstreet.com/wp-content/uploads/2016/02/19221119/650-Ocean-Page3.jpg [1536x1536-width] => 1224 [1536x1536-height] => 792 [2048x2048] => https://cdn.arrowstreet.com/wp-content/uploads/2016/02/19221119/650-Ocean-Page3.jpg [2048x2048-width] => 1224 [2048x2048-height] => 792 ) ) [4] => Array ( [ID] => 25027 [id] => 25027 [title] => COLORED FLOOR PLAN dark blue wood floor [filename] => COLORED-FLOOR-PLAN-dark-blue-wood-floor.jpg [filesize] => 331674 [url] => https://cdn.arrowstreet.com/wp-content/uploads/2016/02/19220955/COLORED-FLOOR-PLAN-dark-blue-wood-floor.jpg [link] => https://www.arrowstreet.com/portfolio/650-ocean-avenue-interiors/colored-floor-plan-dark-blue-wood-floor/ [alt] => [author] => 43 [description] => [caption] => [name] => colored-floor-plan-dark-blue-wood-floor [status] => inherit [uploaded_to] => 19810 [date] => 2017-02-01 14:28:03 [modified] => 2017-02-01 14:28:16 [menu_order] => 0 [mime_type] => image/jpeg [type] => image [subtype] => jpeg [icon] => https://www.arrowstreet.com/wp-includes/images/media/default.png [width] => 1224 [height] => 792 [sizes] => Array ( [thumbnail] => https://cdn.arrowstreet.com/wp-content/uploads/2016/02/19220955/COLORED-FLOOR-PLAN-dark-blue-wood-floor-500x337.jpg [thumbnail-width] => 500 [thumbnail-height] => 337 [medium] => https://cdn.arrowstreet.com/wp-content/uploads/2016/02/19220955/COLORED-FLOOR-PLAN-dark-blue-wood-floor-900x582.jpg [medium-width] => 900 [medium-height] => 582 [medium_large] => https://cdn.arrowstreet.com/wp-content/uploads/2016/02/19220955/COLORED-FLOOR-PLAN-dark-blue-wood-floor-768x497.jpg [medium_large-width] => 768 [medium_large-height] => 497 [large] => https://cdn.arrowstreet.com/wp-content/uploads/2016/02/19220955/COLORED-FLOOR-PLAN-dark-blue-wood-floor.jpg [large-width] => 1140 [large-height] => 738 [1536x1536] => https://cdn.arrowstreet.com/wp-content/uploads/2016/02/19220955/COLORED-FLOOR-PLAN-dark-blue-wood-floor.jpg [1536x1536-width] => 1224 [1536x1536-height] => 792 [2048x2048] => https://cdn.arrowstreet.com/wp-content/uploads/2016/02/19220955/COLORED-FLOOR-PLAN-dark-blue-wood-floor.jpg [2048x2048-width] => 1224 [2048x2048-height] => 792 ) ) [5] => Array ( [ID] => 26282 [id] => 26282 [title] => Final_Lobby Interior_C03 [filename] => Final_Lobby-Interior_C03-1.jpg [filesize] => 2278179 [url] => https://cdn.arrowstreet.com/wp-content/uploads/2016/02/19220614/Final_Lobby-Interior_C03-1.jpg [link] => https://www.arrowstreet.com/portfolio/650-ocean-avenue-interiors/final_lobby-interior_c03-2/ [alt] => [author] => 120 [description] => [caption] => [name] => final_lobby-interior_c03-2 [status] => inherit [uploaded_to] => 19810 [date] => 2017-05-22 21:06:42 [modified] => 2017-05-22 21:06:57 [menu_order] => 0 [mime_type] => image/jpeg [type] => image [subtype] => jpeg [icon] => https://www.arrowstreet.com/wp-includes/images/media/default.png [width] => 4000 [height] => 2500 [sizes] => Array ( [thumbnail] => https://cdn.arrowstreet.com/wp-content/uploads/2016/02/19220614/Final_Lobby-Interior_C03-1-500x337.jpg [thumbnail-width] => 500 [thumbnail-height] => 337 [medium] => https://cdn.arrowstreet.com/wp-content/uploads/2016/02/19220614/Final_Lobby-Interior_C03-1-900x563.jpg [medium-width] => 900 [medium-height] => 563 [medium_large] => https://cdn.arrowstreet.com/wp-content/uploads/2016/02/19220614/Final_Lobby-Interior_C03-1-768x480.jpg [medium_large-width] => 768 [medium_large-height] => 480 [large] => https://cdn.arrowstreet.com/wp-content/uploads/2016/02/19220614/Final_Lobby-Interior_C03-1-1400x875.jpg [large-width] => 1140 [large-height] => 713 [1536x1536] => https://cdn.arrowstreet.com/wp-content/uploads/2016/02/19220614/Final_Lobby-Interior_C03-1.jpg [1536x1536-width] => 1536 [1536x1536-height] => 960 [2048x2048] => https://cdn.arrowstreet.com/wp-content/uploads/2016/02/19220614/Final_Lobby-Interior_C03-1.jpg [2048x2048-width] => 2048 [2048x2048-height] => 1280 ) ) [6] => Array ( [ID] => 26283 [id] => 26283 [title] => Interior Unit Rendering [filename] => Interior-Unit-Rendering-2.jpg [filesize] => 3345531 [url] => https://cdn.arrowstreet.com/wp-content/uploads/2016/02/19220613/Interior-Unit-Rendering-2.jpg [link] => https://www.arrowstreet.com/portfolio/650-ocean-avenue-interiors/interior-unit-rendering-3/ [alt] => [author] => 120 [description] => [caption] => [name] => interior-unit-rendering-3 [status] => inherit [uploaded_to] => 19810 [date] => 2017-05-22 21:06:45 [modified] => 2017-05-22 21:10:33 [menu_order] => 0 [mime_type] => image/jpeg [type] => image [subtype] => jpeg [icon] => https://www.arrowstreet.com/wp-includes/images/media/default.png [width] => 6000 [height] => 2649 [sizes] => Array ( [thumbnail] => https://cdn.arrowstreet.com/wp-content/uploads/2016/02/19220613/Interior-Unit-Rendering-2-500x337.jpg [thumbnail-width] => 500 [thumbnail-height] => 337 [medium] => https://cdn.arrowstreet.com/wp-content/uploads/2016/02/19220613/Interior-Unit-Rendering-2-900x397.jpg [medium-width] => 900 [medium-height] => 397 [medium_large] => https://cdn.arrowstreet.com/wp-content/uploads/2016/02/19220613/Interior-Unit-Rendering-2-768x339.jpg [medium_large-width] => 768 [medium_large-height] => 339 [large] => https://cdn.arrowstreet.com/wp-content/uploads/2016/02/19220613/Interior-Unit-Rendering-2-1400x618.jpg [large-width] => 1140 [large-height] => 503 [1536x1536] => https://cdn.arrowstreet.com/wp-content/uploads/2016/02/19220613/Interior-Unit-Rendering-2.jpg [1536x1536-width] => 1536 [1536x1536-height] => 678 [2048x2048] => https://cdn.arrowstreet.com/wp-content/uploads/2016/02/19220613/Interior-Unit-Rendering-2.jpg [2048x2048-width] => 2048 [2048x2048-height] => 904 ) ) )