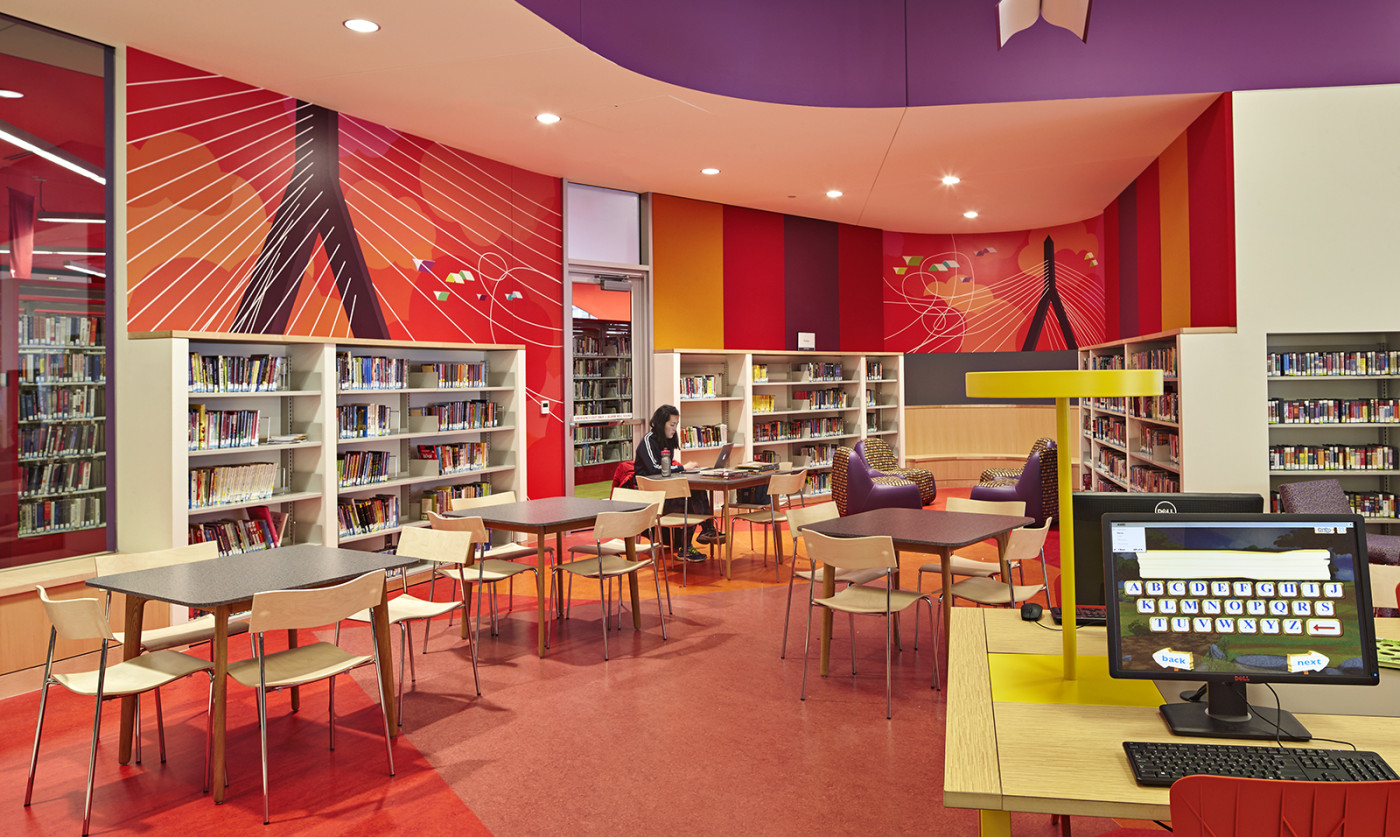 The newly renovated Children's Library, at the Central Library in Copley Square, is a vibrant space for young visitors and their caregivers. Arrowstreet developed this series of whimsical wall graphics to enhance the environment and evoke the City of Boston. Consisting of five chapters, the original illustrations tell a story of learning, reading and playing as they progress through age and color. The youngest library users play alongside the famous ducklings, frogs and swan boats of the Public Garden. Child-size townhouses create StoryScape where children can gather for story time. Stacks of books create the Boston skyline and provide a backdrop to the circulating collections. Curious George greets visitors at the entrance to the Margret and H.A. Rey Program Room while fishing in Boston Harbor. The story culminates with a mural featuring the Zakim Bridge, a metaphor for tweens' transition to Teen Central on the opposite side of the floor.
Project Details
location
Boston, MA
client/owner
Boston Public Library
City of Boston
architect
William Rawn Associates, Architects Inc.
categories
Graphics
Team
Awards
BOSTON PRESERVATION ALLIANCE
PRESERVATION ACHIEVEMENT AWARD, 2017
AIA/ALA
LIBRARY BUILDING AWARD, 2017
PRESERVATION MASSACHUSETTS
THE PAUL & NIKKI TSONGAS AWARD BIGGEST IMPACT-URBAN, 2017
BOSTON SOCIETY OF LANDSCAPE ARCHITECTS
MERIT AWARD FOR DESIGN, 2017
CONGRESS FOR THE NEW URBANISM
CHARTER AWARD, GRAND PRIZE, 2017
ASSOCIATION OF GENERAL CONTRACTORS (AGC)
BUILD NEW ENGLAND AWARD, 2017
ENR NEW ENGLAND
AWARD, 2017
CONSTRUCTION MANAGEMENT ASSOCIATION OF AMERICA
NEW ENGLAND PROJECT ACHIEVEMENT AWARD, 2017
ILLUMINATING ENGINEERING SOCIETY
SECTION AWARD, 2017
Photos by Robert Benson Photography