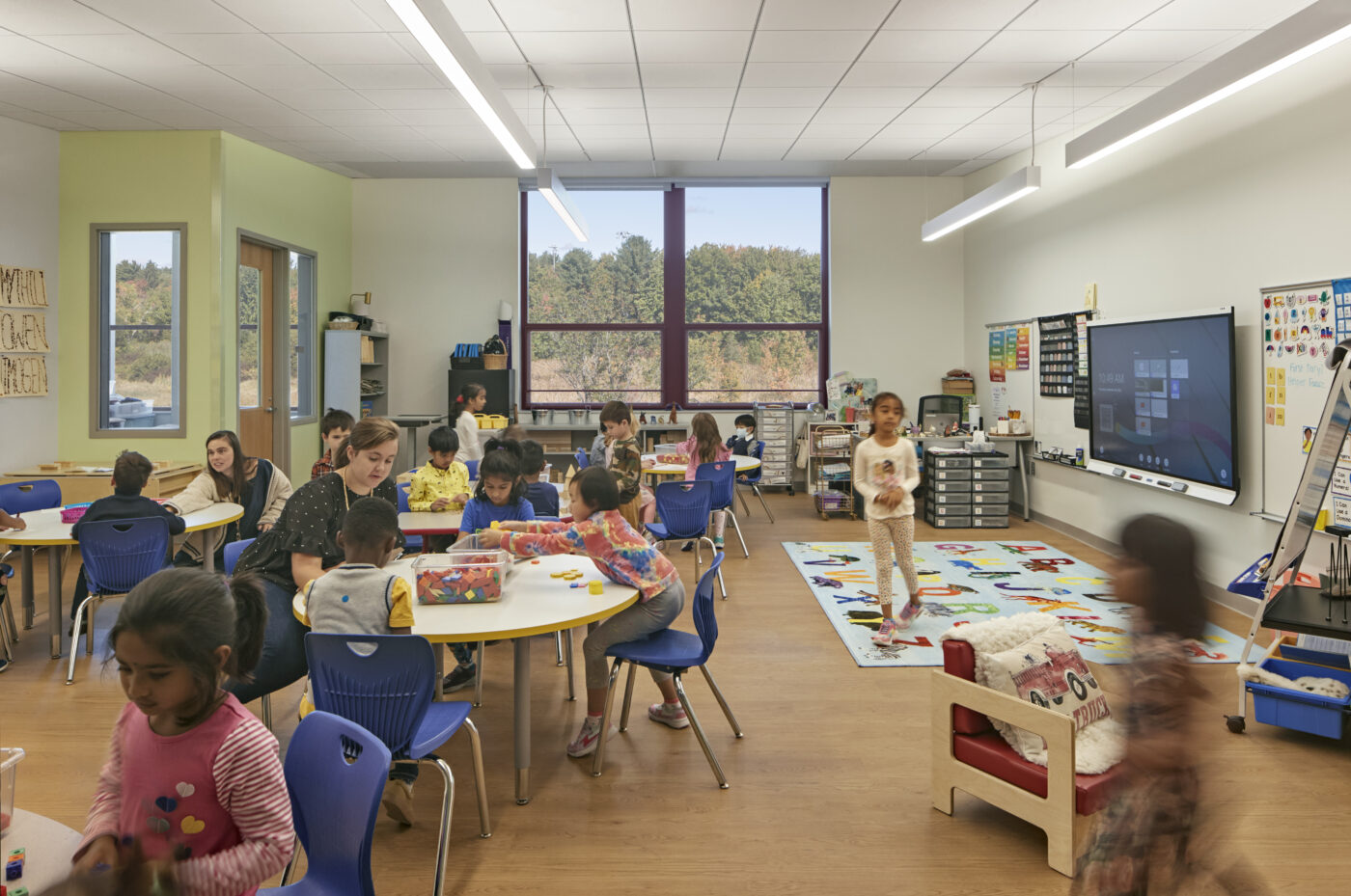 The new Douglas & Gates Elementary School brings together two K-6 schools and the Huebner Early Childhood Program under one roof to create a model net zero ready—emissions and water—facility.
The new Boardwalk Campus will provide a home for the three distinct school programs in the Acton-Boxborough Regional School District while setting an example by being designed to be model net zero ready—emissions and water. Consistent with the district school choice philosophy, every elementary school has its own character and focus. During the planning and educational visioning phase, Arrowstreet focused on how to provide equity among the schools coupled with maximizing shared spaces such as break-out spaces, appropriately sized cafeteria, gym, STEAM labs; and support for Special Education Services. This also provided an opportunity for the design to reflect the unique personality of the schools. A unique feature of the design is the configuration of small group break-out rooms between the classes to facilitate large group, small group, and one-on-one individualized learning methods.
Located by Fort Pond Brook, one of many Town natural resources, the brook plays a pivotal role in the design of the school with adjacent protected wetlands and riverfront area. The project is carefully sited to minimize the impact on the site and celebrate the local ecosystem. As part of the site improvements at the Douglas Gates Huebner project, the existing boardwalk was rebuilt to offer a more user-friendly experience. The new, covered boardwalk is almost twice the original width, offering space for bicycle and pedestrian traffic. This boardwalk provides a vital connection across the site, which is bisected the Fort Pond Brook and a surrounding wetland. In keeping with the project's sensitivity to environmental impacts, great care was taken to reconstruct the boardwalk on the existing footprint and to minimize disturbance to the sensitive surrounding ecology.
Consistent with the District's commitment to sustainability and resiliency, the school is designed towards net zero ready—emissions and water—facility standards. The systems of the building have been carefully chosen to achieve a design EUI of 25 or lower. This includes geothermal wells, solar PV, and occupant engagement to minimize system and plug loads and maximize energy production. Battery storage on site will store energy to provide resilience and reduce peak demand. Rainwater from the building roofs will be stored and reused to flush building toilets. The school itself promotes health, wellness, and energy efficiency. Each core classroom has access to daylight, views to the exterior, and windows to the corridor to connect classrooms to each other. Careful procedures will be in place to minimize the construction waste directed towards landfills and work with the District to identify operational waste procedures to ensure this school functions to the best of its ability.
Project Details
LOCATION
ACTON, MA
CLIENT/OWNER
MSBA  /  ACTON-BOXBOROUGH REGIONAL SCHOOL DISTRICT
SIZE
174,800  SF
OCCUPANCY
990 K-6; 130 PRESCHOOL STUDENTS
Awards
Learning by Design
Outstanding Project – Green/Sustainable Design, 2023
Quote
Arrowstreet led very successful visioning sessions as well as several faculty planning meetings for the Acton-Boxborough Regional School District's proposed new double elementary school. Their ability to apply architectural expertise to our vision of education has led us to a design of a building that will have positive impacts on student learning in our district for decades."
– Marie Altieri, Deputy Superintendent, Acton-Boxborough Regional Schools
Photos by Robert Benson Photography
Architectural Plans / Process
Array ( [0] => Array ( [ID] => 31631 [id] => 31631 [title] => Final Massing Aerial [filename] => Final-Massing-Aerial.jpg [filesize] => 1843628 [url] => https://cdn.arrowstreet.com/wp-content/uploads/2019/09/19214813/Final-Massing-Aerial.jpg [link] => https://www.arrowstreet.com/portfolio/douglas-gates-elementary-school/final-massing-aerial/ [alt] => [author] => 135 [description] => [caption] => [name] => final-massing-aerial [status] => inherit [uploaded_to] => 31615 [date] => 2019-09-24 16:33:25 [modified] => 2019-09-24 16:33:35 [menu_order] => 0 [mime_type] => image/jpeg [type] => image [subtype] => jpeg [icon] => https://www.arrowstreet.com/wp-includes/images/media/default.png [width] => 5100 [height] => 2162 [sizes] => Array ( [thumbnail] => https://cdn.arrowstreet.com/wp-content/uploads/2019/09/19214813/Final-Massing-Aerial-500x337.jpg [thumbnail-width] => 500 [thumbnail-height] => 337 [medium] => https://cdn.arrowstreet.com/wp-content/uploads/2019/09/19214813/Final-Massing-Aerial-900x382.jpg [medium-width] => 900 [medium-height] => 382 [medium_large] => https://cdn.arrowstreet.com/wp-content/uploads/2019/09/19214813/Final-Massing-Aerial-768x326.jpg [medium_large-width] => 768 [medium_large-height] => 326 [large] => https://cdn.arrowstreet.com/wp-content/uploads/2019/09/19214813/Final-Massing-Aerial-1400x593.jpg [large-width] => 1140 [large-height] => 483 [1536x1536] => https://cdn.arrowstreet.com/wp-content/uploads/2019/09/19214813/Final-Massing-Aerial.jpg [1536x1536-width] => 1536 [1536x1536-height] => 651 [2048x2048] => https://cdn.arrowstreet.com/wp-content/uploads/2019/09/19214813/Final-Massing-Aerial.jpg [2048x2048-width] => 2048 [2048x2048-height] => 868 ) ) [1] => Array ( [ID] => 31632 [id] => 31632 [title] => Final Massing Section [filename] => Final-Massing-Section.jpg [filesize] => 2035648 [url] => https://cdn.arrowstreet.com/wp-content/uploads/2019/09/19214812/Final-Massing-Section.jpg [link] => https://www.arrowstreet.com/portfolio/douglas-gates-elementary-school/final-massing-section/ [alt] => [author] => 135 [description] => [caption] => [name] => final-massing-section [status] => inherit [uploaded_to] => 31615 [date] => 2019-09-24 16:33:28 [modified] => 2019-09-24 16:33:28 [menu_order] => 0 [mime_type] => image/jpeg [type] => image [subtype] => jpeg [icon] => https://www.arrowstreet.com/wp-includes/images/media/default.png [width] => 5100 [height] => 1739 [sizes] => Array ( [thumbnail] => https://cdn.arrowstreet.com/wp-content/uploads/2019/09/19214812/Final-Massing-Section-500x337.jpg [thumbnail-width] => 500 [thumbnail-height] => 337 [medium] => https://cdn.arrowstreet.com/wp-content/uploads/2019/09/19214812/Final-Massing-Section-900x307.jpg [medium-width] => 900 [medium-height] => 307 [medium_large] => https://cdn.arrowstreet.com/wp-content/uploads/2019/09/19214812/Final-Massing-Section-768x262.jpg [medium_large-width] => 768 [medium_large-height] => 262 [large] => https://cdn.arrowstreet.com/wp-content/uploads/2019/09/19214812/Final-Massing-Section-1400x477.jpg [large-width] => 1140 [large-height] => 388 [1536x1536] => https://cdn.arrowstreet.com/wp-content/uploads/2019/09/19214812/Final-Massing-Section.jpg [1536x1536-width] => 1536 [1536x1536-height] => 524 [2048x2048] => https://cdn.arrowstreet.com/wp-content/uploads/2019/09/19214812/Final-Massing-Section.jpg [2048x2048-width] => 2048 [2048x2048-height] => 698 ) ) )