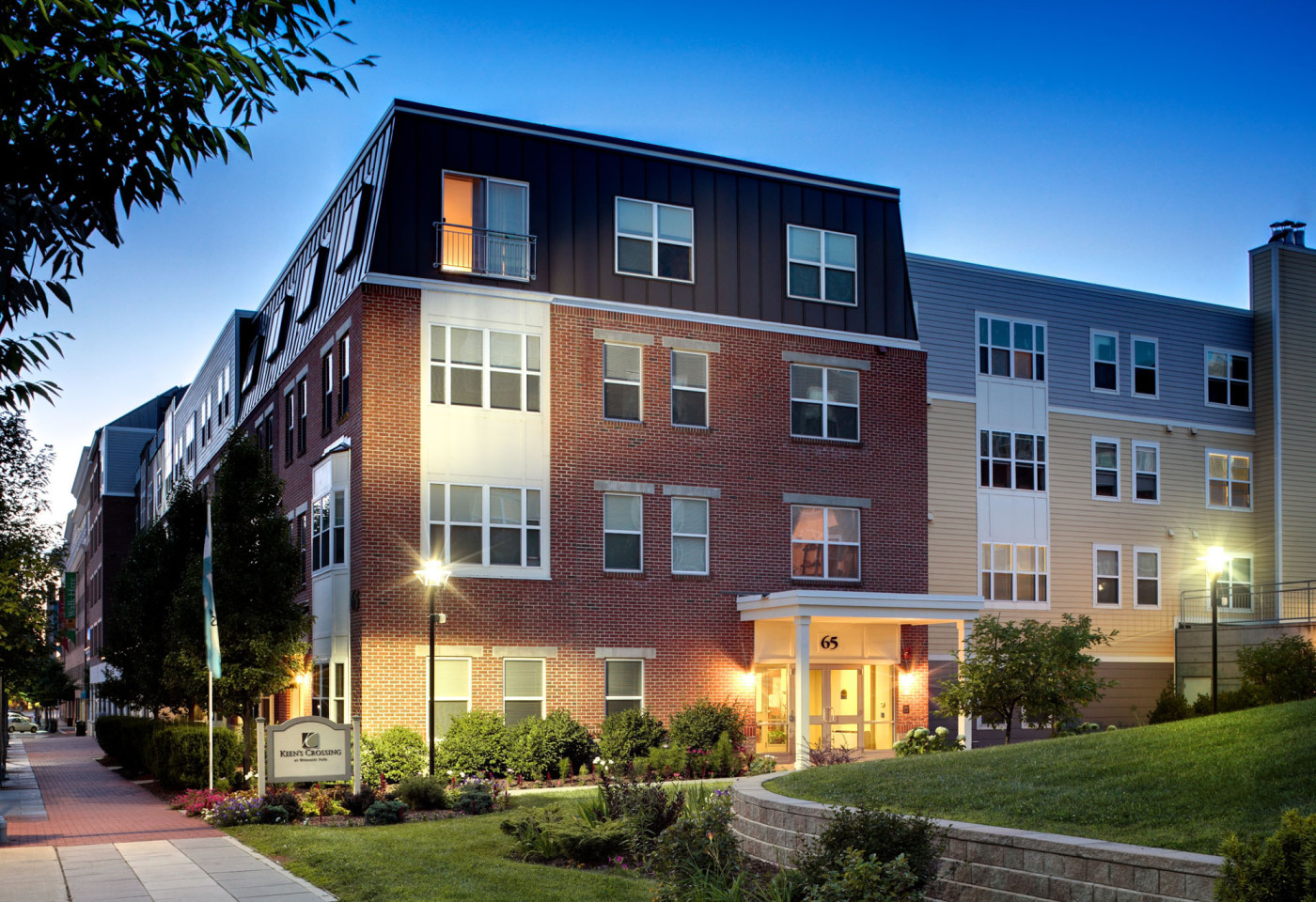 Winooski, a former mill town next to Burlington, Vermont, is experiencing a renaissance as new and renovated buildings bring life to the riverfront. Arrowstreet designed a new, 4-story building that fits comfortably into this historic downtown. The materials and building details of Keen's Crossing are characteristic of older Vermont downtowns. With a variety of floor plans to suit singles, couples, and families, the development includes 213 loft-style apartments with underground parking. High ceilings, open floor plans, and large windows offer bird's-eye views of the city and the river. Residents of this smart growth, pedestrian-oriented redevelopment benefit from the convenience of the building's ground level retail.
Project Details
location
Winooksi, VT
client/owner
HK Central Block, LP
size
322,000 SF
categories
Residential
Awards
Livable Communities Award
(co-sponsored by AARP and NAHB) Over 250 Units,2009
Environmental Protection Agency
Smart Growth Achievement, 2006
Quote
Arrowstreet is among the top architecture and design firms in the world and has extensive experience in environmentally-friendly, luxury development. Their innovative designs and sustainable approach align with our vision for the property. We are thrilled to have them on board.
-Joshua Caspi, Principal, Caspi Development
Photos by Edward Wonsek
Architectural Plans / Process
Array ( [0] => Array ( [ID] => 15550 [id] => 15550 [title] => win_elev1 [filename] => win_elev11.jpg [filesize] => 1996546 [url] => https://cdn.arrowstreet.com/wp-content/uploads/2015/03/19223201/win_elev11.jpg [link] => https://www.arrowstreet.com/portfolio/keens-crossing/win_elev1-2/ [alt] => [author] => 147 [description] => [caption] => [name] => win_elev1-2 [status] => inherit [uploaded_to] => 13594 [date] => 2015-05-01 16:26:48 [modified] => 2015-05-01 16:26:48 [menu_order] => 0 [mime_type] => image/jpeg [type] => image [subtype] => jpeg [icon] => https://www.arrowstreet.com/wp-includes/images/media/default.png [width] => 5047 [height] => 1439 [sizes] => Array ( [thumbnail] => https://cdn.arrowstreet.com/wp-content/uploads/2015/03/19223201/win_elev11-500x337.jpg [thumbnail-width] => 500 [thumbnail-height] => 337 [medium] => https://cdn.arrowstreet.com/wp-content/uploads/2015/03/19223201/win_elev11-900x257.jpg [medium-width] => 900 [medium-height] => 257 [medium_large] => https://cdn.arrowstreet.com/wp-content/uploads/2015/03/19223201/win_elev11.jpg [medium_large-width] => 768 [medium_large-height] => 219 [large] => https://cdn.arrowstreet.com/wp-content/uploads/2015/03/19223201/win_elev11-1400x399.jpg [large-width] => 1140 [large-height] => 325 [1536x1536] => https://cdn.arrowstreet.com/wp-content/uploads/2015/03/19223201/win_elev11.jpg [1536x1536-width] => 1536 [1536x1536-height] => 438 [2048x2048] => https://cdn.arrowstreet.com/wp-content/uploads/2015/03/19223201/win_elev11.jpg [2048x2048-width] => 2048 [2048x2048-height] => 584 ) ) [1] => Array ( [ID] => 15549 [id] => 15549 [title] => WEST_ELEVATION [filename] => WEST_ELEVATION1.jpg [filesize] => 2359151 [url] => https://cdn.arrowstreet.com/wp-content/uploads/2015/03/19223202/WEST_ELEVATION1.jpg [link] => https://www.arrowstreet.com/portfolio/keens-crossing/west_elevation-2/ [alt] => [author] => 147 [description] => [caption] => [name] => west_elevation-2 [status] => inherit [uploaded_to] => 13594 [date] => 2015-05-01 16:26:25 [modified] => 2015-05-01 16:26:25 [menu_order] => 0 [mime_type] => image/jpeg [type] => image [subtype] => jpeg [icon] => https://www.arrowstreet.com/wp-includes/images/media/default.png [width] => 3394 [height] => 1027 [sizes] => Array ( [thumbnail] => https://cdn.arrowstreet.com/wp-content/uploads/2015/03/19223202/WEST_ELEVATION1-500x337.jpg [thumbnail-width] => 500 [thumbnail-height] => 337 [medium] => https://cdn.arrowstreet.com/wp-content/uploads/2015/03/19223202/WEST_ELEVATION1-900x272.jpg [medium-width] => 900 [medium-height] => 272 [medium_large] => https://cdn.arrowstreet.com/wp-content/uploads/2015/03/19223202/WEST_ELEVATION1.jpg [medium_large-width] => 768 [medium_large-height] => 232 [large] => https://cdn.arrowstreet.com/wp-content/uploads/2015/03/19223202/WEST_ELEVATION1-1400x424.jpg [large-width] => 1140 [large-height] => 345 [1536x1536] => https://cdn.arrowstreet.com/wp-content/uploads/2015/03/19223202/WEST_ELEVATION1.jpg [1536x1536-width] => 1536 [1536x1536-height] => 465 [2048x2048] => https://cdn.arrowstreet.com/wp-content/uploads/2015/03/19223202/WEST_ELEVATION1.jpg [2048x2048-width] => 2048 [2048x2048-height] => 620 ) ) [2] => Array ( [ID] => 15552 [id] => 15552 [title] => EAST_ELEVATION [filename] => EAST_ELEVATION1.jpg [filesize] => 2115010 [url] => https://cdn.arrowstreet.com/wp-content/uploads/2015/03/19223200/EAST_ELEVATION1.jpg [link] => https://www.arrowstreet.com/portfolio/keens-crossing/east_elevation-2/ [alt] => [author] => 147 [description] => [caption] => [name] => east_elevation-2 [status] => inherit [uploaded_to] => 13594 [date] => 2015-05-01 16:28:30 [modified] => 2015-05-01 16:28:30 [menu_order] => 0 [mime_type] => image/jpeg [type] => image [subtype] => jpeg [icon] => https://www.arrowstreet.com/wp-includes/images/media/default.png [width] => 3419 [height] => 1029 [sizes] => Array ( [thumbnail] => https://cdn.arrowstreet.com/wp-content/uploads/2015/03/19223200/EAST_ELEVATION1-500x337.jpg [thumbnail-width] => 500 [thumbnail-height] => 337 [medium] => https://cdn.arrowstreet.com/wp-content/uploads/2015/03/19223200/EAST_ELEVATION1-900x271.jpg [medium-width] => 900 [medium-height] => 271 [medium_large] => https://cdn.arrowstreet.com/wp-content/uploads/2015/03/19223200/EAST_ELEVATION1.jpg [medium_large-width] => 768 [medium_large-height] => 231 [large] => https://cdn.arrowstreet.com/wp-content/uploads/2015/03/19223200/EAST_ELEVATION1-1400x421.jpg [large-width] => 1140 [large-height] => 343 [1536x1536] => https://cdn.arrowstreet.com/wp-content/uploads/2015/03/19223200/EAST_ELEVATION1.jpg [1536x1536-width] => 1536 [1536x1536-height] => 462 [2048x2048] => https://cdn.arrowstreet.com/wp-content/uploads/2015/03/19223200/EAST_ELEVATION1.jpg [2048x2048-width] => 2048 [2048x2048-height] => 616 ) ) [3] => Array ( [ID] => 15548 [id] => 15548 [title] => LEVEL-P1_AV [filename] => LEVEL-P1_AV1.jpg [filesize] => 1660998 [url] => https://cdn.arrowstreet.com/wp-content/uploads/2015/03/19223202/LEVEL-P1_AV1.jpg [link] => https://www.arrowstreet.com/portfolio/keens-crossing/level-p1_av-2/ [alt] => [author] => 147 [description] => [caption] => [name] => level-p1_av-2 [status] => inherit [uploaded_to] => 13594 [date] => 2015-05-01 16:26:01 [modified] => 2015-05-01 16:26:01 [menu_order] => 0 [mime_type] => image/jpeg [type] => image [subtype] => jpeg [icon] => https://www.arrowstreet.com/wp-includes/images/media/default.png [width] => 3228 [height] => 1688 [sizes] => Array ( [thumbnail] => https://cdn.arrowstreet.com/wp-content/uploads/2015/03/19223202/LEVEL-P1_AV1-500x337.jpg [thumbnail-width] => 500 [thumbnail-height] => 337 [medium] => https://cdn.arrowstreet.com/wp-content/uploads/2015/03/19223202/LEVEL-P1_AV1-900x471.jpg [medium-width] => 900 [medium-height] => 471 [medium_large] => https://cdn.arrowstreet.com/wp-content/uploads/2015/03/19223202/LEVEL-P1_AV1.jpg [medium_large-width] => 768 [medium_large-height] => 402 [large] => https://cdn.arrowstreet.com/wp-content/uploads/2015/03/19223202/LEVEL-P1_AV1-1400x732.jpg [large-width] => 1140 [large-height] => 596 [1536x1536] => https://cdn.arrowstreet.com/wp-content/uploads/2015/03/19223202/LEVEL-P1_AV1.jpg [1536x1536-width] => 1536 [1536x1536-height] => 803 [2048x2048] => https://cdn.arrowstreet.com/wp-content/uploads/2015/03/19223202/LEVEL-P1_AV1.jpg [2048x2048-width] => 2048 [2048x2048-height] => 1071 ) ) )