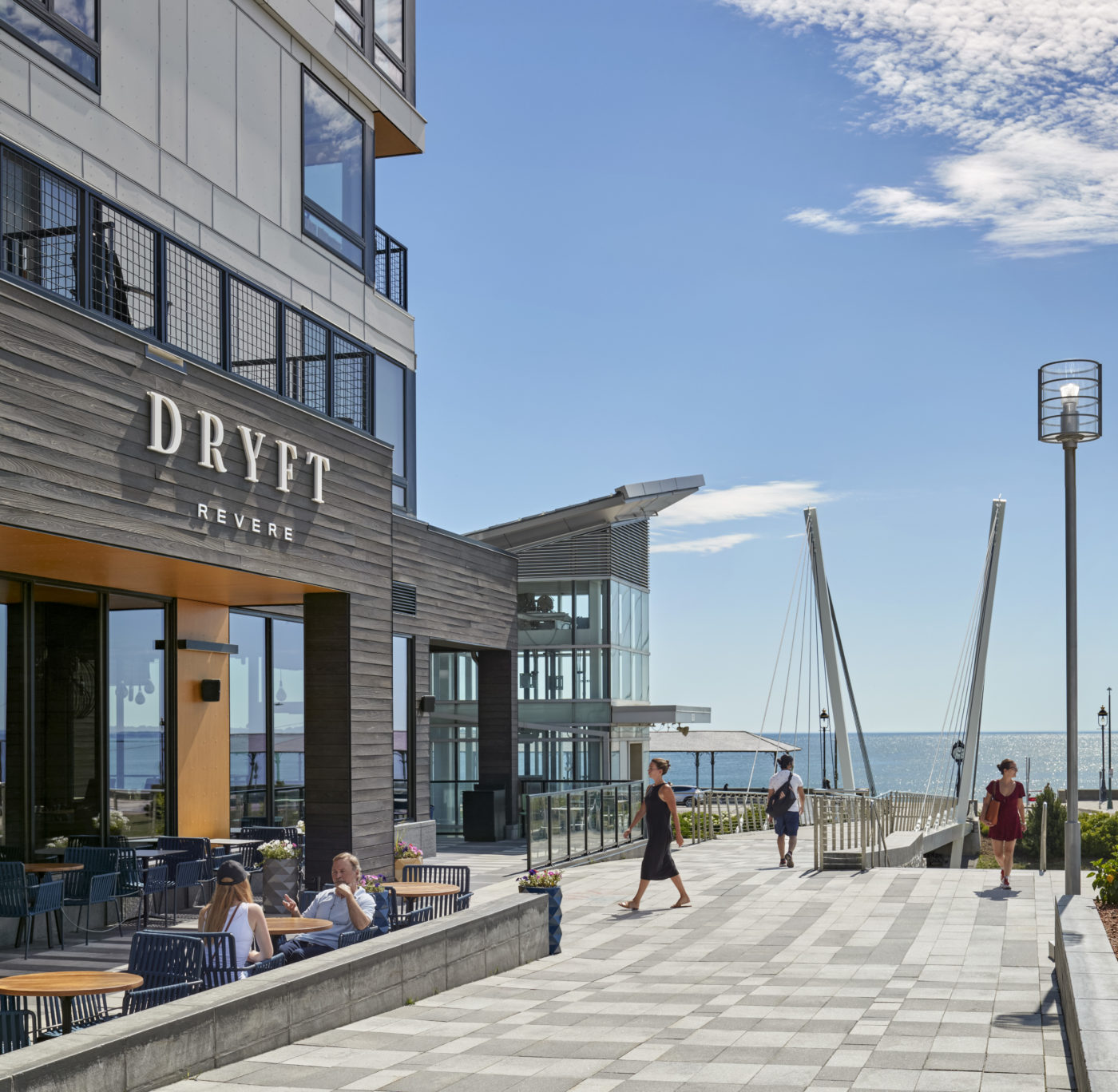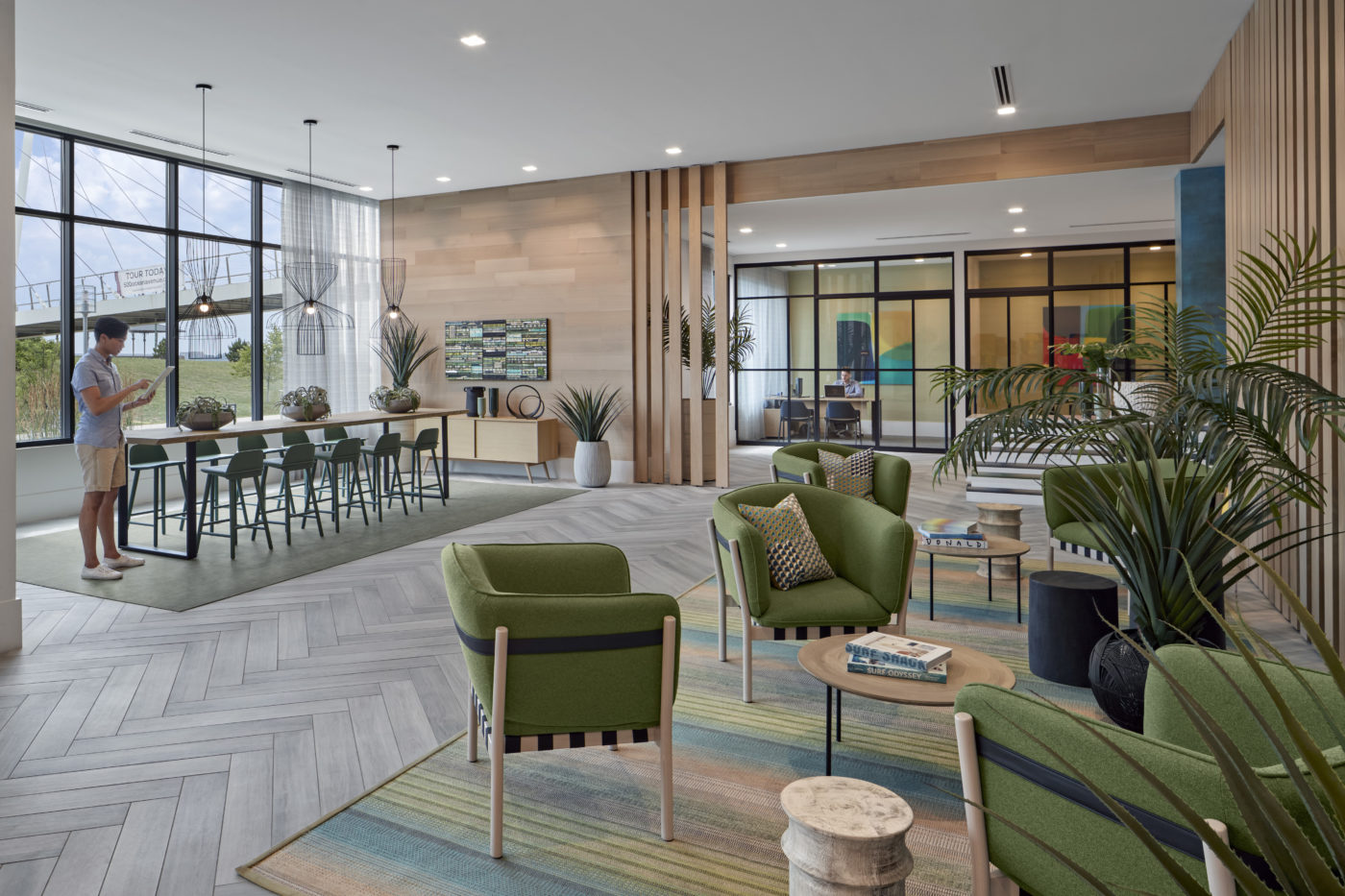 This large mixed-use project is organized around a broad civic plaza that leads to a spectacular footbridge seamlessly connecting the development to the beach. This seven level luxury, 305-unit residential community is designed with a dynamic façade, unique amenities, and an active streetscape to act as a catalyst for additional retail and restaurant uses.
The building is designed as 5 stories of wood frame over a 2- level steel podium – for the exterior design, the design team pushed the boundaries of wood frame construction to create a series of cantilevered floors and balconies that project toward the water and create significant recessed porches for the residents to engage with the plaza and street below.
With a mix of apartment layouts to accommodate the diverse and growing community, the building also includes 10 loft units with stoop access, activating the street located directly across from the beach.
Interior amenity spaces include a gym, yoga studio, pool, and shared kitchen which are located throughout the building to facilitate co- working, merging flexible indoor and outdoor social spaces for residents to work, dine, and lounge by the pool.
The resident experience revolves around a youthful, urban boardwalk interior décor with dynamic views of the ocean. The lifestyle brand enhances that experience with contrasting modern furniture, playful artwork, and accessories throughout that reflect the lifestyle. Nostalgic memories of the boardwalk days are displayed by life size surfboards, photographs, and colorful accents.
This project is part of the 11-acre transit-oriented, mixed-use Waterfront Square development that Arrowstreet master planned and designed. Additional Arrowstreet projects along the site include the Wonderland MBTA Station, Wonderland Pedestrian Plaza and Bridge, and Ocean 650 Apartments.
Project Details
LOCATION
REVERE, MA
CLIENT/OWNER
GATE RESIDENTIAL PROPERTIES, LLC
CATEGORIES
RESIDENTIAL
Team
Related Projects
Photos by Trent Bell Photography, David Carletti Photography, Robert Benson Photography
Architectural Plans / Process
Array ( [0] => Array ( [ID] => 26417 [id] => 26417 [title] => ©Arrowstreet_Revere_WaterfrontRes_web_06 [filename] => ©Arrowstreet_Revere_WaterfrontRes_web_06.jpg [filesize] => 414996 [url] => https://cdn.arrowstreet.com/wp-content/uploads/2017/05/19220543/%C2%A9Arrowstreet_Revere_WaterfrontRes_web_06.jpg [link] => https://www.arrowstreet.com/portfolio/revere-waterfront-residences/arrowstreet_revere_waterfrontres_web_06/ [alt] => [author] => 120 [description] => [caption] => [name] => arrowstreet_revere_waterfrontres_web_06 [status] => inherit [uploaded_to] => 26410 [date] => 2017-05-26 18:27:14 [modified] => 2017-05-26 18:27:14 [menu_order] => 0 [mime_type] => image/jpeg [type] => image [subtype] => jpeg [icon] => https://www.arrowstreet.com/wp-includes/images/media/default.png [width] => 1224 [height] => 738 [sizes] => Array ( [thumbnail] => https://cdn.arrowstreet.com/wp-content/uploads/2017/05/19220543/%C2%A9Arrowstreet_Revere_WaterfrontRes_web_06-500x337.jpg [thumbnail-width] => 500 [thumbnail-height] => 337 [medium] => https://cdn.arrowstreet.com/wp-content/uploads/2017/05/19220543/%C2%A9Arrowstreet_Revere_WaterfrontRes_web_06-900x543.jpg [medium-width] => 900 [medium-height] => 543 [medium_large] => https://cdn.arrowstreet.com/wp-content/uploads/2017/05/19220543/%C2%A9Arrowstreet_Revere_WaterfrontRes_web_06-768x463.jpg [medium_large-width] => 768 [medium_large-height] => 463 [large] => https://cdn.arrowstreet.com/wp-content/uploads/2017/05/19220543/%C2%A9Arrowstreet_Revere_WaterfrontRes_web_06.jpg [large-width] => 1140 [large-height] => 687 [1536x1536] => https://cdn.arrowstreet.com/wp-content/uploads/2017/05/19220543/%C2%A9Arrowstreet_Revere_WaterfrontRes_web_06.jpg [1536x1536-width] => 1224 [1536x1536-height] => 738 [2048x2048] => https://cdn.arrowstreet.com/wp-content/uploads/2017/05/19220543/%C2%A9Arrowstreet_Revere_WaterfrontRes_web_06.jpg [2048x2048-width] => 1224 [2048x2048-height] => 738 ) ) [1] => Array ( [ID] => 26420 [id] => 26420 [title] => ©Arrowstreet_Revere_WaterfrontRes_web_09 [filename] => ©Arrowstreet_Revere_WaterfrontRes_web_09.jpg [filesize] => 605561 [url] => https://cdn.arrowstreet.com/wp-content/uploads/2017/05/19220541/%C2%A9Arrowstreet_Revere_WaterfrontRes_web_09.jpg [link] => https://www.arrowstreet.com/portfolio/revere-waterfront-residences/arrowstreet_revere_waterfrontres_web_09/ [alt] => [author] => 120 [description] => [caption] => [name] => arrowstreet_revere_waterfrontres_web_09 [status] => inherit [uploaded_to] => 26410 [date] => 2017-05-26 18:27:16 [modified] => 2017-05-26 18:27:16 [menu_order] => 0 [mime_type] => image/jpeg [type] => image [subtype] => jpeg [icon] => https://www.arrowstreet.com/wp-includes/images/media/default.png [width] => 1233 [height] => 740 [sizes] => Array ( [thumbnail] => https://cdn.arrowstreet.com/wp-content/uploads/2017/05/19220541/%C2%A9Arrowstreet_Revere_WaterfrontRes_web_09-500x337.jpg [thumbnail-width] => 500 [thumbnail-height] => 337 [medium] => https://cdn.arrowstreet.com/wp-content/uploads/2017/05/19220541/%C2%A9Arrowstreet_Revere_WaterfrontRes_web_09-900x540.jpg [medium-width] => 900 [medium-height] => 540 [medium_large] => https://cdn.arrowstreet.com/wp-content/uploads/2017/05/19220541/%C2%A9Arrowstreet_Revere_WaterfrontRes_web_09-768x461.jpg [medium_large-width] => 768 [medium_large-height] => 461 [large] => https://cdn.arrowstreet.com/wp-content/uploads/2017/05/19220541/%C2%A9Arrowstreet_Revere_WaterfrontRes_web_09.jpg [large-width] => 1140 [large-height] => 684 [1536x1536] => https://cdn.arrowstreet.com/wp-content/uploads/2017/05/19220541/%C2%A9Arrowstreet_Revere_WaterfrontRes_web_09.jpg [1536x1536-width] => 1233 [1536x1536-height] => 740 [2048x2048] => https://cdn.arrowstreet.com/wp-content/uploads/2017/05/19220541/%C2%A9Arrowstreet_Revere_WaterfrontRes_web_09.jpg [2048x2048-width] => 1233 [2048x2048-height] => 740 ) ) [2] => Array ( [ID] => 26421 [id] => 26421 [title] => ©Arrowstreet_Revere_WaterfrontRes_web_10 [filename] => ©Arrowstreet_Revere_WaterfrontRes_web_10.jpg [filesize] => 497359 [url] => https://cdn.arrowstreet.com/wp-content/uploads/2017/05/19220541/%C2%A9Arrowstreet_Revere_WaterfrontRes_web_10.jpg [link] => https://www.arrowstreet.com/portfolio/revere-waterfront-residences/arrowstreet_revere_waterfrontres_web_10/ [alt] => [author] => 120 [description] => [caption] => [name] => arrowstreet_revere_waterfrontres_web_10 [status] => inherit [uploaded_to] => 26410 [date] => 2017-05-26 18:27:17 [modified] => 2017-05-26 18:27:17 [menu_order] => 0 [mime_type] => image/jpeg [type] => image [subtype] => jpeg [icon] => https://www.arrowstreet.com/wp-includes/images/media/default.png [width] => 1224 [height] => 741 [sizes] => Array ( [thumbnail] => https://cdn.arrowstreet.com/wp-content/uploads/2017/05/19220541/%C2%A9Arrowstreet_Revere_WaterfrontRes_web_10-500x337.jpg [thumbnail-width] => 500 [thumbnail-height] => 337 [medium] => https://cdn.arrowstreet.com/wp-content/uploads/2017/05/19220541/%C2%A9Arrowstreet_Revere_WaterfrontRes_web_10-900x545.jpg [medium-width] => 900 [medium-height] => 545 [medium_large] => https://cdn.arrowstreet.com/wp-content/uploads/2017/05/19220541/%C2%A9Arrowstreet_Revere_WaterfrontRes_web_10-768x465.jpg [medium_large-width] => 768 [medium_large-height] => 465 [large] => https://cdn.arrowstreet.com/wp-content/uploads/2017/05/19220541/%C2%A9Arrowstreet_Revere_WaterfrontRes_web_10.jpg [large-width] => 1140 [large-height] => 690 [1536x1536] => https://cdn.arrowstreet.com/wp-content/uploads/2017/05/19220541/%C2%A9Arrowstreet_Revere_WaterfrontRes_web_10.jpg [1536x1536-width] => 1224 [1536x1536-height] => 741 [2048x2048] => https://cdn.arrowstreet.com/wp-content/uploads/2017/05/19220541/%C2%A9Arrowstreet_Revere_WaterfrontRes_web_10.jpg [2048x2048-width] => 1224 [2048x2048-height] => 741 ) ) [3] => Array ( [ID] => 26418 [id] => 26418 [title] => ©Arrowstreet_Revere_WaterfrontRes_web_07 [filename] => ©Arrowstreet_Revere_WaterfrontRes_web_07.jpg [filesize] => 525880 [url] => https://cdn.arrowstreet.com/wp-content/uploads/2017/05/19220542/%C2%A9Arrowstreet_Revere_WaterfrontRes_web_07.jpg [link] => https://www.arrowstreet.com/portfolio/revere-waterfront-residences/arrowstreet_revere_waterfrontres_web_07/ [alt] => [author] => 120 [description] => [caption] => [name] => arrowstreet_revere_waterfrontres_web_07 [status] => inherit [uploaded_to] => 26410 [date] => 2017-05-26 18:27:15 [modified] => 2017-05-26 18:27:15 [menu_order] => 0 [mime_type] => image/jpeg [type] => image [subtype] => jpeg [icon] => https://www.arrowstreet.com/wp-includes/images/media/default.png [width] => 1224 [height] => 742 [sizes] => Array ( [thumbnail] => https://cdn.arrowstreet.com/wp-content/uploads/2017/05/19220542/%C2%A9Arrowstreet_Revere_WaterfrontRes_web_07-500x337.jpg [thumbnail-width] => 500 [thumbnail-height] => 337 [medium] => https://cdn.arrowstreet.com/wp-content/uploads/2017/05/19220542/%C2%A9Arrowstreet_Revere_WaterfrontRes_web_07-900x546.jpg [medium-width] => 900 [medium-height] => 546 [medium_large] => https://cdn.arrowstreet.com/wp-content/uploads/2017/05/19220542/%C2%A9Arrowstreet_Revere_WaterfrontRes_web_07-768x466.jpg [medium_large-width] => 768 [medium_large-height] => 466 [large] => https://cdn.arrowstreet.com/wp-content/uploads/2017/05/19220542/%C2%A9Arrowstreet_Revere_WaterfrontRes_web_07.jpg [large-width] => 1140 [large-height] => 691 [1536x1536] => https://cdn.arrowstreet.com/wp-content/uploads/2017/05/19220542/%C2%A9Arrowstreet_Revere_WaterfrontRes_web_07.jpg [1536x1536-width] => 1224 [1536x1536-height] => 742 [2048x2048] => https://cdn.arrowstreet.com/wp-content/uploads/2017/05/19220542/%C2%A9Arrowstreet_Revere_WaterfrontRes_web_07.jpg [2048x2048-width] => 1224 [2048x2048-height] => 742 ) ) [4] => Array ( [ID] => 26419 [id] => 26419 [title] => ©Arrowstreet_Revere_WaterfrontRes_web_08 [filename] => ©Arrowstreet_Revere_WaterfrontRes_web_08.jpg [filesize] => 525215 [url] => https://cdn.arrowstreet.com/wp-content/uploads/2017/05/19220542/%C2%A9Arrowstreet_Revere_WaterfrontRes_web_08.jpg [link] => https://www.arrowstreet.com/portfolio/revere-waterfront-residences/arrowstreet_revere_waterfrontres_web_08/ [alt] => [author] => 120 [description] => [caption] => [name] => arrowstreet_revere_waterfrontres_web_08 [status] => inherit [uploaded_to] => 26410 [date] => 2017-05-26 18:27:15 [modified] => 2017-05-26 18:27:15 [menu_order] => 0 [mime_type] => image/jpeg [type] => image [subtype] => jpeg [icon] => https://www.arrowstreet.com/wp-includes/images/media/default.png [width] => 1224 [height] => 738 [sizes] => Array ( [thumbnail] => https://cdn.arrowstreet.com/wp-content/uploads/2017/05/19220542/%C2%A9Arrowstreet_Revere_WaterfrontRes_web_08-500x337.jpg [thumbnail-width] => 500 [thumbnail-height] => 337 [medium] => https://cdn.arrowstreet.com/wp-content/uploads/2017/05/19220542/%C2%A9Arrowstreet_Revere_WaterfrontRes_web_08-900x543.jpg [medium-width] => 900 [medium-height] => 543 [medium_large] => https://cdn.arrowstreet.com/wp-content/uploads/2017/05/19220542/%C2%A9Arrowstreet_Revere_WaterfrontRes_web_08-768x463.jpg [medium_large-width] => 768 [medium_large-height] => 463 [large] => https://cdn.arrowstreet.com/wp-content/uploads/2017/05/19220542/%C2%A9Arrowstreet_Revere_WaterfrontRes_web_08.jpg [large-width] => 1140 [large-height] => 687 [1536x1536] => https://cdn.arrowstreet.com/wp-content/uploads/2017/05/19220542/%C2%A9Arrowstreet_Revere_WaterfrontRes_web_08.jpg [1536x1536-width] => 1224 [1536x1536-height] => 738 [2048x2048] => https://cdn.arrowstreet.com/wp-content/uploads/2017/05/19220542/%C2%A9Arrowstreet_Revere_WaterfrontRes_web_08.jpg [2048x2048-width] => 1224 [2048x2048-height] => 738 ) ) [5] => Array ( [ID] => 26422 [id] => 26422 [title] => ©Arrowstreet_Revere_WaterfrontRes_web_11 [filename] => ©Arrowstreet_Revere_WaterfrontRes_web_11.jpg [filesize] => 398855 [url] => https://cdn.arrowstreet.com/wp-content/uploads/2017/05/19220540/%C2%A9Arrowstreet_Revere_WaterfrontRes_web_11.jpg [link] => https://www.arrowstreet.com/portfolio/revere-waterfront-residences/arrowstreet_revere_waterfrontres_web_11/ [alt] => [author] => 120 [description] => [caption] => [name] => arrowstreet_revere_waterfrontres_web_11 [status] => inherit [uploaded_to] => 26410 [date] => 2017-05-26 18:27:18 [modified] => 2017-05-26 18:27:18 [menu_order] => 0 [mime_type] => image/jpeg [type] => image [subtype] => jpeg [icon] => https://www.arrowstreet.com/wp-includes/images/media/default.png [width] => 1234 [height] => 742 [sizes] => Array ( [thumbnail] => https://cdn.arrowstreet.com/wp-content/uploads/2017/05/19220540/%C2%A9Arrowstreet_Revere_WaterfrontRes_web_11-500x337.jpg [thumbnail-width] => 500 [thumbnail-height] => 337 [medium] => https://cdn.arrowstreet.com/wp-content/uploads/2017/05/19220540/%C2%A9Arrowstreet_Revere_WaterfrontRes_web_11-900x541.jpg [medium-width] => 900 [medium-height] => 541 [medium_large] => https://cdn.arrowstreet.com/wp-content/uploads/2017/05/19220540/%C2%A9Arrowstreet_Revere_WaterfrontRes_web_11-768x462.jpg [medium_large-width] => 768 [medium_large-height] => 462 [large] => https://cdn.arrowstreet.com/wp-content/uploads/2017/05/19220540/%C2%A9Arrowstreet_Revere_WaterfrontRes_web_11.jpg [large-width] => 1140 [large-height] => 685 [1536x1536] => https://cdn.arrowstreet.com/wp-content/uploads/2017/05/19220540/%C2%A9Arrowstreet_Revere_WaterfrontRes_web_11.jpg [1536x1536-width] => 1234 [1536x1536-height] => 742 [2048x2048] => https://cdn.arrowstreet.com/wp-content/uploads/2017/05/19220540/%C2%A9Arrowstreet_Revere_WaterfrontRes_web_11.jpg [2048x2048-width] => 1234 [2048x2048-height] => 742 ) ) [6] => Array ( [ID] => 26416 [id] => 26416 [title] => ©Arrowstreet_Revere_WaterfrontRes_web_05 [filename] => ©Arrowstreet_Revere_WaterfrontRes_web_05.jpg [filesize] => 671447 [url] => https://cdn.arrowstreet.com/wp-content/uploads/2017/05/19220543/%C2%A9Arrowstreet_Revere_WaterfrontRes_web_05.jpg [link] => https://www.arrowstreet.com/portfolio/revere-waterfront-residences/arrowstreet_revere_waterfrontres_web_05/ [alt] => [author] => 120 [description] => [caption] => [name] => arrowstreet_revere_waterfrontres_web_05 [status] => inherit [uploaded_to] => 26410 [date] => 2017-05-26 18:27:13 [modified] => 2017-05-26 18:27:43 [menu_order] => 0 [mime_type] => image/jpeg [type] => image [subtype] => jpeg [icon] => https://www.arrowstreet.com/wp-includes/images/media/default.png [width] => 1224 [height] => 736 [sizes] => Array ( [thumbnail] => https://cdn.arrowstreet.com/wp-content/uploads/2017/05/19220543/%C2%A9Arrowstreet_Revere_WaterfrontRes_web_05-500x337.jpg [thumbnail-width] => 500 [thumbnail-height] => 337 [medium] => https://cdn.arrowstreet.com/wp-content/uploads/2017/05/19220543/%C2%A9Arrowstreet_Revere_WaterfrontRes_web_05-900x541.jpg [medium-width] => 900 [medium-height] => 541 [medium_large] => https://cdn.arrowstreet.com/wp-content/uploads/2017/05/19220543/%C2%A9Arrowstreet_Revere_WaterfrontRes_web_05-768x462.jpg [medium_large-width] => 768 [medium_large-height] => 462 [large] => https://cdn.arrowstreet.com/wp-content/uploads/2017/05/19220543/%C2%A9Arrowstreet_Revere_WaterfrontRes_web_05.jpg [large-width] => 1140 [large-height] => 685 [1536x1536] => https://cdn.arrowstreet.com/wp-content/uploads/2017/05/19220543/%C2%A9Arrowstreet_Revere_WaterfrontRes_web_05.jpg [1536x1536-width] => 1224 [1536x1536-height] => 736 [2048x2048] => https://cdn.arrowstreet.com/wp-content/uploads/2017/05/19220543/%C2%A9Arrowstreet_Revere_WaterfrontRes_web_05.jpg [2048x2048-width] => 1224 [2048x2048-height] => 736 ) ) )