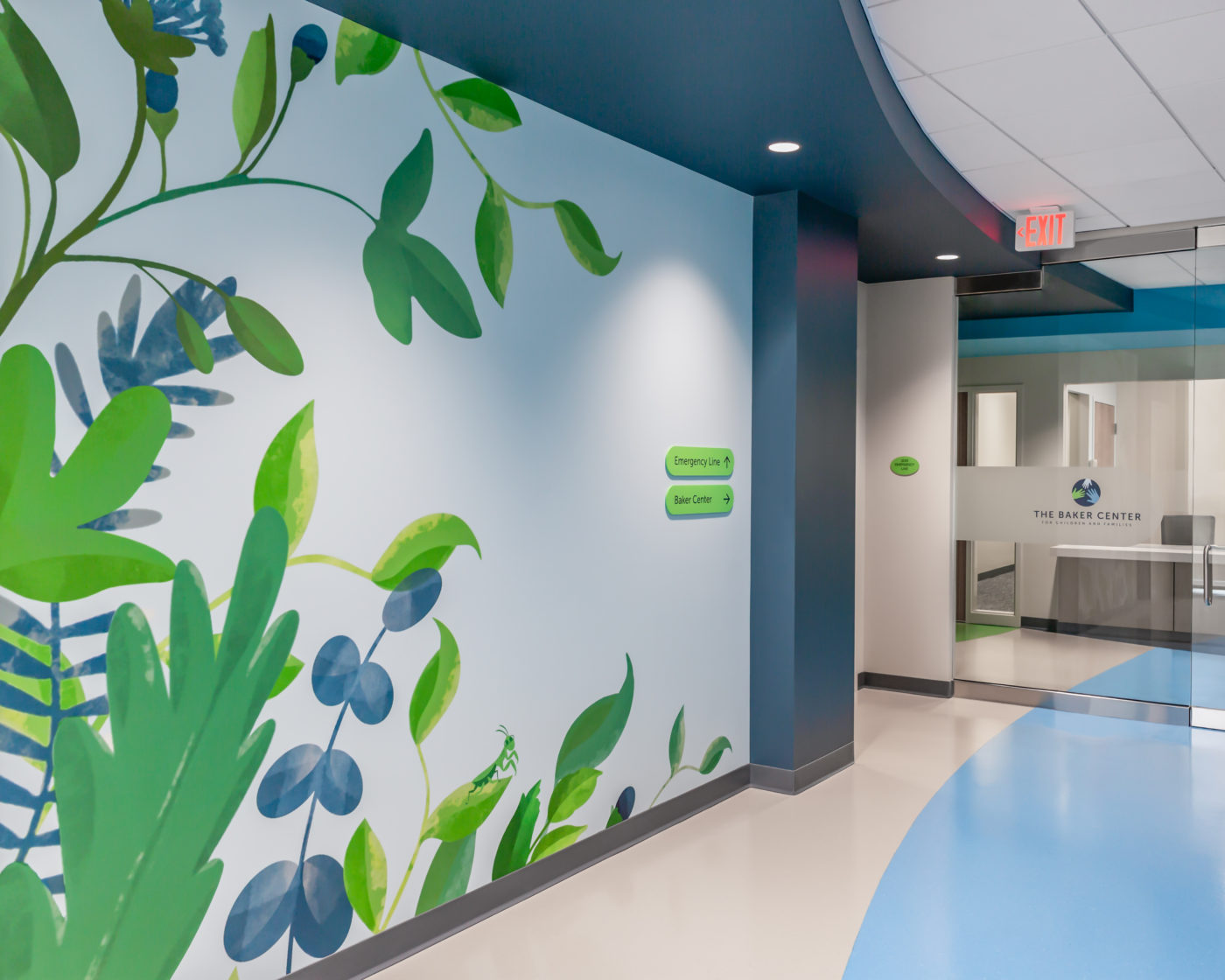 Arrowstreet was engaged as the Interior Designer for this new dual-purpose non-profit space, which combines an outpatient behavioral health clinic for children and young adults with a state-contracted, off-hours crisis call center. A collaboration between Arrowstreet's Interiors and Graphic Design Studio, biophilic principles were incorporated and the building's views of the Charles River were used to inspire the design of the space. Arrowstreet developed a concept based on a duality of nature – cheerful, saturated blues and greens to energize the clinic, and a muted, softer palettes of blues and grays to imbue the call center with a sense of calm.
The patient experience begins in the elevator lobby – the design language of the custom bench is drawn from statement seating in the waiting area, and organic, directional soffits and flooring welcome visitors into the clinic and towards the check-in counter. Within the waiting area, strategic space planning and variations on the vibrant color palette create distinct seating zones for young children, teens, and patients who may need a more private environment. The biophilic concept is emphasized by a large graphic mural of abstracted natural forms, underscoring a requirement that the design be appropriate for young children without alienating teen and young adult clients by reading as too pediatric. The design concept carries throughout both patient and clinician spaces, with special attention paid to the unique programming, performance, and budget requirements of a behavioral health facility and a non-profit client.
Within the crisis call center, a rethinking of traditional, linear cubicle arrangement led to the development of desk pods arranged radially around a central service and refreshment hub, encouraging a greater sense of employee engagement without sacrificing valuable workspace. The nature-inspired palette in these spaces pulls cooler and less saturated, with deep gray-blues and light wood tones, creating a more soothing environment for employees engaged in critically important, but often emotionally challenging, work.
Throughout the Judge Baker Children's Center, Arrowstreet's creative use of organic color and materiality, strategic space planning, and thoughtful attention to unique requirements creates an inviting and empowering environment for patients, clinicians, and employees.
Project Details
location
Waltham, MA
client
Judge Baker Children's Center
Awards
IIDA NE
Conscientious Design, 2023
Related Projects
Photos by Sarah Farkas Photography
Architectural Plans / Process
Array ( [0] => Array ( [ID] => 34342 [id] => 34342 [title] => 191209_InteriorsPresentation_FINAL_Page_05 [filename] => 191209_InteriorsPresentation_FINAL_Page_05.jpg [filesize] => 217324 [url] => https://cdn.arrowstreet.com/wp-content/uploads/2020/10/19213431/191209_InteriorsPresentation_FINAL_Page_05.jpg [link] => https://www.arrowstreet.com/portfolio/the-baker-center/191209_interiorspresentation_final_page_05/ [alt] => [author] => 135 [description] => [caption] => [name] => 191209_interiorspresentation_final_page_05 [status] => inherit [uploaded_to] => 34326 [date] => 2020-10-26 17:30:46 [modified] => 2020-10-26 17:31:07 [menu_order] => 0 [mime_type] => image/jpeg [type] => image [subtype] => jpeg [icon] => https://www.arrowstreet.com/wp-includes/images/media/default.png [width] => 2040 [height] => 1320 [sizes] => Array ( [thumbnail] => https://cdn.arrowstreet.com/wp-content/uploads/2020/10/19213431/191209_InteriorsPresentation_FINAL_Page_05-500x337.jpg [thumbnail-width] => 500 [thumbnail-height] => 337 [medium] => https://cdn.arrowstreet.com/wp-content/uploads/2020/10/19213431/191209_InteriorsPresentation_FINAL_Page_05-900x582.jpg [medium-width] => 900 [medium-height] => 582 [medium_large] => https://cdn.arrowstreet.com/wp-content/uploads/2020/10/19213431/191209_InteriorsPresentation_FINAL_Page_05-768x497.jpg [medium_large-width] => 768 [medium_large-height] => 497 [large] => https://cdn.arrowstreet.com/wp-content/uploads/2020/10/19213431/191209_InteriorsPresentation_FINAL_Page_05-1400x906.jpg [large-width] => 1140 [large-height] => 738 [1536x1536] => https://cdn.arrowstreet.com/wp-content/uploads/2020/10/19213431/191209_InteriorsPresentation_FINAL_Page_05-1536x994.jpg [1536x1536-width] => 1536 [1536x1536-height] => 994 [2048x2048] => https://cdn.arrowstreet.com/wp-content/uploads/2020/10/19213431/191209_InteriorsPresentation_FINAL_Page_05.jpg [2048x2048-width] => 2040 [2048x2048-height] => 1320 ) ) [1] => Array ( [ID] => 34345 [id] => 34345 [title] => 191209_InteriorsPresentation_FINAL_Page_08 [filename] => 191209_InteriorsPresentation_FINAL_Page_08.jpg [filesize] => 136642 [url] => https://cdn.arrowstreet.com/wp-content/uploads/2020/10/19213429/191209_InteriorsPresentation_FINAL_Page_08.jpg [link] => https://www.arrowstreet.com/portfolio/the-baker-center/191209_interiorspresentation_final_page_08/ [alt] => [author] => 135 [description] => [caption] => [name] => 191209_interiorspresentation_final_page_08 [status] => inherit [uploaded_to] => 34326 [date] => 2020-10-26 17:30:57 [modified] => 2020-10-26 17:30:57 [menu_order] => 0 [mime_type] => image/jpeg [type] => image [subtype] => jpeg [icon] => https://www.arrowstreet.com/wp-includes/images/media/default.png [width] => 2040 [height] => 1320 [sizes] => Array ( [thumbnail] => https://cdn.arrowstreet.com/wp-content/uploads/2020/10/19213429/191209_InteriorsPresentation_FINAL_Page_08-500x337.jpg [thumbnail-width] => 500 [thumbnail-height] => 337 [medium] => https://cdn.arrowstreet.com/wp-content/uploads/2020/10/19213429/191209_InteriorsPresentation_FINAL_Page_08-900x582.jpg [medium-width] => 900 [medium-height] => 582 [medium_large] => https://cdn.arrowstreet.com/wp-content/uploads/2020/10/19213429/191209_InteriorsPresentation_FINAL_Page_08-768x497.jpg [medium_large-width] => 768 [medium_large-height] => 497 [large] => https://cdn.arrowstreet.com/wp-content/uploads/2020/10/19213429/191209_InteriorsPresentation_FINAL_Page_08-1400x906.jpg [large-width] => 1140 [large-height] => 738 [1536x1536] => https://cdn.arrowstreet.com/wp-content/uploads/2020/10/19213429/191209_InteriorsPresentation_FINAL_Page_08-1536x994.jpg [1536x1536-width] => 1536 [1536x1536-height] => 994 [2048x2048] => https://cdn.arrowstreet.com/wp-content/uploads/2020/10/19213429/191209_InteriorsPresentation_FINAL_Page_08.jpg [2048x2048-width] => 2040 [2048x2048-height] => 1320 ) ) [2] => Array ( [ID] => 34346 [id] => 34346 [title] => 191209_InteriorsPresentation_FINAL_Page_09 [filename] => 191209_InteriorsPresentation_FINAL_Page_09.jpg [filesize] => 190896 [url] => https://cdn.arrowstreet.com/wp-content/uploads/2020/10/19213428/191209_InteriorsPresentation_FINAL_Page_09.jpg [link] => https://www.arrowstreet.com/portfolio/the-baker-center/191209_interiorspresentation_final_page_09/ [alt] => [author] => 135 [description] => [caption] => [name] => 191209_interiorspresentation_final_page_09 [status] => inherit [uploaded_to] => 34326 [date] => 2020-10-26 17:31:00 [modified] => 2020-10-26 17:31:00 [menu_order] => 0 [mime_type] => image/jpeg [type] => image [subtype] => jpeg [icon] => https://www.arrowstreet.com/wp-includes/images/media/default.png [width] => 2040 [height] => 1342 [sizes] => Array ( [thumbnail] => https://cdn.arrowstreet.com/wp-content/uploads/2020/10/19213428/191209_InteriorsPresentation_FINAL_Page_09-500x337.jpg [thumbnail-width] => 500 [thumbnail-height] => 337 [medium] => https://cdn.arrowstreet.com/wp-content/uploads/2020/10/19213428/191209_InteriorsPresentation_FINAL_Page_09-900x592.jpg [medium-width] => 900 [medium-height] => 592 [medium_large] => https://cdn.arrowstreet.com/wp-content/uploads/2020/10/19213428/191209_InteriorsPresentation_FINAL_Page_09-768x505.jpg [medium_large-width] => 768 [medium_large-height] => 505 [large] => https://cdn.arrowstreet.com/wp-content/uploads/2020/10/19213428/191209_InteriorsPresentation_FINAL_Page_09-1400x921.jpg [large-width] => 1140 [large-height] => 750 [1536x1536] => https://cdn.arrowstreet.com/wp-content/uploads/2020/10/19213428/191209_InteriorsPresentation_FINAL_Page_09-1536x1010.jpg [1536x1536-width] => 1536 [1536x1536-height] => 1010 [2048x2048] => https://cdn.arrowstreet.com/wp-content/uploads/2020/10/19213428/191209_InteriorsPresentation_FINAL_Page_09.jpg [2048x2048-width] => 2040 [2048x2048-height] => 1342 ) ) [3] => Array ( [ID] => 34349 [id] => 34349 [title] => 191209_InteriorsPresentation_FINAL_Page_20 [filename] => 191209_InteriorsPresentation_FINAL_Page_20.jpg [filesize] => 232036 [url] => https://cdn.arrowstreet.com/wp-content/uploads/2020/10/19213427/191209_InteriorsPresentation_FINAL_Page_20.jpg [link] => https://www.arrowstreet.com/portfolio/the-baker-center/191209_interiorspresentation_final_page_20/ [alt] => [author] => 135 [description] => [caption] => [name] => 191209_interiorspresentation_final_page_20 [status] => inherit [uploaded_to] => 34326 [date] => 2020-10-26 17:31:57 [modified] => 2020-10-26 17:32:04 [menu_order] => 0 [mime_type] => image/jpeg [type] => image [subtype] => jpeg [icon] => https://www.arrowstreet.com/wp-includes/images/media/default.png [width] => 2040 [height] => 1320 [sizes] => Array ( [thumbnail] => https://cdn.arrowstreet.com/wp-content/uploads/2020/10/19213427/191209_InteriorsPresentation_FINAL_Page_20-500x337.jpg [thumbnail-width] => 500 [thumbnail-height] => 337 [medium] => https://cdn.arrowstreet.com/wp-content/uploads/2020/10/19213427/191209_InteriorsPresentation_FINAL_Page_20-900x582.jpg [medium-width] => 900 [medium-height] => 582 [medium_large] => https://cdn.arrowstreet.com/wp-content/uploads/2020/10/19213427/191209_InteriorsPresentation_FINAL_Page_20-768x497.jpg [medium_large-width] => 768 [medium_large-height] => 497 [large] => https://cdn.arrowstreet.com/wp-content/uploads/2020/10/19213427/191209_InteriorsPresentation_FINAL_Page_20-1400x906.jpg [large-width] => 1140 [large-height] => 738 [1536x1536] => https://cdn.arrowstreet.com/wp-content/uploads/2020/10/19213427/191209_InteriorsPresentation_FINAL_Page_20-1536x994.jpg [1536x1536-width] => 1536 [1536x1536-height] => 994 [2048x2048] => https://cdn.arrowstreet.com/wp-content/uploads/2020/10/19213427/191209_InteriorsPresentation_FINAL_Page_20.jpg [2048x2048-width] => 2040 [2048x2048-height] => 1320 ) ) )