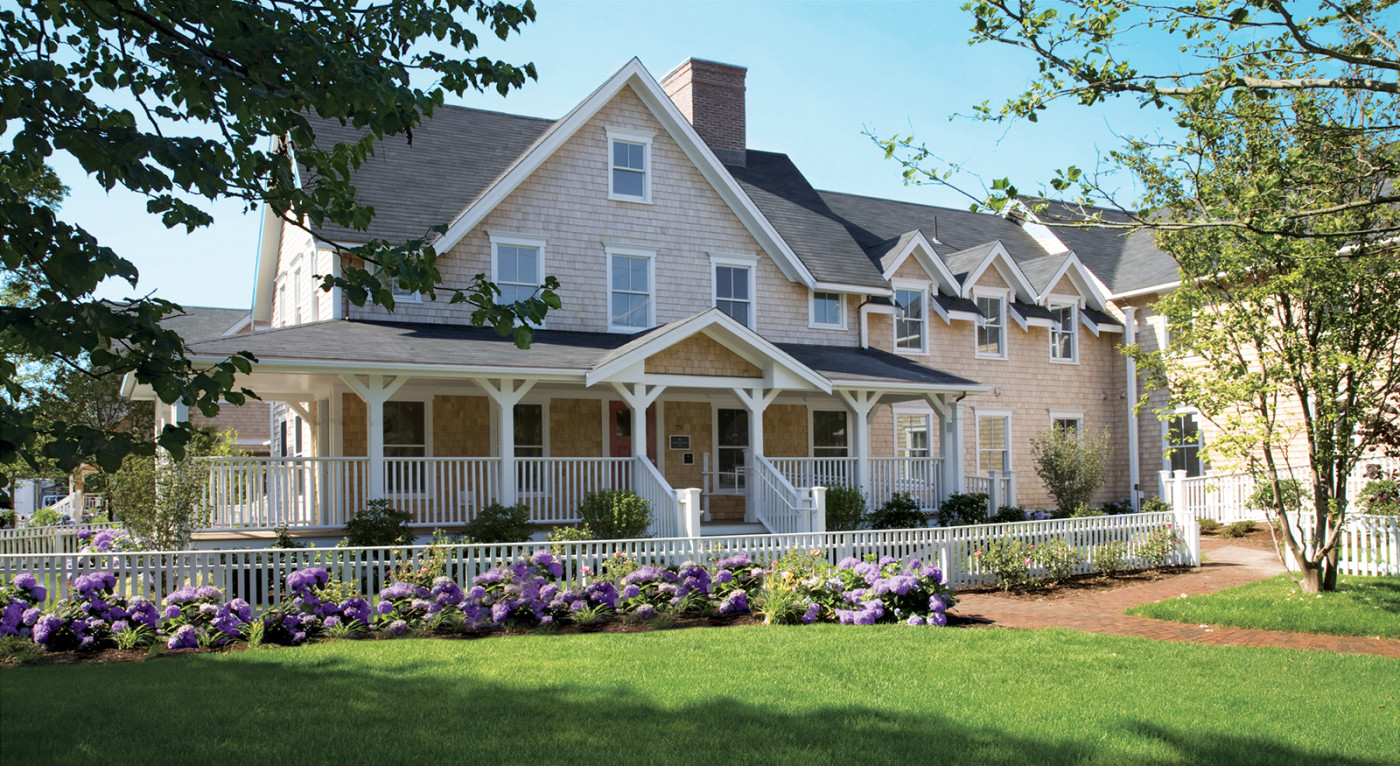 An expansion of the acclaimed White Elephant resort in Nantucket included the design of eight new buildings, and the renovation of four existing buildings. The expansion added privately-owned vacation residences and a full-service spa, fitness center, meeting space, restaurant, and lounge to this classic island resort. The new shingle-style, gambrel-roofed buildings were carefully detailed to blend with the renovated existing buildings, which were updated to luxury resort standards while still preserving their historic character. Arrowstreet's work also included a master plan for the four-acre property, as well as the renovation and expansion of the original White Elephant in 2000.
---
Related Services: Graphic Design
Project Details
location
Nantucket, MA
client/owner
Nantucket Island Resorts
size
100,000 SF
categories
Hospitality
Awards
Boston Society of Architects / New York Chapter of AIA
Award for Design, 2010
Quote
The White Elephant sits serenely on the waterfront…the accommodations reflect the simplicity, understated elegance, and tranquility for which Nantucket is renowned.
-White Elephant, Nantucket Island Resorts
Photos by Jeff Allen Photography, Cary Hazlegrove Photography, Ed Wonsek ArtWorks Inc.
Architectural Plans / Process
Array ( [0] => Array ( [ID] => 13345 [id] => 13345 [title] => I:Projects2007 Projects2708.02 Nantucket Island Resorts - MAN [filename] => B-8_PropElev_East.jpg [filesize] => 1495934 [url] => https://cdn.arrowstreet.com/wp-content/uploads/2015/03/19223830/B-8_PropElev_East.jpg [link] => https://www.arrowstreet.com/portfolio/white-elephant-hotel-residences/iprojects2007-projects2708-02-nantucket-island-resorts-man/ [alt] => [author] => 147 [description] => [caption] => [name] => iprojects2007-projects2708-02-nantucket-island-resorts-man [status] => inherit [uploaded_to] => 13329 [date] => 2015-03-13 15:13:37 [modified] => 2015-03-13 15:13:37 [menu_order] => 0 [mime_type] => image/jpeg [type] => image [subtype] => jpeg [icon] => https://www.arrowstreet.com/wp-includes/images/media/default.png [width] => 3422 [height] => 1867 [sizes] => Array ( [thumbnail] => https://cdn.arrowstreet.com/wp-content/uploads/2015/03/19223830/B-8_PropElev_East-500x337.jpg [thumbnail-width] => 500 [thumbnail-height] => 337 [medium] => https://cdn.arrowstreet.com/wp-content/uploads/2015/03/19223830/B-8_PropElev_East-900x491.jpg [medium-width] => 900 [medium-height] => 491 [medium_large] => https://cdn.arrowstreet.com/wp-content/uploads/2015/03/19223830/B-8_PropElev_East.jpg [medium_large-width] => 768 [medium_large-height] => 419 [large] => https://cdn.arrowstreet.com/wp-content/uploads/2015/03/19223830/B-8_PropElev_East-1400x764.jpg [large-width] => 1140 [large-height] => 622 [1536x1536] => https://cdn.arrowstreet.com/wp-content/uploads/2015/03/19223830/B-8_PropElev_East.jpg [1536x1536-width] => 1536 [1536x1536-height] => 838 [2048x2048] => https://cdn.arrowstreet.com/wp-content/uploads/2015/03/19223830/B-8_PropElev_East.jpg [2048x2048-width] => 2048 [2048x2048-height] => 1117 ) ) [1] => Array ( [ID] => 13352 [id] => 13352 [title] => B-2_EastElev1* [filename] => B-2_EastElev12.jpg [filesize] => 2758006 [url] => https://cdn.arrowstreet.com/wp-content/uploads/2015/03/19223829/B-2_EastElev12.jpg [link] => https://www.arrowstreet.com/portfolio/white-elephant-hotel-residences/b-2_eastelev1-3/ [alt] => [author] => 147 [description] => [caption] => [name] => b-2_eastelev1-3 [status] => inherit [uploaded_to] => 13329 [date] => 2015-03-13 15:17:56 [modified] => 2015-03-13 15:17:56 [menu_order] => 0 [mime_type] => image/jpeg [type] => image [subtype] => jpeg [icon] => https://www.arrowstreet.com/wp-includes/images/media/default.png [width] => 3301 [height] => 2551 [sizes] => Array ( [thumbnail] => https://cdn.arrowstreet.com/wp-content/uploads/2015/03/19223829/B-2_EastElev12-500x337.jpg [thumbnail-width] => 500 [thumbnail-height] => 337 [medium] => https://cdn.arrowstreet.com/wp-content/uploads/2015/03/19223829/B-2_EastElev12-900x696.jpg [medium-width] => 900 [medium-height] => 696 [medium_large] => https://cdn.arrowstreet.com/wp-content/uploads/2015/03/19223829/B-2_EastElev12.jpg [medium_large-width] => 768 [medium_large-height] => 594 [large] => https://cdn.arrowstreet.com/wp-content/uploads/2015/03/19223829/B-2_EastElev12-1400x1082.jpg [large-width] => 1140 [large-height] => 881 [1536x1536] => https://cdn.arrowstreet.com/wp-content/uploads/2015/03/19223829/B-2_EastElev12.jpg [1536x1536-width] => 1536 [1536x1536-height] => 1187 [2048x2048] => https://cdn.arrowstreet.com/wp-content/uploads/2015/03/19223829/B-2_EastElev12.jpg [2048x2048-width] => 2048 [2048x2048-height] => 1583 ) ) )