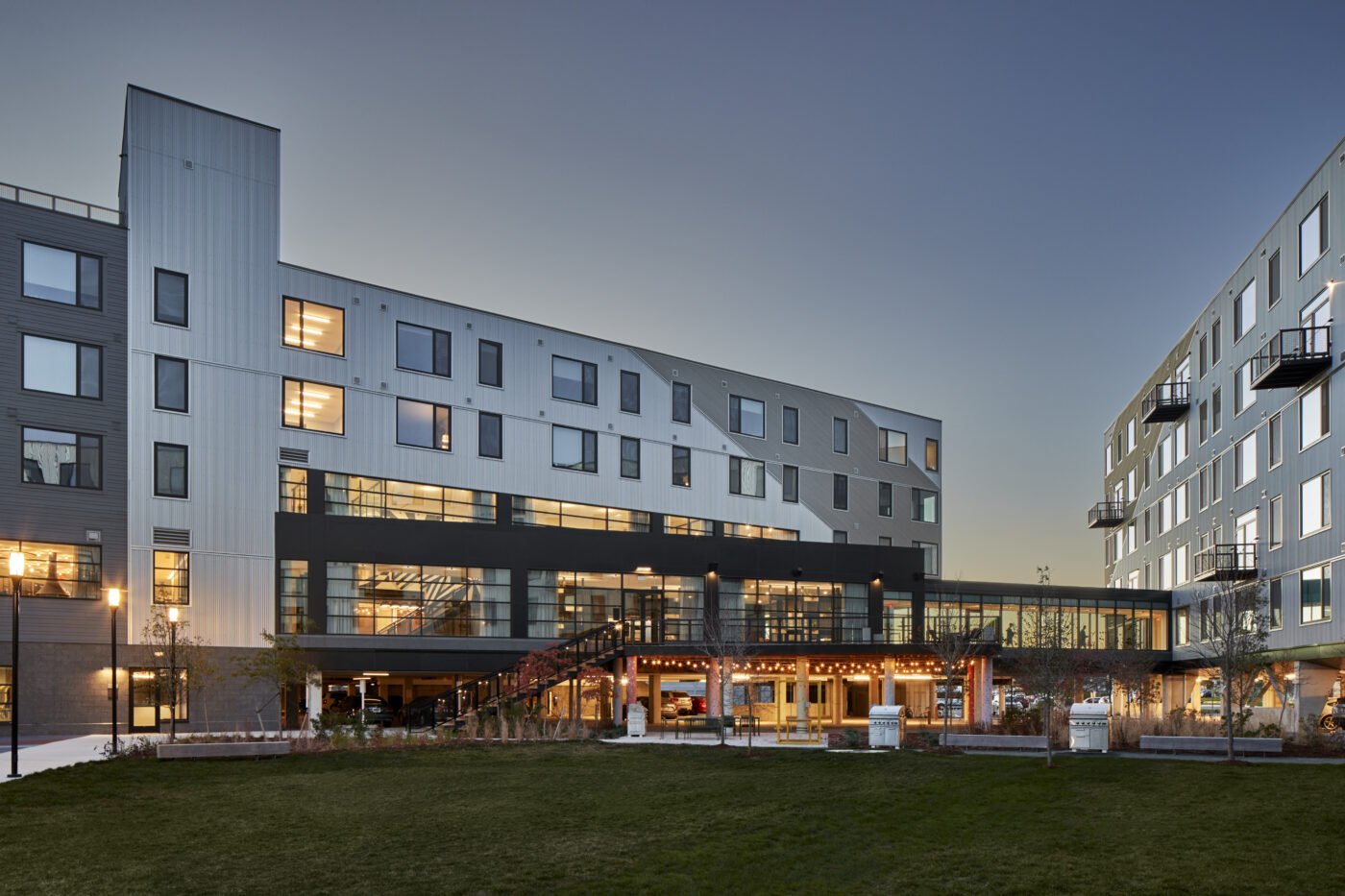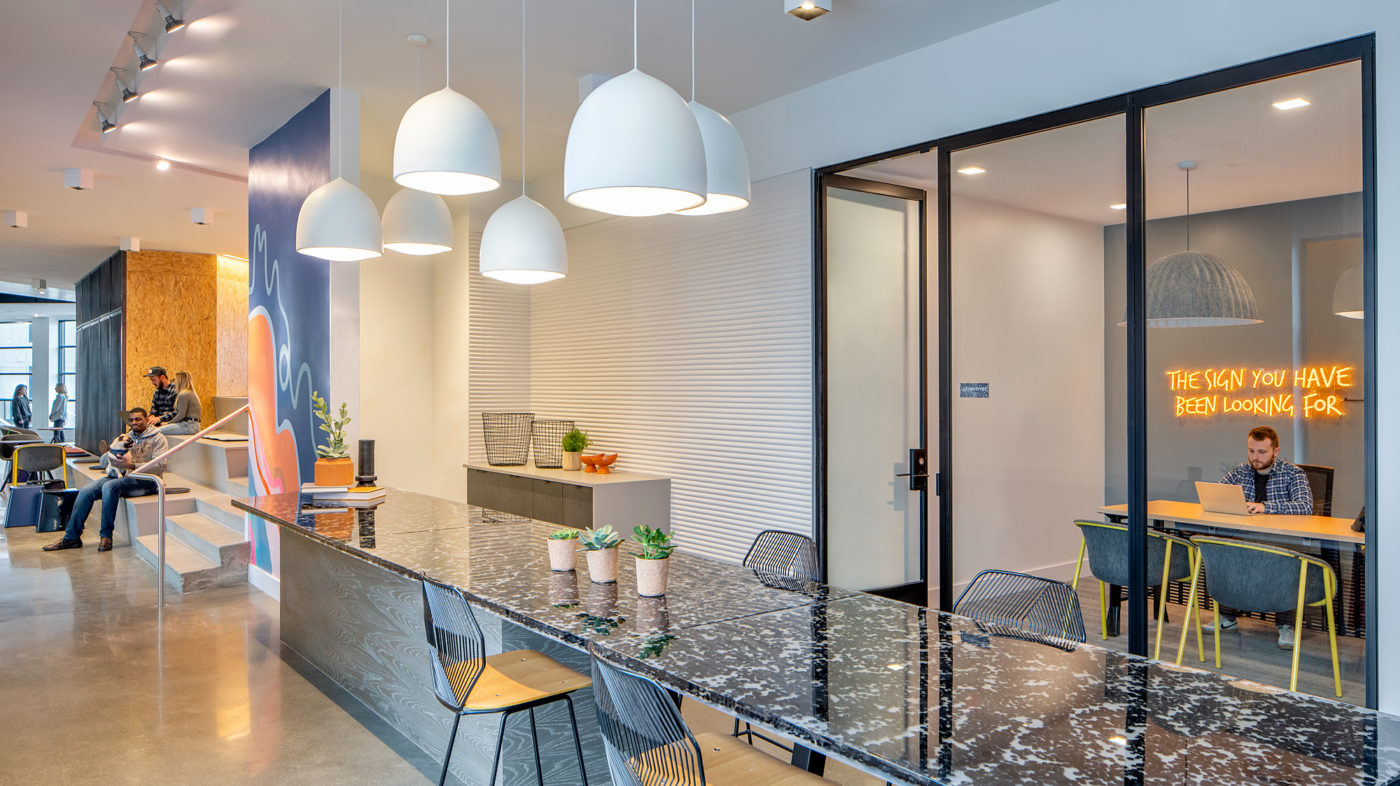 Arrowstreet has designed a new transit-oriented, multi-family residential development in East Boston. The project site, formerly an overflow lot for rental cars, presented an opportunity to improve current and future connections within the neighborhood while providing approximately 230 new housing units and 179 parking spaces. The Project also meets Boston's Inclusionary Development Policy, creating over 30 income-restricted affordable residential units. Composed of two separate residential buildings, the layout and shapes of the buildings are designed to make the most efficient use of the basin-shaped project site, provide new green space, and minimize the impact on neighbors in each direction.
Maximizing open space and landscaping on the site, the buildings touch the ground as lightly as possible, lifting them by a field of sculptural columns. The typical typology of a garage below, and building above, is blurred by transforming the garage podium into a sculptural element which both floats above the landscape and peels down to meet the ground, encouraging movement across the project site and up through the buildings. Native plantings and vegetation running across the property also enhance stormwater management and resiliency within the neighborhood. The Project's residents and the surrounding neighborhood benefit not only from enhanced views, but are also more visually connected with the landscape.
Strengthening the connection to the surrounding neighborhood, the South Building facing Addison Street includes a three-story masonry volume, reinterpreting the traditional triple-deckers of East Boston. Stoops at the ground floor units allow for direct resident connections to Addison Street and punctuate the landscape into garden size plots, creating a series of urban front yards for the Project. Toward the center of the Project site, the South Building terraces rise up to five-stories, and is organized around an urban entry court with pedestrian and vehicular access off Addison Street. The North Building faces the historic Maverick Mills, one of the first concrete reinforced textile mills in the northeast, and is easily accessible from the highway. This five-story volume celebrates the rich industrial history of the mills using corrugated metal to wrap the façade, stylistically allowing the two buildings to talk to each other.
Project Details
LOCATION
EAST BOSTON, MA
CLIENT/OWNER
GATE RESIDENTIAL
CATEGORIES
RESIDENTIAL
Awards
IIDA NE
BEST RESIDENTIAL MULTI-UNIT INTERIORS, 2022
Photos by Horne Visuals
Architectural Plans / Process
Array ( [0] => Array ( [ID] => 28127 [id] => 28127 [title] => ©Arrowstreet_AddisonStreet_web_12 [filename] => ©Arrowstreet_AddisonStreet_web_12.jpg [filesize] => 292005 [url] => https://cdn.arrowstreet.com/wp-content/uploads/2018/03/19215959/%C2%A9Arrowstreet_AddisonStreet_web_12.jpg [link] => https://www.arrowstreet.com/portfolio/144-addison-street/arrowstreet_addisonstreet_web_12/ [alt] => [author] => 120 [description] => [caption] => [name] => arrowstreet_addisonstreet_web_12 [status] => inherit [uploaded_to] => 28115 [date] => 2018-03-09 17:18:02 [modified] => 2018-03-09 17:18:02 [menu_order] => 0 [mime_type] => image/jpeg [type] => image [subtype] => jpeg [icon] => https://www.arrowstreet.com/wp-includes/images/media/default.png [width] => 1350 [height] => 809 [sizes] => Array ( [thumbnail] => https://cdn.arrowstreet.com/wp-content/uploads/2018/03/19215959/%C2%A9Arrowstreet_AddisonStreet_web_12-500x337.jpg [thumbnail-width] => 500 [thumbnail-height] => 337 [medium] => https://cdn.arrowstreet.com/wp-content/uploads/2018/03/19215959/%C2%A9Arrowstreet_AddisonStreet_web_12-900x539.jpg [medium-width] => 900 [medium-height] => 539 [medium_large] => https://cdn.arrowstreet.com/wp-content/uploads/2018/03/19215959/%C2%A9Arrowstreet_AddisonStreet_web_12-768x460.jpg [medium_large-width] => 768 [medium_large-height] => 460 [large] => https://cdn.arrowstreet.com/wp-content/uploads/2018/03/19215959/%C2%A9Arrowstreet_AddisonStreet_web_12.jpg [large-width] => 1140 [large-height] => 683 [1536x1536] => https://cdn.arrowstreet.com/wp-content/uploads/2018/03/19215959/%C2%A9Arrowstreet_AddisonStreet_web_12.jpg [1536x1536-width] => 1350 [1536x1536-height] => 809 [2048x2048] => https://cdn.arrowstreet.com/wp-content/uploads/2018/03/19215959/%C2%A9Arrowstreet_AddisonStreet_web_12.jpg [2048x2048-width] => 1350 [2048x2048-height] => 809 ) ) [1] => Array ( [ID] => 28126 [id] => 28126 [title] => ©Arrowstreet_AddisonStreet_web_11 [filename] => ©Arrowstreet_AddisonStreet_web_11.jpg [filesize] => 290746 [url] => https://cdn.arrowstreet.com/wp-content/uploads/2018/03/19220000/%C2%A9Arrowstreet_AddisonStreet_web_11.jpg [link] => https://www.arrowstreet.com/portfolio/144-addison-street/arrowstreet_addisonstreet_web_11/ [alt] => [author] => 120 [description] => [caption] => [name] => arrowstreet_addisonstreet_web_11 [status] => inherit [uploaded_to] => 28115 [date] => 2018-03-09 17:18:01 [modified] => 2018-03-09 17:18:01 [menu_order] => 0 [mime_type] => image/jpeg [type] => image [subtype] => jpeg [icon] => https://www.arrowstreet.com/wp-includes/images/media/default.png [width] => 1350 [height] => 755 [sizes] => Array ( [thumbnail] => https://cdn.arrowstreet.com/wp-content/uploads/2018/03/19220000/%C2%A9Arrowstreet_AddisonStreet_web_11-500x337.jpg [thumbnail-width] => 500 [thumbnail-height] => 337 [medium] => https://cdn.arrowstreet.com/wp-content/uploads/2018/03/19220000/%C2%A9Arrowstreet_AddisonStreet_web_11-900x503.jpg [medium-width] => 900 [medium-height] => 503 [medium_large] => https://cdn.arrowstreet.com/wp-content/uploads/2018/03/19220000/%C2%A9Arrowstreet_AddisonStreet_web_11-768x430.jpg [medium_large-width] => 768 [medium_large-height] => 430 [large] => https://cdn.arrowstreet.com/wp-content/uploads/2018/03/19220000/%C2%A9Arrowstreet_AddisonStreet_web_11.jpg [large-width] => 1140 [large-height] => 638 [1536x1536] => https://cdn.arrowstreet.com/wp-content/uploads/2018/03/19220000/%C2%A9Arrowstreet_AddisonStreet_web_11.jpg [1536x1536-width] => 1350 [1536x1536-height] => 755 [2048x2048] => https://cdn.arrowstreet.com/wp-content/uploads/2018/03/19220000/%C2%A9Arrowstreet_AddisonStreet_web_11.jpg [2048x2048-width] => 1350 [2048x2048-height] => 755 ) ) [2] => Array ( [ID] => 28125 [id] => 28125 [title] => ©Arrowstreet_AddisonStreet_web_10 [filename] => ©Arrowstreet_AddisonStreet_web_10.jpg [filesize] => 1117242 [url] => https://cdn.arrowstreet.com/wp-content/uploads/2018/03/19220000/%C2%A9Arrowstreet_AddisonStreet_web_10.jpg [link] => https://www.arrowstreet.com/portfolio/144-addison-street/arrowstreet_addisonstreet_web_10/ [alt] => [author] => 120 [description] => [caption] => [name] => arrowstreet_addisonstreet_web_10 [status] => inherit [uploaded_to] => 28115 [date] => 2018-03-09 17:18:00 [modified] => 2018-03-09 17:18:00 [menu_order] => 0 [mime_type] => image/jpeg [type] => image [subtype] => jpeg [icon] => https://www.arrowstreet.com/wp-includes/images/media/default.png [width] => 1400 [height] => 906 [sizes] => Array ( [thumbnail] => https://cdn.arrowstreet.com/wp-content/uploads/2018/03/19220000/%C2%A9Arrowstreet_AddisonStreet_web_10-500x337.jpg [thumbnail-width] => 500 [thumbnail-height] => 337 [medium] => https://cdn.arrowstreet.com/wp-content/uploads/2018/03/19220000/%C2%A9Arrowstreet_AddisonStreet_web_10-900x582.jpg [medium-width] => 900 [medium-height] => 582 [medium_large] => https://cdn.arrowstreet.com/wp-content/uploads/2018/03/19220000/%C2%A9Arrowstreet_AddisonStreet_web_10-768x497.jpg [medium_large-width] => 768 [medium_large-height] => 497 [large] => https://cdn.arrowstreet.com/wp-content/uploads/2018/03/19220000/%C2%A9Arrowstreet_AddisonStreet_web_10-1400x906.jpg [large-width] => 1140 [large-height] => 738 [1536x1536] => https://cdn.arrowstreet.com/wp-content/uploads/2018/03/19220000/%C2%A9Arrowstreet_AddisonStreet_web_10.jpg [1536x1536-width] => 1400 [1536x1536-height] => 906 [2048x2048] => https://cdn.arrowstreet.com/wp-content/uploads/2018/03/19220000/%C2%A9Arrowstreet_AddisonStreet_web_10.jpg [2048x2048-width] => 1400 [2048x2048-height] => 906 ) ) [3] => Array ( [ID] => 28124 [id] => 28124 [title] => ©Arrowstreet_AddisonStreet_web_09 [filename] => ©Arrowstreet_AddisonStreet_web_09.jpg [filesize] => 255235 [url] => https://cdn.arrowstreet.com/wp-content/uploads/2018/03/19220002/%C2%A9Arrowstreet_AddisonStreet_web_09.jpg [link] => https://www.arrowstreet.com/portfolio/144-addison-street/arrowstreet_addisonstreet_web_09/ [alt] => [author] => 120 [description] => [caption] => [name] => arrowstreet_addisonstreet_web_09 [status] => inherit [uploaded_to] => 28115 [date] => 2018-03-09 17:17:59 [modified] => 2018-03-09 17:17:59 [menu_order] => 0 [mime_type] => image/jpeg [type] => image [subtype] => jpeg [icon] => https://www.arrowstreet.com/wp-includes/images/media/default.png [width] => 1500 [height] => 733 [sizes] => Array ( [thumbnail] => https://cdn.arrowstreet.com/wp-content/uploads/2018/03/19220002/%C2%A9Arrowstreet_AddisonStreet_web_09-500x337.jpg [thumbnail-width] => 500 [thumbnail-height] => 337 [medium] => https://cdn.arrowstreet.com/wp-content/uploads/2018/03/19220002/%C2%A9Arrowstreet_AddisonStreet_web_09-900x440.jpg [medium-width] => 900 [medium-height] => 440 [medium_large] => https://cdn.arrowstreet.com/wp-content/uploads/2018/03/19220002/%C2%A9Arrowstreet_AddisonStreet_web_09-768x375.jpg [medium_large-width] => 768 [medium_large-height] => 375 [large] => https://cdn.arrowstreet.com/wp-content/uploads/2018/03/19220002/%C2%A9Arrowstreet_AddisonStreet_web_09-1400x684.jpg [large-width] => 1140 [large-height] => 557 [1536x1536] => https://cdn.arrowstreet.com/wp-content/uploads/2018/03/19220002/%C2%A9Arrowstreet_AddisonStreet_web_09.jpg [1536x1536-width] => 1500 [1536x1536-height] => 733 [2048x2048] => https://cdn.arrowstreet.com/wp-content/uploads/2018/03/19220002/%C2%A9Arrowstreet_AddisonStreet_web_09.jpg [2048x2048-width] => 1500 [2048x2048-height] => 733 ) ) [4] => Array ( [ID] => 28123 [id] => 28123 [title] => ©Arrowstreet_AddisonStreet_web_08 [filename] => ©Arrowstreet_AddisonStreet_web_08.jpg [filesize] => 219391 [url] => https://cdn.arrowstreet.com/wp-content/uploads/2018/03/19220003/%C2%A9Arrowstreet_AddisonStreet_web_08.jpg [link] => https://www.arrowstreet.com/portfolio/144-addison-street/arrowstreet_addisonstreet_web_08/ [alt] => [author] => 120 [description] => [caption] => [name] => arrowstreet_addisonstreet_web_08 [status] => inherit [uploaded_to] => 28115 [date] => 2018-03-09 17:17:58 [modified] => 2018-03-09 17:17:58 [menu_order] => 0 [mime_type] => image/jpeg [type] => image [subtype] => jpeg [icon] => https://www.arrowstreet.com/wp-includes/images/media/default.png [width] => 1500 [height] => 733 [sizes] => Array ( [thumbnail] => https://cdn.arrowstreet.com/wp-content/uploads/2018/03/19220003/%C2%A9Arrowstreet_AddisonStreet_web_08-500x337.jpg [thumbnail-width] => 500 [thumbnail-height] => 337 [medium] => https://cdn.arrowstreet.com/wp-content/uploads/2018/03/19220003/%C2%A9Arrowstreet_AddisonStreet_web_08-900x440.jpg [medium-width] => 900 [medium-height] => 440 [medium_large] => https://cdn.arrowstreet.com/wp-content/uploads/2018/03/19220003/%C2%A9Arrowstreet_AddisonStreet_web_08-768x375.jpg [medium_large-width] => 768 [medium_large-height] => 375 [large] => https://cdn.arrowstreet.com/wp-content/uploads/2018/03/19220003/%C2%A9Arrowstreet_AddisonStreet_web_08-1400x684.jpg [large-width] => 1140 [large-height] => 557 [1536x1536] => https://cdn.arrowstreet.com/wp-content/uploads/2018/03/19220003/%C2%A9Arrowstreet_AddisonStreet_web_08.jpg [1536x1536-width] => 1500 [1536x1536-height] => 733 [2048x2048] => https://cdn.arrowstreet.com/wp-content/uploads/2018/03/19220003/%C2%A9Arrowstreet_AddisonStreet_web_08.jpg [2048x2048-width] => 1500 [2048x2048-height] => 733 ) ) [5] => Array ( [ID] => 28119 [id] => 28119 [title] => ©Arrowstreet_AddisonStreet_web_04 [filename] => ©Arrowstreet_AddisonStreet_web_04.jpg [filesize] => 642793 [url] => https://cdn.arrowstreet.com/wp-content/uploads/2018/03/19220005/%C2%A9Arrowstreet_AddisonStreet_web_04.jpg [link] => https://www.arrowstreet.com/portfolio/144-addison-street/arrowstreet_addisonstreet_web_04/ [alt] => [author] => 120 [description] => [caption] => [name] => arrowstreet_addisonstreet_web_04 [status] => inherit [uploaded_to] => 28115 [date] => 2018-03-09 17:17:50 [modified] => 2018-03-09 17:18:36 [menu_order] => 0 [mime_type] => image/jpeg [type] => image [subtype] => jpeg [icon] => https://www.arrowstreet.com/wp-includes/images/media/default.png [width] => 1500 [height] => 971 [sizes] => Array ( [thumbnail] => https://cdn.arrowstreet.com/wp-content/uploads/2018/03/19220005/%C2%A9Arrowstreet_AddisonStreet_web_04-500x337.jpg [thumbnail-width] => 500 [thumbnail-height] => 337 [medium] => https://cdn.arrowstreet.com/wp-content/uploads/2018/03/19220005/%C2%A9Arrowstreet_AddisonStreet_web_04-900x583.jpg [medium-width] => 900 [medium-height] => 583 [medium_large] => https://cdn.arrowstreet.com/wp-content/uploads/2018/03/19220005/%C2%A9Arrowstreet_AddisonStreet_web_04-768x497.jpg [medium_large-width] => 768 [medium_large-height] => 497 [large] => https://cdn.arrowstreet.com/wp-content/uploads/2018/03/19220005/%C2%A9Arrowstreet_AddisonStreet_web_04-1400x906.jpg [large-width] => 1140 [large-height] => 738 [1536x1536] => https://cdn.arrowstreet.com/wp-content/uploads/2018/03/19220005/%C2%A9Arrowstreet_AddisonStreet_web_04.jpg [1536x1536-width] => 1500 [1536x1536-height] => 971 [2048x2048] => https://cdn.arrowstreet.com/wp-content/uploads/2018/03/19220005/%C2%A9Arrowstreet_AddisonStreet_web_04.jpg [2048x2048-width] => 1500 [2048x2048-height] => 971 ) ) [6] => Array ( [ID] => 28122 [id] => 28122 [title] => ©Arrowstreet_AddisonStreet_web_07 [filename] => ©Arrowstreet_AddisonStreet_web_07.jpg [filesize] => 581680 [url] => https://cdn.arrowstreet.com/wp-content/uploads/2018/03/19220003/%C2%A9Arrowstreet_AddisonStreet_web_07.jpg [link] => https://www.arrowstreet.com/portfolio/144-addison-street/arrowstreet_addisonstreet_web_07/ [alt] => [author] => 120 [description] => [caption] => [name] => arrowstreet_addisonstreet_web_07 [status] => inherit [uploaded_to] => 28115 [date] => 2018-03-09 17:17:56 [modified] => 2018-03-09 17:17:56 [menu_order] => 0 [mime_type] => image/jpeg [type] => image [subtype] => jpeg [icon] => https://www.arrowstreet.com/wp-includes/images/media/default.png [width] => 1500 [height] => 1159 [sizes] => Array ( [thumbnail] => https://cdn.arrowstreet.com/wp-content/uploads/2018/03/19220003/%C2%A9Arrowstreet_AddisonStreet_web_07-500x337.jpg [thumbnail-width] => 500 [thumbnail-height] => 337 [medium] => https://cdn.arrowstreet.com/wp-content/uploads/2018/03/19220003/%C2%A9Arrowstreet_AddisonStreet_web_07-900x695.jpg [medium-width] => 900 [medium-height] => 695 [medium_large] => https://cdn.arrowstreet.com/wp-content/uploads/2018/03/19220003/%C2%A9Arrowstreet_AddisonStreet_web_07-768x593.jpg [medium_large-width] => 768 [medium_large-height] => 593 [large] => https://cdn.arrowstreet.com/wp-content/uploads/2018/03/19220003/%C2%A9Arrowstreet_AddisonStreet_web_07-1400x1082.jpg [large-width] => 1140 [large-height] => 881 [1536x1536] => https://cdn.arrowstreet.com/wp-content/uploads/2018/03/19220003/%C2%A9Arrowstreet_AddisonStreet_web_07.jpg [1536x1536-width] => 1500 [1536x1536-height] => 1159 [2048x2048] => https://cdn.arrowstreet.com/wp-content/uploads/2018/03/19220003/%C2%A9Arrowstreet_AddisonStreet_web_07.jpg [2048x2048-width] => 1500 [2048x2048-height] => 1159 ) ) [7] => Array ( [ID] => 28121 [id] => 28121 [title] => ©Arrowstreet_AddisonStreet_web_06 [filename] => ©Arrowstreet_AddisonStreet_web_06.jpg [filesize] => 496980 [url] => https://cdn.arrowstreet.com/wp-content/uploads/2018/03/19220004/%C2%A9Arrowstreet_AddisonStreet_web_06.jpg [link] => https://www.arrowstreet.com/portfolio/144-addison-street/arrowstreet_addisonstreet_web_06/ [alt] => [author] => 120 [description] => [caption] => [name] => arrowstreet_addisonstreet_web_06 [status] => inherit [uploaded_to] => 28115 [date] => 2018-03-09 17:17:54 [modified] => 2018-03-09 17:17:54 [menu_order] => 0 [mime_type] => image/jpeg [type] => image [subtype] => jpeg [icon] => https://www.arrowstreet.com/wp-includes/images/media/default.png [width] => 1500 [height] => 1159 [sizes] => Array ( [thumbnail] => https://cdn.arrowstreet.com/wp-content/uploads/2018/03/19220004/%C2%A9Arrowstreet_AddisonStreet_web_06-500x337.jpg [thumbnail-width] => 500 [thumbnail-height] => 337 [medium] => https://cdn.arrowstreet.com/wp-content/uploads/2018/03/19220004/%C2%A9Arrowstreet_AddisonStreet_web_06-900x695.jpg [medium-width] => 900 [medium-height] => 695 [medium_large] => https://cdn.arrowstreet.com/wp-content/uploads/2018/03/19220004/%C2%A9Arrowstreet_AddisonStreet_web_06-768x593.jpg [medium_large-width] => 768 [medium_large-height] => 593 [large] => https://cdn.arrowstreet.com/wp-content/uploads/2018/03/19220004/%C2%A9Arrowstreet_AddisonStreet_web_06-1400x1082.jpg [large-width] => 1140 [large-height] => 881 [1536x1536] => https://cdn.arrowstreet.com/wp-content/uploads/2018/03/19220004/%C2%A9Arrowstreet_AddisonStreet_web_06.jpg [1536x1536-width] => 1500 [1536x1536-height] => 1159 [2048x2048] => https://cdn.arrowstreet.com/wp-content/uploads/2018/03/19220004/%C2%A9Arrowstreet_AddisonStreet_web_06.jpg [2048x2048-width] => 1500 [2048x2048-height] => 1159 ) ) [8] => Array ( [ID] => 28120 [id] => 28120 [title] => ©Arrowstreet_AddisonStreet_web_05 [filename] => ©Arrowstreet_AddisonStreet_web_05.jpg [filesize] => 597155 [url] => https://cdn.arrowstreet.com/wp-content/uploads/2018/03/19220005/%C2%A9Arrowstreet_AddisonStreet_web_05.jpg [link] => https://www.arrowstreet.com/portfolio/144-addison-street/arrowstreet_addisonstreet_web_05/ [alt] => [author] => 120 [description] => [caption] => [name] => arrowstreet_addisonstreet_web_05 [status] => inherit [uploaded_to] => 28115 [date] => 2018-03-09 17:17:52 [modified] => 2018-03-09 17:17:52 [menu_order] => 0 [mime_type] => image/jpeg [type] => image [subtype] => jpeg [icon] => https://www.arrowstreet.com/wp-includes/images/media/default.png [width] => 1500 [height] => 1159 [sizes] => Array ( [thumbnail] => https://cdn.arrowstreet.com/wp-content/uploads/2018/03/19220005/%C2%A9Arrowstreet_AddisonStreet_web_05-500x337.jpg [thumbnail-width] => 500 [thumbnail-height] => 337 [medium] => https://cdn.arrowstreet.com/wp-content/uploads/2018/03/19220005/%C2%A9Arrowstreet_AddisonStreet_web_05-900x695.jpg [medium-width] => 900 [medium-height] => 695 [medium_large] => https://cdn.arrowstreet.com/wp-content/uploads/2018/03/19220005/%C2%A9Arrowstreet_AddisonStreet_web_05-768x593.jpg [medium_large-width] => 768 [medium_large-height] => 593 [large] => https://cdn.arrowstreet.com/wp-content/uploads/2018/03/19220005/%C2%A9Arrowstreet_AddisonStreet_web_05-1400x1082.jpg [large-width] => 1140 [large-height] => 881 [1536x1536] => https://cdn.arrowstreet.com/wp-content/uploads/2018/03/19220005/%C2%A9Arrowstreet_AddisonStreet_web_05.jpg [1536x1536-width] => 1500 [1536x1536-height] => 1159 [2048x2048] => https://cdn.arrowstreet.com/wp-content/uploads/2018/03/19220005/%C2%A9Arrowstreet_AddisonStreet_web_05.jpg [2048x2048-width] => 1500 [2048x2048-height] => 1159 ) ) )