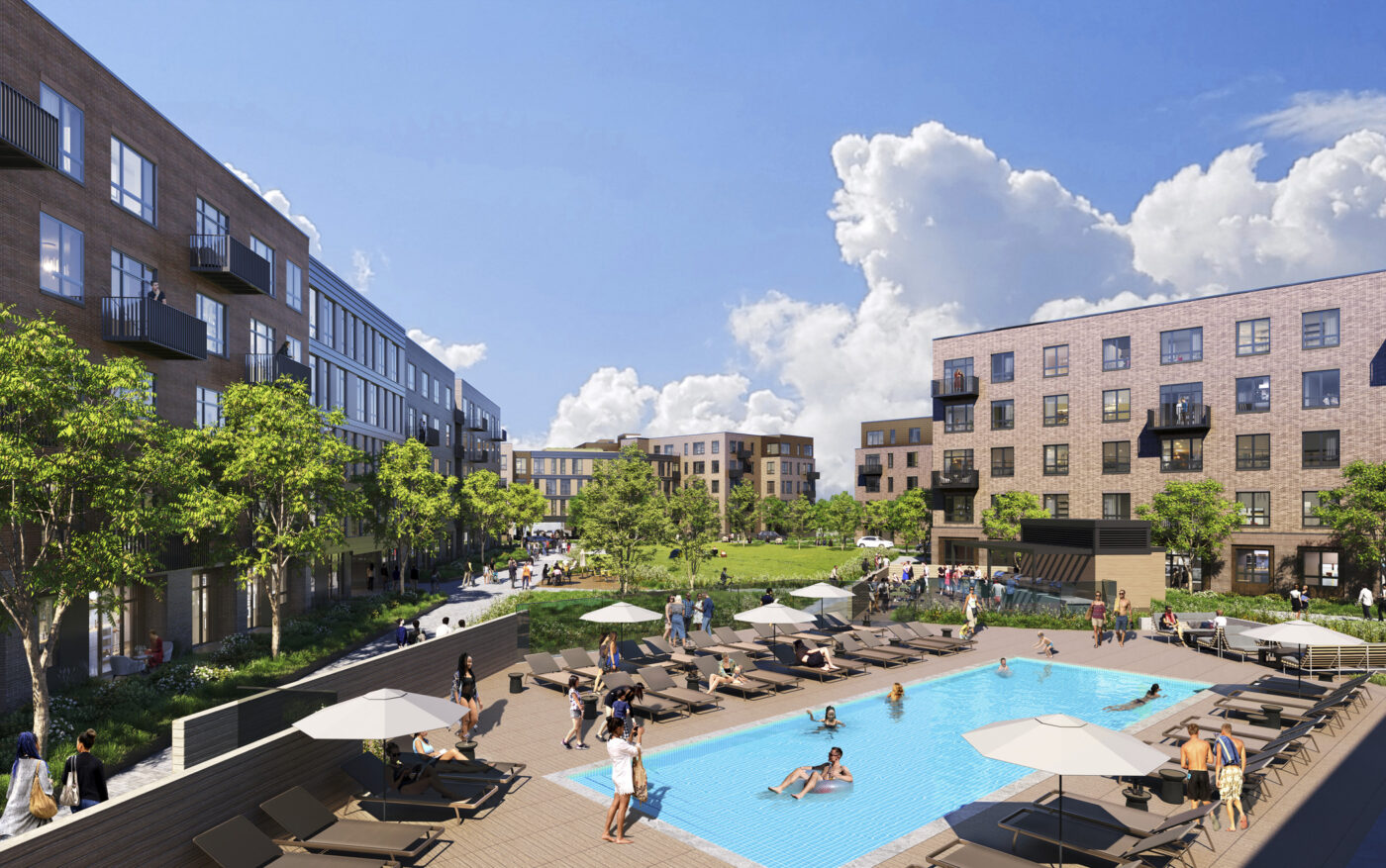 Arrowstreet has designed Ashlar Park, a modern, nature-inspired residential community with 465 units in four buildings spread across 15 acres of landscaped, park-like grounds. This unique multifamily project offers a tranquil, suburban experience while staying true to Quincy's urban, transit-oriented core. Anchored by a thoughtful, sophisticated restoration and adaptive reuse of the historic Quincy Medical Center Administration Building, Ashlar Park offers 20,000 SF of first-class amenities inspired by the project's natural surroundings.
Designed to create connection and community across the project's open, resort-like campus, amenities include a stunning double-height community pub, private fireplace lounge, games, and entertainment lounges, and a dramatic-yet-intimate clubroom featuring a two-story granite fireplace and opening onto a multi-level outdoor oasis with pool deck and grilling court. Residents also have access to a state-of-the-art fitness center and yoga studio, as well as ample coworking space with a library, communal workspace, private offices, and conference rooms.
The interior design was inspired by the area's rich environmental resources and features a blend of granite, wood, clay, and other natural materials that reference Quincy's quarries, forests, beaches, and the neighboring Blue Hills reservation. Across the entire campus, the use of biophilic colors and organic forms creates a seamless connection between the indoor and outdoor spaces, and each of the four buildings was designed with a distinct palette that connects to a different environmental element.
The Harbor building captures the spirit of nearby Wollaston Beach and its nautical hues and textures are inspired by the beauty of breaking waves. The Skyline building features a calming blue interior palette and delightful views of downtown Boston. For more than a century, Quincy was home to a thriving granite industry, and The Quarry building's warm and earthy palette honors our connection to the local terrain. Inspired by the verdant hues of New England's summer foliage, The Woodlands building's interior palette is organic and lush, while its outdoor roof deck allows all Ashlar
Project Details
LOCATION
QUNICY, MA
CLIENT/OWNER
FOXROCK PROPERTIES
SIZE
345,000 SF
Team
Related News