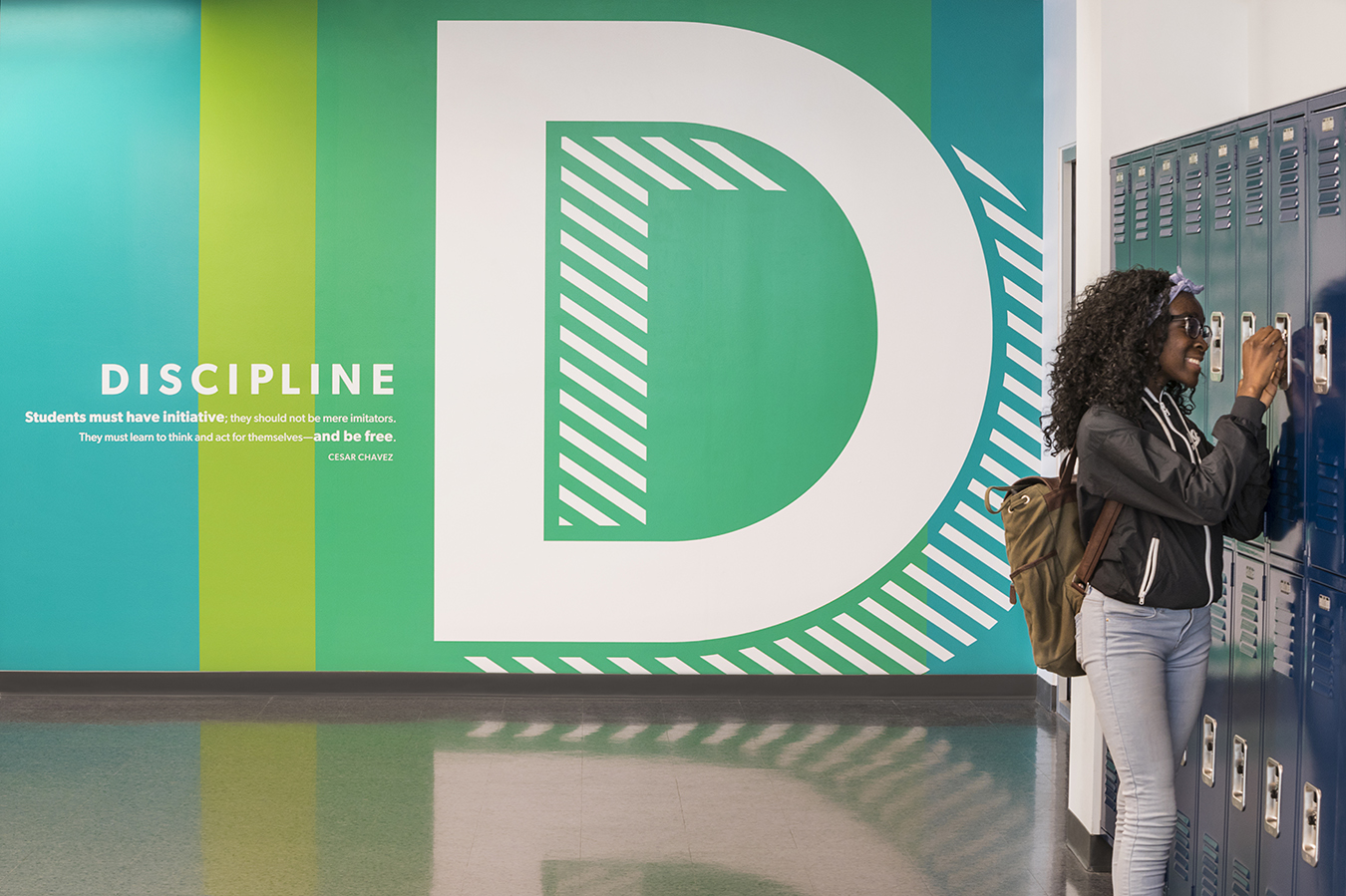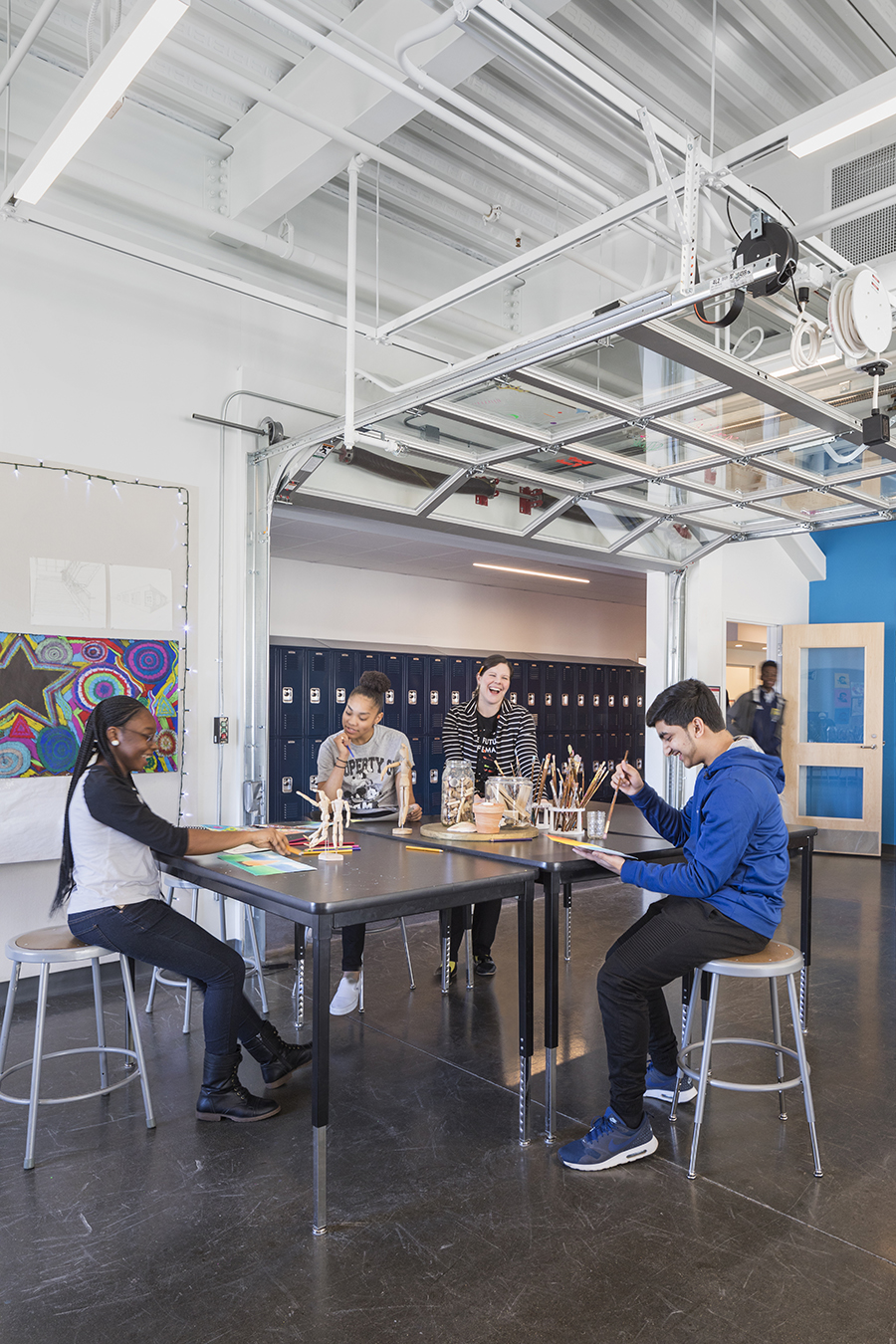 Arrowstreet's design for Blackstone Valley Prep High School incorporates a contextual building and site development consistent with the scale, look, and feel of the town of Cumberland, Rhode Island and the neighborhood. With its rich industrial history the town experienced a dramatic population increase with the growth of wood-framed residential and small commercial buildings. The school needed to reflect a modern design that fits within the character of its surroundings.
The building's form is generated from the organizational placement of 4 key programs: the classroom wing, the cafeteria, the gymnasium, and the outdoor academic courtyard. The design also delivers a dedicated makerspace and robotics lab for students, a full-size gymnasium with regulation basketball court, a pre-collegiate environment with social breakout and collaboration spaces, and an open media commons. Turning to BVP's own culture for inspiration, our Graphics Studio developed a series of environmental graphics that complement and enhance the architecture and add the desired wow factor.In addition to this straightforward compositional massing, the clean and crisp architectural treatment along the facades enhances the sense of legibility and introduces a timeless character to the building's appearance.
The contemporary use of industrialized materials such as natural cedar planks, clapboard cladding, and corrugated metal are both consistent with the architecture of the neighborhood and echo the history and heritage of Cumberland as a landmark for the textile movement. The two-story mass is envisioned as a neighborhood school with a contemporary yet contextual feel. Other site improvements include on-site parking, vehicular pick-up and drop off, and athletic fields. Edge buffers and landscaping will also be incorporated to address site safety, pedestrian movements, and help mitigate extraneous noise generation.
Project Details
LOCATION
Cumberland, RI
CLIENT/OWNER
Civic Builders Inc
Size
40,000 SF
Occupancy
350 Students
Awards
AMERICAN SCHOOL & UNIVERSITY
OUTSTANDING DESIGN, EDUCATIONAL INTERIORS SHOWCASE, 2018
LEARNING BY DESIGN
OUTSTANDING PROJECT, 2018
Quote
"Every inch of the new Blackstone Valley Prep Mayoral Academies High School is laid out with educational and building efficiency in mind."
– Michael DeMatteo, Chief Operations Officer, Blackstone Valley Prep Mayoral Academies High School
Photos by Anthony Crisafulli Photography
Architectural Plans / Process
Array ( [0] => Array ( [ID] => 26856 [id] => 26856 [title] => 170622_SchoolsOut_Blackstone [filename] => 170622_SchoolsOut_Blackstone.jpg [filesize] => 811334 [url] => https://cdn.arrowstreet.com/wp-content/uploads/2016/11/19220421/170622_SchoolsOut_Blackstone.jpg [link] => https://www.arrowstreet.com/portfolio/blackstone-valley-prep-high-school/170622_schoolsout_blackstone/ [alt] => [author] => 120 [description] => [caption] => [name] => 170622_schoolsout_blackstone [status] => inherit [uploaded_to] => 23542 [date] => 2017-07-07 19:05:20 [modified] => 2017-08-02 21:07:11 [menu_order] => 0 [mime_type] => image/jpeg [type] => image [subtype] => jpeg [icon] => https://www.arrowstreet.com/wp-includes/images/media/default.png [width] => 1355 [height] => 771 [sizes] => Array ( [thumbnail] => https://cdn.arrowstreet.com/wp-content/uploads/2016/11/19220421/170622_SchoolsOut_Blackstone-500x337.jpg [thumbnail-width] => 500 [thumbnail-height] => 337 [medium] => https://cdn.arrowstreet.com/wp-content/uploads/2016/11/19220421/170622_SchoolsOut_Blackstone-900x512.jpg [medium-width] => 900 [medium-height] => 512 [medium_large] => https://cdn.arrowstreet.com/wp-content/uploads/2016/11/19220421/170622_SchoolsOut_Blackstone-768x437.jpg [medium_large-width] => 768 [medium_large-height] => 437 [large] => https://cdn.arrowstreet.com/wp-content/uploads/2016/11/19220421/170622_SchoolsOut_Blackstone.jpg [large-width] => 1140 [large-height] => 649 [1536x1536] => https://cdn.arrowstreet.com/wp-content/uploads/2016/11/19220421/170622_SchoolsOut_Blackstone.jpg [1536x1536-width] => 1355 [1536x1536-height] => 771 [2048x2048] => https://cdn.arrowstreet.com/wp-content/uploads/2016/11/19220421/170622_SchoolsOut_Blackstone.jpg [2048x2048-width] => 1355 [2048x2048-height] => 771 ) ) [1] => Array ( [ID] => 26918 [id] => 26918 [title] => BVP [filename] => BVP.jpg [filesize] => 97167 [url] => https://cdn.arrowstreet.com/wp-content/uploads/2017/08/19220410/BVP.jpg [link] => https://www.arrowstreet.com/2017/08/blackstone-valley-prep-high-school-construction-aerial-footage-july-28-2017/bvp/ [alt] => [author] => 120 [description] => [caption] => [name] => bvp [status] => inherit [uploaded_to] => 26917 [date] => 2017-08-02 21:00:22 [modified] => 2017-08-02 21:02:49 [menu_order] => 0 [mime_type] => image/jpeg [type] => image [subtype] => jpeg [icon] => https://www.arrowstreet.com/wp-includes/images/media/default.png [width] => 853 [height] => 479 [sizes] => Array ( [thumbnail] => https://cdn.arrowstreet.com/wp-content/uploads/2017/08/19220410/BVP-500x337.jpg [thumbnail-width] => 500 [thumbnail-height] => 337 [medium] => https://cdn.arrowstreet.com/wp-content/uploads/2017/08/19220410/BVP.jpg [medium-width] => 853 [medium-height] => 479 [medium_large] => https://cdn.arrowstreet.com/wp-content/uploads/2017/08/19220410/BVP-768x431.jpg [medium_large-width] => 768 [medium_large-height] => 431 [large] => https://cdn.arrowstreet.com/wp-content/uploads/2017/08/19220410/BVP.jpg [large-width] => 853 [large-height] => 479 [1536x1536] => https://cdn.arrowstreet.com/wp-content/uploads/2017/08/19220410/BVP.jpg [1536x1536-width] => 853 [1536x1536-height] => 479 [2048x2048] => https://cdn.arrowstreet.com/wp-content/uploads/2017/08/19220410/BVP.jpg [2048x2048-width] => 853 [2048x2048-height] => 479 ) ) [2] => Array ( [ID] => 23544 [id] => 23544 [title] => edit_1 [filename] => EDIT_1.jpg [filesize] => 5958764 [url] => https://cdn.arrowstreet.com/wp-content/uploads/2016/11/19221408/EDIT_1.jpg [link] => https://www.arrowstreet.com/portfolio/blackstone-valley-prep-high-school/edit_1/ [alt] => [author] => 43 [description] => [caption] => [name] => edit_1 [status] => inherit [uploaded_to] => 23542 [date] => 2016-11-08 15:46:13 [modified] => 2016-11-08 15:46:25 [menu_order] => 0 [mime_type] => image/jpeg [type] => image [subtype] => jpeg [icon] => https://www.arrowstreet.com/wp-includes/images/media/default.png [width] => 3798 [height] => 2457 [sizes] => Array ( [thumbnail] => https://cdn.arrowstreet.com/wp-content/uploads/2016/11/19221408/EDIT_1-500x337.jpg [thumbnail-width] => 500 [thumbnail-height] => 337 [medium] => https://cdn.arrowstreet.com/wp-content/uploads/2016/11/19221408/EDIT_1-900x582.jpg [medium-width] => 900 [medium-height] => 582 [medium_large] => https://cdn.arrowstreet.com/wp-content/uploads/2016/11/19221408/EDIT_1-768x497.jpg [medium_large-width] => 768 [medium_large-height] => 497 [large] => https://cdn.arrowstreet.com/wp-content/uploads/2016/11/19221408/EDIT_1-1400x906.jpg [large-width] => 1140 [large-height] => 738 [1536x1536] => https://cdn.arrowstreet.com/wp-content/uploads/2016/11/19221408/EDIT_1.jpg [1536x1536-width] => 1536 [1536x1536-height] => 994 [2048x2048] => https://cdn.arrowstreet.com/wp-content/uploads/2016/11/19221408/EDIT_1.jpg [2048x2048-width] => 2048 [2048x2048-height] => 1325 ) ) [3] => Array ( [ID] => 23545 [id] => 23545 [title] => edit_2a [filename] => EDIT_2a.jpg [filesize] => 5910976 [url] => https://cdn.arrowstreet.com/wp-content/uploads/2016/11/19221407/EDIT_2a.jpg [link] => https://www.arrowstreet.com/portfolio/blackstone-valley-prep-high-school/edit_2a/ [alt] => [author] => 43 [description] => [caption] => [name] => edit_2a [status] => inherit [uploaded_to] => 23542 [date] => 2016-11-08 15:46:17 [modified] => 2018-03-09 20:52:31 [menu_order] => 0 [mime_type] => image/jpeg [type] => image [subtype] => jpeg [icon] => https://www.arrowstreet.com/wp-includes/images/media/default.png [width] => 3776 [height] => 2454 [sizes] => Array ( [thumbnail] => https://cdn.arrowstreet.com/wp-content/uploads/2016/11/19221407/EDIT_2a-500x337.jpg [thumbnail-width] => 500 [thumbnail-height] => 337 [medium] => https://cdn.arrowstreet.com/wp-content/uploads/2016/11/19221407/EDIT_2a-900x585.jpg [medium-width] => 900 [medium-height] => 585 [medium_large] => https://cdn.arrowstreet.com/wp-content/uploads/2016/11/19221407/EDIT_2a-768x499.jpg [medium_large-width] => 768 [medium_large-height] => 499 [large] => https://cdn.arrowstreet.com/wp-content/uploads/2016/11/19221407/EDIT_2a-1400x910.jpg [large-width] => 1140 [large-height] => 741 [1536x1536] => https://cdn.arrowstreet.com/wp-content/uploads/2016/11/19221407/EDIT_2a.jpg [1536x1536-width] => 1536 [1536x1536-height] => 998 [2048x2048] => https://cdn.arrowstreet.com/wp-content/uploads/2016/11/19221407/EDIT_2a.jpg [2048x2048-width] => 2048 [2048x2048-height] => 1331 ) ) )