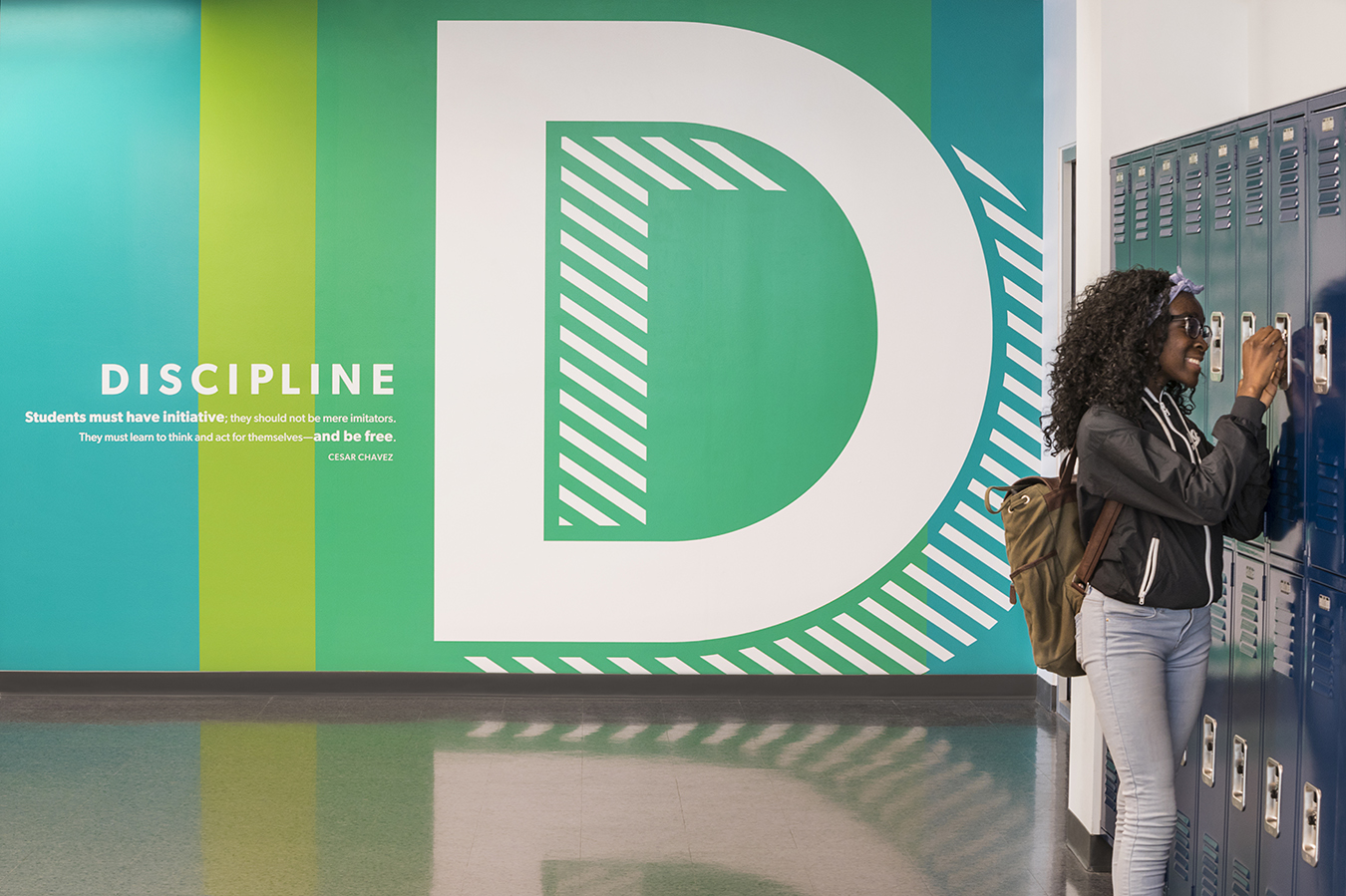 Arrowstreet's design for the Blackstone Valley Prep (BVP) High School incorporates a contextual building and site development consistent with the scale, look, and feel of the town of Cumberland, Rhode Island and the neighborhood. When it came to the design, the school wanted an environment that was colorful and inspiring, but didn't look or feel like a traditional high school. Turning to BVP's own culture for inspiration, our Graphics Studio developed a series of environmental graphics that complement and enhance the architecture and add the desired wow factor.
The overall concept features P.R.I.D.E. (Perseverance, Respect, Integrity, Discipline, and Enthusiasm); the school's core set of principles. Oversized letters on colorful accent walls are paired with quotes chosen by members of the BVP community. Each letter is set in a different typeface to represent BVP's diverse community of people and ideas. The graphics are strategically placed throughout the school to inspire and encourage staff and scholars each day.
At the school's entrance, BVP's mission statement is surrounded by individual photos of each of the scholars, designed to emphasize the important role they play as the centerpiece of the community.
Project Details
LOCATION
CUMBERLAND, RI
CLIENT/OWNER
CIVIC BUILDERS INC
CATEGORIES
GRAPHICS, ACADEMIC
Awards
AMERICAN SCHOOL & UNIVERSITY
OUTSTANDING DESIGN, EDUCATIONAL INTERIORS SHOWCASE, 2018
LEARNING BY DESIGN
OUTSTANDING PROJECT, 2018
Quote
"Every inch of the new Blackstone Valley Prep Mayoral Academies High School is laid out with educational and building efficiency in mind."
– Michael DeMatteo, Chief Operations Officer, Blackstone Valley Prep Mayoral Academies High School
Photos by Anthony Crisafulli Photography
Architectural Plans / Process
Array ( [0] => Array ( [ID] => 25543 [id] => 25543 [title] => Cafe Wall from Outside (BOG) [filename] => Cafe-Wall-from-Outside-BOG.jpg [filesize] => 1613815 [url] => https://cdn.arrowstreet.com/wp-content/uploads/2017/03/19220829/Cafe-Wall-from-Outside-BOG.jpg [link] => https://www.arrowstreet.com/2017/04/25537/cafe-wall-from-outside-bog/ [alt] => [author] => 120 [description] => [caption] => [name] => cafe-wall-from-outside-bog [status] => inherit [uploaded_to] => 25537 [date] => 2017-03-17 19:46:46 [modified] => 2017-03-17 19:46:46 [menu_order] => 0 [mime_type] => image/jpeg [type] => image [subtype] => jpeg [icon] => https://www.arrowstreet.com/wp-includes/images/media/default.png [width] => 3534 [height] => 1818 [sizes] => Array ( [thumbnail] => https://cdn.arrowstreet.com/wp-content/uploads/2017/03/19220829/Cafe-Wall-from-Outside-BOG-500x337.jpg [thumbnail-width] => 500 [thumbnail-height] => 337 [medium] => https://cdn.arrowstreet.com/wp-content/uploads/2017/03/19220829/Cafe-Wall-from-Outside-BOG-900x463.jpg [medium-width] => 900 [medium-height] => 463 [medium_large] => https://cdn.arrowstreet.com/wp-content/uploads/2017/03/19220829/Cafe-Wall-from-Outside-BOG-768x395.jpg [medium_large-width] => 768 [medium_large-height] => 395 [large] => https://cdn.arrowstreet.com/wp-content/uploads/2017/03/19220829/Cafe-Wall-from-Outside-BOG-1400x720.jpg [large-width] => 1140 [large-height] => 586 [1536x1536] => https://cdn.arrowstreet.com/wp-content/uploads/2017/03/19220829/Cafe-Wall-from-Outside-BOG.jpg [1536x1536-width] => 1536 [1536x1536-height] => 790 [2048x2048] => https://cdn.arrowstreet.com/wp-content/uploads/2017/03/19220829/Cafe-Wall-from-Outside-BOG.jpg [2048x2048-width] => 2048 [2048x2048-height] => 1054 ) ) [1] => Array ( [ID] => 25542 [id] => 25542 [title] => WELCOME Wall (BOG) [filename] => WELCOME-Wall-BOG.jpg [filesize] => 1065259 [url] => https://cdn.arrowstreet.com/wp-content/uploads/2017/03/19220829/WELCOME-Wall-BOG.jpg [link] => https://www.arrowstreet.com/2017/04/25537/welcome-wall-bog/ [alt] => [author] => 120 [description] => [caption] => [name] => welcome-wall-bog [status] => inherit [uploaded_to] => 25537 [date] => 2017-03-17 19:46:43 [modified] => 2017-03-17 19:46:43 [menu_order] => 0 [mime_type] => image/jpeg [type] => image [subtype] => jpeg [icon] => https://www.arrowstreet.com/wp-includes/images/media/default.png [width] => 2740 [height] => 1800 [sizes] => Array ( [thumbnail] => https://cdn.arrowstreet.com/wp-content/uploads/2017/03/19220829/WELCOME-Wall-BOG-500x337.jpg [thumbnail-width] => 500 [thumbnail-height] => 337 [medium] => https://cdn.arrowstreet.com/wp-content/uploads/2017/03/19220829/WELCOME-Wall-BOG-900x591.jpg [medium-width] => 900 [medium-height] => 591 [medium_large] => https://cdn.arrowstreet.com/wp-content/uploads/2017/03/19220829/WELCOME-Wall-BOG-768x505.jpg [medium_large-width] => 768 [medium_large-height] => 505 [large] => https://cdn.arrowstreet.com/wp-content/uploads/2017/03/19220829/WELCOME-Wall-BOG-1400x920.jpg [large-width] => 1140 [large-height] => 749 [1536x1536] => https://cdn.arrowstreet.com/wp-content/uploads/2017/03/19220829/WELCOME-Wall-BOG.jpg [1536x1536-width] => 1536 [1536x1536-height] => 1009 [2048x2048] => https://cdn.arrowstreet.com/wp-content/uploads/2017/03/19220829/WELCOME-Wall-BOG.jpg [2048x2048-width] => 2048 [2048x2048-height] => 1345 ) ) [2] => Array ( [ID] => 25541 [id] => 25541 [title] => R Wall [filename] => R-Wall.jpg [filesize] => 1064238 [url] => https://cdn.arrowstreet.com/wp-content/uploads/2017/03/19220830/R-Wall.jpg [link] => https://www.arrowstreet.com/2017/04/25537/r-wall/ [alt] => [author] => 120 [description] => [caption] => [name] => r-wall [status] => inherit [uploaded_to] => 25537 [date] => 2017-03-17 19:46:41 [modified] => 2017-03-17 19:46:41 [menu_order] => 0 [mime_type] => image/jpeg [type] => image [subtype] => jpeg [icon] => https://www.arrowstreet.com/wp-includes/images/media/default.png [width] => 2916 [height] => 1754 [sizes] => Array ( [thumbnail] => https://cdn.arrowstreet.com/wp-content/uploads/2017/03/19220830/R-Wall-500x337.jpg [thumbnail-width] => 500 [thumbnail-height] => 337 [medium] => https://cdn.arrowstreet.com/wp-content/uploads/2017/03/19220830/R-Wall-900x541.jpg [medium-width] => 900 [medium-height] => 541 [medium_large] => https://cdn.arrowstreet.com/wp-content/uploads/2017/03/19220830/R-Wall-768x462.jpg [medium_large-width] => 768 [medium_large-height] => 462 [large] => https://cdn.arrowstreet.com/wp-content/uploads/2017/03/19220830/R-Wall-1400x842.jpg [large-width] => 1140 [large-height] => 686 [1536x1536] => https://cdn.arrowstreet.com/wp-content/uploads/2017/03/19220830/R-Wall.jpg [1536x1536-width] => 1536 [1536x1536-height] => 924 [2048x2048] => https://cdn.arrowstreet.com/wp-content/uploads/2017/03/19220830/R-Wall.jpg [2048x2048-width] => 2048 [2048x2048-height] => 1232 ) ) [3] => Array ( [ID] => 25540 [id] => 25540 [title] => Mission Statement (pics) and P Wall [filename] => Mission-Statement-pics-and-P-Wall.jpg [filesize] => 1131867 [url] => https://cdn.arrowstreet.com/wp-content/uploads/2017/03/19220831/Mission-Statement-pics-and-P-Wall.jpg [link] => https://www.arrowstreet.com/2017/04/25537/mission-statement-pics-and-p-wall/ [alt] => [author] => 120 [description] => [caption] => [name] => mission-statement-pics-and-p-wall [status] => inherit [uploaded_to] => 25537 [date] => 2017-03-17 19:46:37 [modified] => 2017-03-17 19:46:37 [menu_order] => 0 [mime_type] => image/jpeg [type] => image [subtype] => jpeg [icon] => https://www.arrowstreet.com/wp-includes/images/media/default.png [width] => 2878 [height] => 1844 [sizes] => Array ( [thumbnail] => https://cdn.arrowstreet.com/wp-content/uploads/2017/03/19220831/Mission-Statement-pics-and-P-Wall-500x337.jpg [thumbnail-width] => 500 [thumbnail-height] => 337 [medium] => https://cdn.arrowstreet.com/wp-content/uploads/2017/03/19220831/Mission-Statement-pics-and-P-Wall-900x577.jpg [medium-width] => 900 [medium-height] => 577 [medium_large] => https://cdn.arrowstreet.com/wp-content/uploads/2017/03/19220831/Mission-Statement-pics-and-P-Wall-768x492.jpg [medium_large-width] => 768 [medium_large-height] => 492 [large] => https://cdn.arrowstreet.com/wp-content/uploads/2017/03/19220831/Mission-Statement-pics-and-P-Wall-1400x897.jpg [large-width] => 1140 [large-height] => 730 [1536x1536] => https://cdn.arrowstreet.com/wp-content/uploads/2017/03/19220831/Mission-Statement-pics-and-P-Wall.jpg [1536x1536-width] => 1536 [1536x1536-height] => 984 [2048x2048] => https://cdn.arrowstreet.com/wp-content/uploads/2017/03/19220831/Mission-Statement-pics-and-P-Wall.jpg [2048x2048-width] => 2048 [2048x2048-height] => 1312 ) ) [4] => Array ( [ID] => 25539 [id] => 25539 [title] => I Wall [filename] => I-Wall.jpg [filesize] => 508239 [url] => https://cdn.arrowstreet.com/wp-content/uploads/2017/03/19220831/I-Wall.jpg [link] => https://www.arrowstreet.com/2017/04/25537/i-wall/ [alt] => [author] => 120 [description] => [caption] => [name] => i-wall [status] => inherit [uploaded_to] => 25537 [date] => 2017-03-17 19:46:35 [modified] => 2018-03-09 21:06:38 [menu_order] => 0 [mime_type] => image/jpeg [type] => image [subtype] => jpeg [icon] => https://www.arrowstreet.com/wp-includes/images/media/default.png [width] => 2568 [height] => 1220 [sizes] => Array ( [thumbnail] => https://cdn.arrowstreet.com/wp-content/uploads/2017/03/19220831/I-Wall-500x337.jpg [thumbnail-width] => 500 [thumbnail-height] => 337 [medium] => https://cdn.arrowstreet.com/wp-content/uploads/2017/03/19220831/I-Wall-900x428.jpg [medium-width] => 900 [medium-height] => 428 [medium_large] => https://cdn.arrowstreet.com/wp-content/uploads/2017/03/19220831/I-Wall-768x365.jpg [medium_large-width] => 768 [medium_large-height] => 365 [large] => https://cdn.arrowstreet.com/wp-content/uploads/2017/03/19220831/I-Wall-1400x665.jpg [large-width] => 1140 [large-height] => 542 [1536x1536] => https://cdn.arrowstreet.com/wp-content/uploads/2017/03/19220831/I-Wall.jpg [1536x1536-width] => 1536 [1536x1536-height] => 730 [2048x2048] => https://cdn.arrowstreet.com/wp-content/uploads/2017/03/19220831/I-Wall.jpg [2048x2048-width] => 2048 [2048x2048-height] => 973 ) ) )