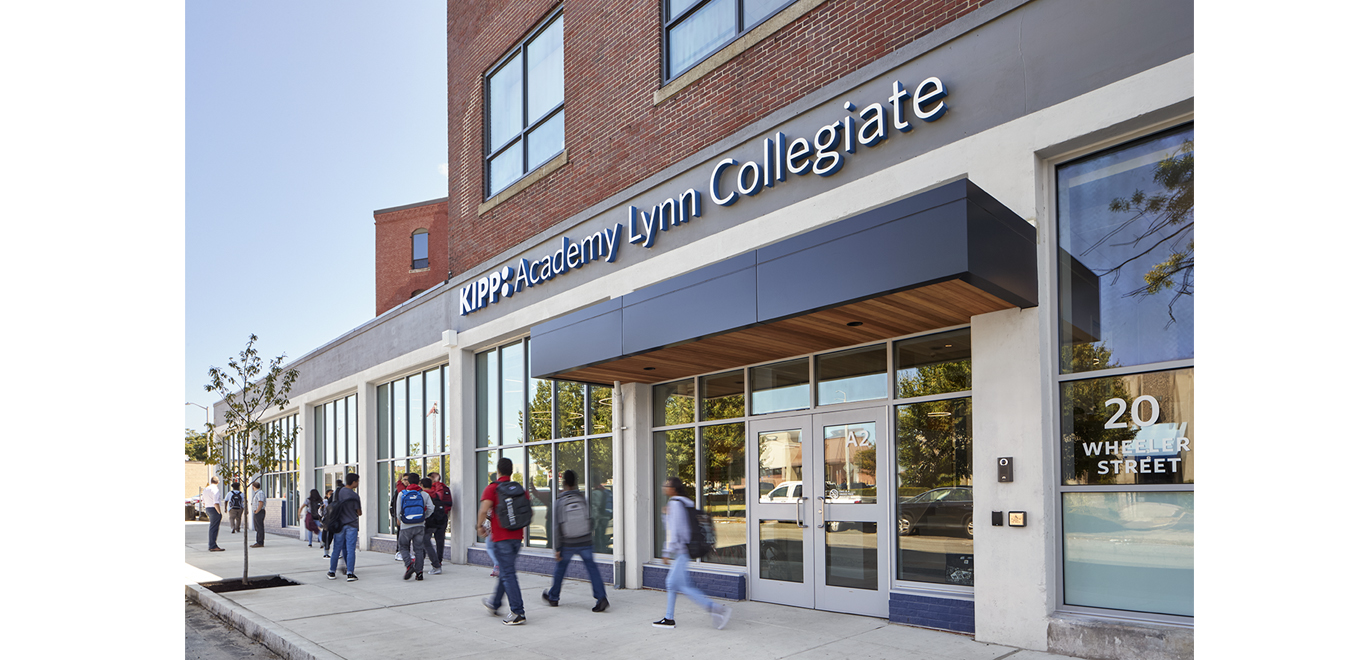 KIPP Academy Lynn Collegiate has a new home for their growing academic program. A 100-year old former warehouse building has been converted into an new modern-day High School for grades 9-12.
A centrally located large open stair connects all four floors. Immediately adjacent to the open spaces located on each floor, open views of hallways create a sense of connection between different departments. Shared spaces include a Gallery on Level 1, supporting the adjacent Arts, Music, Theater and Dance classrooms; an open library on Level 2, Student Hub on Level 3, and large Seminar room on Level 4.
On the exterior, the existing loading dock has been transformed into a new multilevel Dining Commons, highlighted by a glass storefront overlooking the street. Located on a tight urban site, the building's perimeter includes new street trees, repaved parking lot, and improved wayfinding and signage.
Using KIPP's bold color palette and visual identity elements, the Graphics Studio developed floor-to-ceiling wall graphics with messaging that reinforces each level's programming and uses KIPP's acronym message, "Knowledge is Power," as inspiration to KIPPsters in the cafeteria.
Project Details
LOCATION
LYNN, MA
CLIENT/OWNER
KIPP ACADEMY
SIZE
70,000 SF
Awards
AMERICAN SCHOOL & UNIVERSITY
EDUCATIONAL INTERIORS, OUTSTANDING DESIGN, 2020
Related Projects
Quote
Arrowstreet is truly an architecture firm that prides itself on designing spaces that make sense, have purpose, and believes above all that their job is to create space that facilitates student learning and success."
– Caleb Dolan, Executive Director, KIPP MA
Photos by Robert Benson Photography