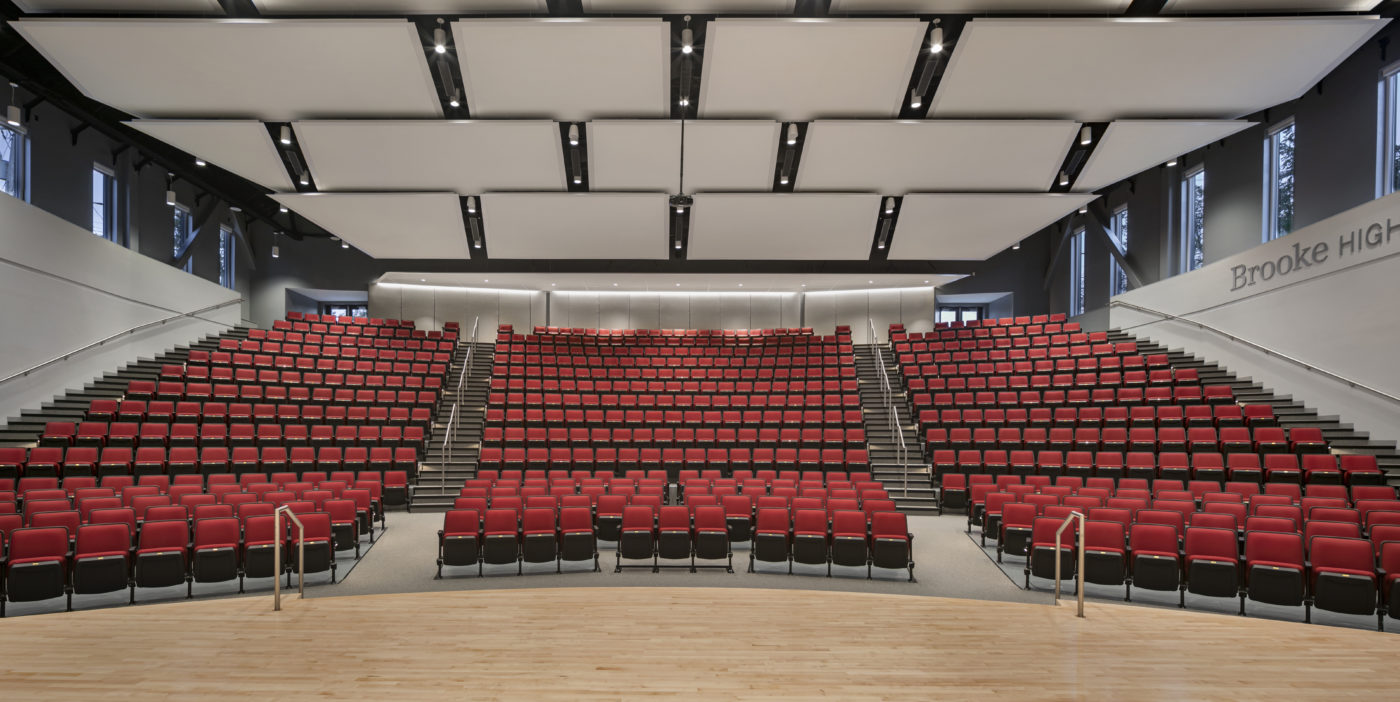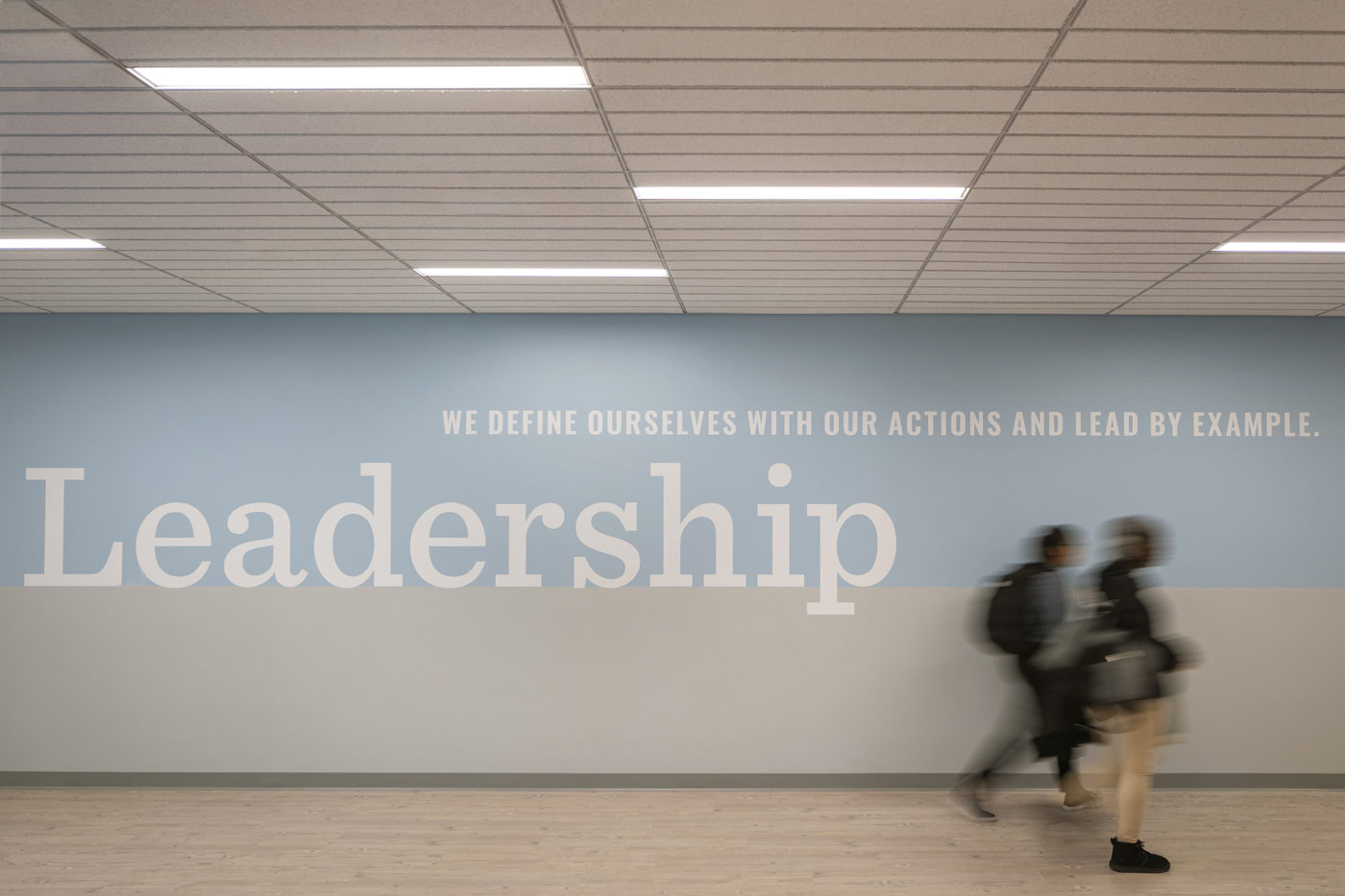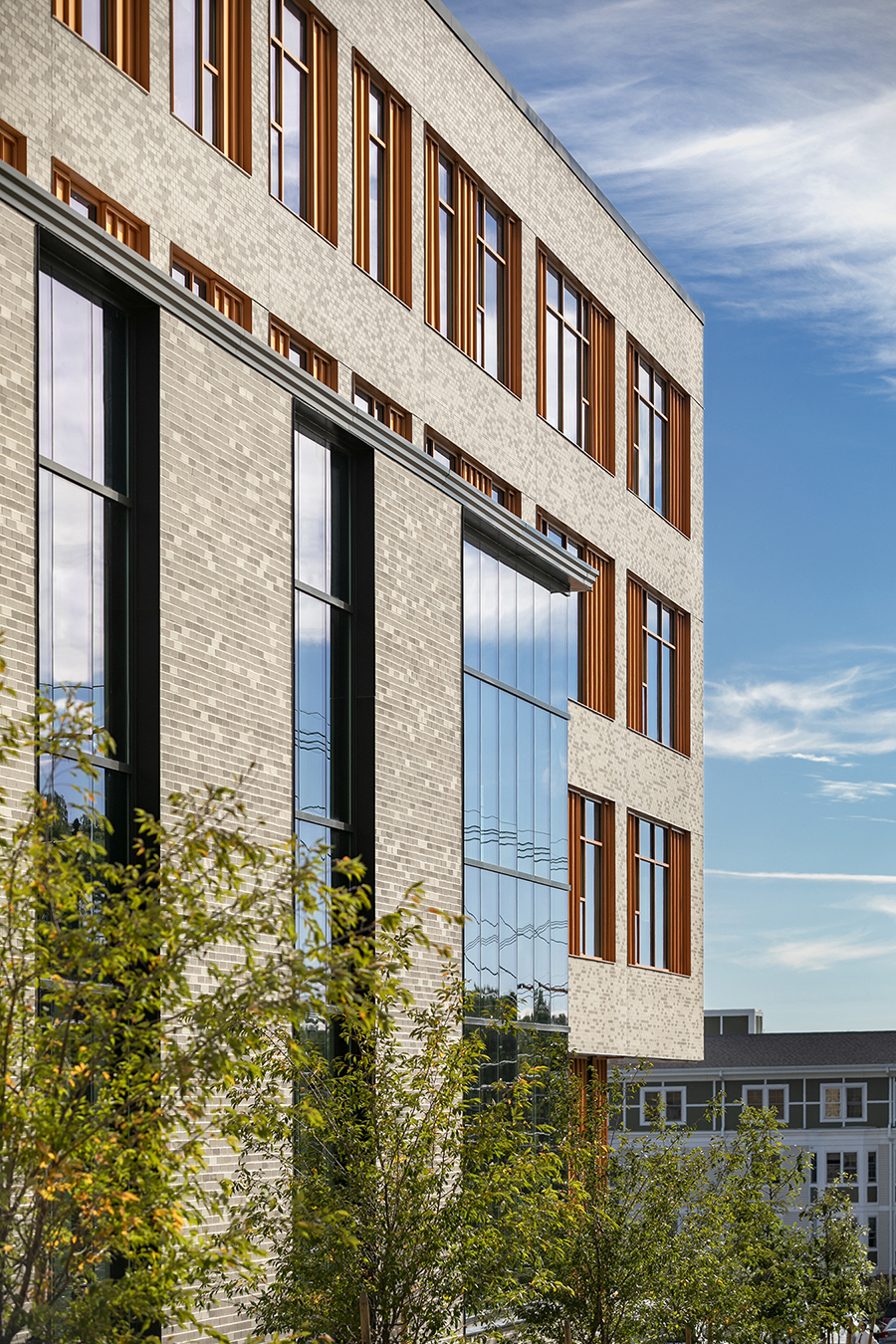 Arrowstreet recently completed the Brooke High School, a 93,000 SF school for 600 students in grades 9-12 and 180 students in an Eighth Grade Academy on the top floor of the building. After working with Arrowstreet on the renovation of their K-8 building in Mattapan, Brooke hired Arrowstreet to complete the planning, programming and design for their new High School. The building includes core and specialty classrooms, gymnasium, auditorium, administrative and other support spaces. Classrooms are organized into an efficient bar along American Legion Highway, improving efficiency and reducing overall building costs. The gymnasium, auditorium and cafeteria are strategically located to create special spaces that connect the building to the neighborhood and the landscape. The south-facing courtyard forms the heart of the school, creating a focus for the cafeteria and other educational spaces.
The client's design objective was to create a building where students can be proud to come each day to learn and achieve. As you enter the building, you are greeted by a grand hall with a focal staircase that draws students and faculty into the school. Ribboning forms and linear graphics guide students and faculty through the school in a cohesive colorful way. Strong connections between interior and exterior spaces, including a large south-facing courtyard, promote views of nature and an abundance of natural light into the interior spaces. Durability, sustainability, and cost control were critical during material selections for the space to achieve the client's goals of a budget conscious project in an engaging student environment. Student spaces include a variety of indoor and outdoor learning environments to provide a mix of spaces for students to learn. Specialty spaces such as art rooms, music labs, and maker spaces foster creative learning environments for students. Each of the 38 classrooms is named after colleges or universities to excite and encourage students to pursue their dreams. The 650-seat auditorium incorporated playful acoustical ceiling panels and complimentary school colors to create a unique space for students to learn, listen and play. As part of the interior design, we incorporated graphic signage that enhanced the school vision and mission in the form of colorful graphic messaging throughout. The final product is a place where students and families can think, dream big, and see the possibilities for themselves.
The Graphics Studio developed a series of large typographic environmental graphics at each entrance and around the school corridors. At each entrance, the Graphics Studio selected a quote by the late Senator Edward Brooke to inspire students as they arrive to school. Large core value words and definitions span the corridors of the upper levels.
Project Details
LOCATION
MATTAPAN, BOSTON, MA
CLIENT/OWNER
EDWARD W. BROOKE CHARTER SCHOOL
SIZE
93,400 SF
OCCUPANCY
600 STUDENTS
Awards
American School & University
Educational Interiors, Outstanding Design, 2019
Quote
"Brooke Charter High School is a 21st century school designed for success."
– Marty Walsh, Mayor, City of Boston
Photos by Anthony Crisafulli Photography
Architectural Plans / Process
Array ( [0] => Array ( [ID] => 29627 [id] => 29627 [title] => Arrowstreet_BrookeHighSchool_001 [filename] => ICON_BrookeHighSchool_001.jpg [filesize] => 1999580 [url] => https://cdn.arrowstreet.com/wp-content/uploads/2017/05/19215455/ICON_BrookeHighSchool_001.jpg [link] => https://www.arrowstreet.com/portfolio/brooke-charter-high-school/icon_brookehighschool_001/ [alt] => [author] => 120 [description] => [caption] => [name] => icon_brookehighschool_001 [status] => inherit [uploaded_to] => 26264 [date] => 2018-12-17 21:50:16 [modified] => 2019-02-01 22:02:17 [menu_order] => 0 [mime_type] => image/jpeg [type] => image [subtype] => jpeg [icon] => https://www.arrowstreet.com/wp-includes/images/media/default.png [width] => 2000 [height] => 1333 [sizes] => Array ( [thumbnail] => https://cdn.arrowstreet.com/wp-content/uploads/2017/05/19215455/ICON_BrookeHighSchool_001-500x337.jpg [thumbnail-width] => 500 [thumbnail-height] => 337 [medium] => https://cdn.arrowstreet.com/wp-content/uploads/2017/05/19215455/ICON_BrookeHighSchool_001-900x600.jpg [medium-width] => 900 [medium-height] => 600 [medium_large] => https://cdn.arrowstreet.com/wp-content/uploads/2017/05/19215455/ICON_BrookeHighSchool_001-768x512.jpg [medium_large-width] => 768 [medium_large-height] => 512 [large] => https://cdn.arrowstreet.com/wp-content/uploads/2017/05/19215455/ICON_BrookeHighSchool_001-1400x933.jpg [large-width] => 1140 [large-height] => 760 [1536x1536] => https://cdn.arrowstreet.com/wp-content/uploads/2017/05/19215455/ICON_BrookeHighSchool_001.jpg [1536x1536-width] => 1536 [1536x1536-height] => 1024 [2048x2048] => https://cdn.arrowstreet.com/wp-content/uploads/2017/05/19215455/ICON_BrookeHighSchool_001.jpg [2048x2048-width] => 2000 [2048x2048-height] => 1333 ) ) [1] => Array ( [ID] => 26378 [id] => 26378 [title] => ©Arrowstreet_BrookeHS_web_02 [filename] => ©Arrowstreet_BrookeHS_web_02.jpg [filesize] => 1115700 [url] => https://cdn.arrowstreet.com/wp-content/uploads/2017/05/19220554/%C2%A9Arrowstreet_BrookeHS_web_02.jpg [link] => https://www.arrowstreet.com/portfolio/brooke-charter-high-school/arrowstreet_brookehs_web_02/ [alt] => [author] => 120 [description] => [caption] => [name] => arrowstreet_brookehs_web_02 [status] => inherit [uploaded_to] => 26264 [date] => 2017-05-25 18:05:21 [modified] => 2017-05-25 18:05:21 [menu_order] => 0 [mime_type] => image/jpeg [type] => image [subtype] => jpeg [icon] => https://www.arrowstreet.com/wp-includes/images/media/default.png [width] => 1350 [height] => 812 [sizes] => Array ( [thumbnail] => https://cdn.arrowstreet.com/wp-content/uploads/2017/05/19220554/%C2%A9Arrowstreet_BrookeHS_web_02-500x337.jpg [thumbnail-width] => 500 [thumbnail-height] => 337 [medium] => https://cdn.arrowstreet.com/wp-content/uploads/2017/05/19220554/%C2%A9Arrowstreet_BrookeHS_web_02-900x541.jpg [medium-width] => 900 [medium-height] => 541 [medium_large] => https://cdn.arrowstreet.com/wp-content/uploads/2017/05/19220554/%C2%A9Arrowstreet_BrookeHS_web_02-768x462.jpg [medium_large-width] => 768 [medium_large-height] => 462 [large] => https://cdn.arrowstreet.com/wp-content/uploads/2017/05/19220554/%C2%A9Arrowstreet_BrookeHS_web_02.jpg [large-width] => 1140 [large-height] => 686 [1536x1536] => https://cdn.arrowstreet.com/wp-content/uploads/2017/05/19220554/%C2%A9Arrowstreet_BrookeHS_web_02.jpg [1536x1536-width] => 1350 [1536x1536-height] => 812 [2048x2048] => https://cdn.arrowstreet.com/wp-content/uploads/2017/05/19220554/%C2%A9Arrowstreet_BrookeHS_web_02.jpg [2048x2048-width] => 1350 [2048x2048-height] => 812 ) ) [2] => Array ( [ID] => 26379 [id] => 26379 [title] => ©Arrowstreet_BrookeHS_web_03 [filename] => ©Arrowstreet_BrookeHS_web_03.jpg [filesize] => 980391 [url] => https://cdn.arrowstreet.com/wp-content/uploads/2017/05/19220553/%C2%A9Arrowstreet_BrookeHS_web_03.jpg [link] => https://www.arrowstreet.com/portfolio/brooke-charter-high-school/arrowstreet_brookehs_web_03/ [alt] => [author] => 120 [description] => [caption] => [name] => arrowstreet_brookehs_web_03 [status] => inherit [uploaded_to] => 26264 [date] => 2017-05-25 18:05:21 [modified] => 2017-05-25 18:05:21 [menu_order] => 0 [mime_type] => image/jpeg [type] => image [subtype] => jpeg [icon] => https://www.arrowstreet.com/wp-includes/images/media/default.png [width] => 1350 [height] => 737 [sizes] => Array ( [thumbnail] => https://cdn.arrowstreet.com/wp-content/uploads/2017/05/19220553/%C2%A9Arrowstreet_BrookeHS_web_03-500x337.jpg [thumbnail-width] => 500 [thumbnail-height] => 337 [medium] => https://cdn.arrowstreet.com/wp-content/uploads/2017/05/19220553/%C2%A9Arrowstreet_BrookeHS_web_03-900x491.jpg [medium-width] => 900 [medium-height] => 491 [medium_large] => https://cdn.arrowstreet.com/wp-content/uploads/2017/05/19220553/%C2%A9Arrowstreet_BrookeHS_web_03-768x419.jpg [medium_large-width] => 768 [medium_large-height] => 419 [large] => https://cdn.arrowstreet.com/wp-content/uploads/2017/05/19220553/%C2%A9Arrowstreet_BrookeHS_web_03.jpg [large-width] => 1140 [large-height] => 622 [1536x1536] => https://cdn.arrowstreet.com/wp-content/uploads/2017/05/19220553/%C2%A9Arrowstreet_BrookeHS_web_03.jpg [1536x1536-width] => 1350 [1536x1536-height] => 737 [2048x2048] => https://cdn.arrowstreet.com/wp-content/uploads/2017/05/19220553/%C2%A9Arrowstreet_BrookeHS_web_03.jpg [2048x2048-width] => 1350 [2048x2048-height] => 737 ) ) [3] => Array ( [ID] => 26380 [id] => 26380 [title] => ©Arrowstreet_BrookeHS_web_04 [filename] => ©Arrowstreet_BrookeHS_web_04.jpg [filesize] => 1270741 [url] => https://cdn.arrowstreet.com/wp-content/uploads/2017/05/19220552/%C2%A9Arrowstreet_BrookeHS_web_04.jpg [link] => https://www.arrowstreet.com/portfolio/brooke-charter-high-school/arrowstreet_brookehs_web_04/ [alt] => [author] => 120 [description] => [caption] => [name] => arrowstreet_brookehs_web_04 [status] => inherit [uploaded_to] => 26264 [date] => 2017-05-25 18:05:22 [modified] => 2018-10-18 19:03:44 [menu_order] => 0 [mime_type] => image/jpeg [type] => image [subtype] => jpeg [icon] => https://www.arrowstreet.com/wp-includes/images/media/default.png [width] => 1350 [height] => 737 [sizes] => Array ( [thumbnail] => https://cdn.arrowstreet.com/wp-content/uploads/2017/05/19220552/%C2%A9Arrowstreet_BrookeHS_web_04-500x337.jpg [thumbnail-width] => 500 [thumbnail-height] => 337 [medium] => https://cdn.arrowstreet.com/wp-content/uploads/2017/05/19220552/%C2%A9Arrowstreet_BrookeHS_web_04-900x491.jpg [medium-width] => 900 [medium-height] => 491 [medium_large] => https://cdn.arrowstreet.com/wp-content/uploads/2017/05/19220552/%C2%A9Arrowstreet_BrookeHS_web_04-768x419.jpg [medium_large-width] => 768 [medium_large-height] => 419 [large] => https://cdn.arrowstreet.com/wp-content/uploads/2017/05/19220552/%C2%A9Arrowstreet_BrookeHS_web_04.jpg [large-width] => 1140 [large-height] => 622 [1536x1536] => https://cdn.arrowstreet.com/wp-content/uploads/2017/05/19220552/%C2%A9Arrowstreet_BrookeHS_web_04.jpg [1536x1536-width] => 1350 [1536x1536-height] => 737 [2048x2048] => https://cdn.arrowstreet.com/wp-content/uploads/2017/05/19220552/%C2%A9Arrowstreet_BrookeHS_web_04.jpg [2048x2048-width] => 1350 [2048x2048-height] => 737 ) ) [4] => Array ( [ID] => 26386 [id] => 26386 [title] => ©Arrowstreet_BrookeHS_web_07 [filename] => ©Arrowstreet_BrookeHS_web_07.jpg [filesize] => 642144 [url] => https://cdn.arrowstreet.com/wp-content/uploads/2017/05/19220549/%C2%A9Arrowstreet_BrookeHS_web_07.jpg [link] => https://www.arrowstreet.com/portfolio/brooke-charter-high-school/arrowstreet_brookehs_web_07/ [alt] => [author] => 120 [description] => [caption] => [name] => arrowstreet_brookehs_web_07 [status] => inherit [uploaded_to] => 26264 [date] => 2017-05-25 18:05:32 [modified] => 2017-05-25 18:05:32 [menu_order] => 0 [mime_type] => image/jpeg [type] => image [subtype] => jpeg [icon] => https://www.arrowstreet.com/wp-includes/images/media/default.png [width] => 1224 [height] => 792 [sizes] => Array ( [thumbnail] => https://cdn.arrowstreet.com/wp-content/uploads/2017/05/19220549/%C2%A9Arrowstreet_BrookeHS_web_07-500x337.jpg [thumbnail-width] => 500 [thumbnail-height] => 337 [medium] => https://cdn.arrowstreet.com/wp-content/uploads/2017/05/19220549/%C2%A9Arrowstreet_BrookeHS_web_07-900x582.jpg [medium-width] => 900 [medium-height] => 582 [medium_large] => https://cdn.arrowstreet.com/wp-content/uploads/2017/05/19220549/%C2%A9Arrowstreet_BrookeHS_web_07-768x497.jpg [medium_large-width] => 768 [medium_large-height] => 497 [large] => https://cdn.arrowstreet.com/wp-content/uploads/2017/05/19220549/%C2%A9Arrowstreet_BrookeHS_web_07.jpg [large-width] => 1140 [large-height] => 738 [1536x1536] => https://cdn.arrowstreet.com/wp-content/uploads/2017/05/19220549/%C2%A9Arrowstreet_BrookeHS_web_07.jpg [1536x1536-width] => 1224 [1536x1536-height] => 792 [2048x2048] => https://cdn.arrowstreet.com/wp-content/uploads/2017/05/19220549/%C2%A9Arrowstreet_BrookeHS_web_07.jpg [2048x2048-width] => 1224 [2048x2048-height] => 792 ) ) [5] => Array ( [ID] => 26385 [id] => 26385 [title] => ©Arrowstreet_BrookeHS_web_13 [filename] => ©Arrowstreet_BrookeHS_web_13.jpg [filesize] => 1033485 [url] => https://cdn.arrowstreet.com/wp-content/uploads/2017/05/19220549/%C2%A9Arrowstreet_BrookeHS_web_13.jpg [link] => https://www.arrowstreet.com/portfolio/brooke-charter-high-school/arrowstreet_brookehs_web_13/ [alt] => [author] => 120 [description] => [caption] => [name] => arrowstreet_brookehs_web_13 [status] => inherit [uploaded_to] => 26264 [date] => 2017-05-25 18:05:29 [modified] => 2017-05-25 18:05:29 [menu_order] => 0 [mime_type] => image/jpeg [type] => image [subtype] => jpeg [icon] => https://www.arrowstreet.com/wp-includes/images/media/default.png [width] => 3192 [height] => 1880 [sizes] => Array ( [thumbnail] => https://cdn.arrowstreet.com/wp-content/uploads/2017/05/19220549/%C2%A9Arrowstreet_BrookeHS_web_13-500x337.jpg [thumbnail-width] => 500 [thumbnail-height] => 337 [medium] => https://cdn.arrowstreet.com/wp-content/uploads/2017/05/19220549/%C2%A9Arrowstreet_BrookeHS_web_13-900x530.jpg [medium-width] => 900 [medium-height] => 530 [medium_large] => https://cdn.arrowstreet.com/wp-content/uploads/2017/05/19220549/%C2%A9Arrowstreet_BrookeHS_web_13-768x452.jpg [medium_large-width] => 768 [medium_large-height] => 452 [large] => https://cdn.arrowstreet.com/wp-content/uploads/2017/05/19220549/%C2%A9Arrowstreet_BrookeHS_web_13-1400x825.jpg [large-width] => 1140 [large-height] => 672 [1536x1536] => https://cdn.arrowstreet.com/wp-content/uploads/2017/05/19220549/%C2%A9Arrowstreet_BrookeHS_web_13.jpg [1536x1536-width] => 1536 [1536x1536-height] => 905 [2048x2048] => https://cdn.arrowstreet.com/wp-content/uploads/2017/05/19220549/%C2%A9Arrowstreet_BrookeHS_web_13.jpg [2048x2048-width] => 2048 [2048x2048-height] => 1206 ) ) [6] => Array ( [ID] => 26387 [id] => 26387 [title] => ©Arrowstreet_BrookeHS_web_08 [filename] => ©Arrowstreet_BrookeHS_web_08.jpg [filesize] => 482786 [url] => https://cdn.arrowstreet.com/wp-content/uploads/2017/05/19220548/%C2%A9Arrowstreet_BrookeHS_web_08.jpg [link] => https://www.arrowstreet.com/portfolio/brooke-charter-high-school/arrowstreet_brookehs_web_08/ [alt] => [author] => 120 [description] => [caption] => [name] => arrowstreet_brookehs_web_08 [status] => inherit [uploaded_to] => 26264 [date] => 2017-05-25 18:05:33 [modified] => 2017-05-25 18:05:33 [menu_order] => 0 [mime_type] => image/jpeg [type] => image [subtype] => jpeg [icon] => https://www.arrowstreet.com/wp-includes/images/media/default.png [width] => 1155 [height] => 683 [sizes] => Array ( [thumbnail] => https://cdn.arrowstreet.com/wp-content/uploads/2017/05/19220548/%C2%A9Arrowstreet_BrookeHS_web_08-500x337.jpg [thumbnail-width] => 500 [thumbnail-height] => 337 [medium] => https://cdn.arrowstreet.com/wp-content/uploads/2017/05/19220548/%C2%A9Arrowstreet_BrookeHS_web_08-900x532.jpg [medium-width] => 900 [medium-height] => 532 [medium_large] => https://cdn.arrowstreet.com/wp-content/uploads/2017/05/19220548/%C2%A9Arrowstreet_BrookeHS_web_08-768x454.jpg [medium_large-width] => 768 [medium_large-height] => 454 [large] => https://cdn.arrowstreet.com/wp-content/uploads/2017/05/19220548/%C2%A9Arrowstreet_BrookeHS_web_08.jpg [large-width] => 1140 [large-height] => 674 [1536x1536] => https://cdn.arrowstreet.com/wp-content/uploads/2017/05/19220548/%C2%A9Arrowstreet_BrookeHS_web_08.jpg [1536x1536-width] => 1155 [1536x1536-height] => 683 [2048x2048] => https://cdn.arrowstreet.com/wp-content/uploads/2017/05/19220548/%C2%A9Arrowstreet_BrookeHS_web_08.jpg [2048x2048-width] => 1155 [2048x2048-height] => 683 ) ) [7] => Array ( [ID] => 26388 [id] => 26388 [title] => ©Arrowstreet_BrookeHS_web_09 [filename] => ©Arrowstreet_BrookeHS_web_09.jpg [filesize] => 526752 [url] => https://cdn.arrowstreet.com/wp-content/uploads/2017/05/19220548/%C2%A9Arrowstreet_BrookeHS_web_09.jpg [link] => https://www.arrowstreet.com/portfolio/brooke-charter-high-school/arrowstreet_brookehs_web_09/ [alt] => [author] => 120 [description] => [caption] => [name] => arrowstreet_brookehs_web_09 [status] => inherit [uploaded_to] => 26264 [date] => 2017-05-25 18:05:34 [modified] => 2017-05-25 18:05:34 [menu_order] => 0 [mime_type] => image/jpeg [type] => image [subtype] => jpeg [icon] => https://www.arrowstreet.com/wp-includes/images/media/default.png [width] => 1152 [height] => 685 [sizes] => Array ( [thumbnail] => https://cdn.arrowstreet.com/wp-content/uploads/2017/05/19220548/%C2%A9Arrowstreet_BrookeHS_web_09-500x337.jpg [thumbnail-width] => 500 [thumbnail-height] => 337 [medium] => https://cdn.arrowstreet.com/wp-content/uploads/2017/05/19220548/%C2%A9Arrowstreet_BrookeHS_web_09-900x535.jpg [medium-width] => 900 [medium-height] => 535 [medium_large] => https://cdn.arrowstreet.com/wp-content/uploads/2017/05/19220548/%C2%A9Arrowstreet_BrookeHS_web_09-768x457.jpg [medium_large-width] => 768 [medium_large-height] => 457 [large] => https://cdn.arrowstreet.com/wp-content/uploads/2017/05/19220548/%C2%A9Arrowstreet_BrookeHS_web_09.jpg [large-width] => 1140 [large-height] => 678 [1536x1536] => https://cdn.arrowstreet.com/wp-content/uploads/2017/05/19220548/%C2%A9Arrowstreet_BrookeHS_web_09.jpg [1536x1536-width] => 1152 [1536x1536-height] => 685 [2048x2048] => https://cdn.arrowstreet.com/wp-content/uploads/2017/05/19220548/%C2%A9Arrowstreet_BrookeHS_web_09.jpg [2048x2048-width] => 1152 [2048x2048-height] => 685 ) ) [8] => Array ( [ID] => 26382 [id] => 26382 [title] => ©Arrowstreet_BrookeHS_web_10 [filename] => ©Arrowstreet_BrookeHS_web_10.jpg [filesize] => 538115 [url] => https://cdn.arrowstreet.com/wp-content/uploads/2017/05/19220551/%C2%A9Arrowstreet_BrookeHS_web_10.jpg [link] => https://www.arrowstreet.com/portfolio/brooke-charter-high-school/arrowstreet_brookehs_web_10/ [alt] => [author] => 120 [description] => [caption] => [name] => arrowstreet_brookehs_web_10 [status] => inherit [uploaded_to] => 26264 [date] => 2017-05-25 18:05:27 [modified] => 2017-05-25 18:06:15 [menu_order] => 0 [mime_type] => image/jpeg [type] => image [subtype] => jpeg [icon] => https://www.arrowstreet.com/wp-includes/images/media/default.png [width] => 1158 [height] => 685 [sizes] => Array ( [thumbnail] => https://cdn.arrowstreet.com/wp-content/uploads/2017/05/19220551/%C2%A9Arrowstreet_BrookeHS_web_10-500x337.jpg [thumbnail-width] => 500 [thumbnail-height] => 337 [medium] => https://cdn.arrowstreet.com/wp-content/uploads/2017/05/19220551/%C2%A9Arrowstreet_BrookeHS_web_10-900x532.jpg [medium-width] => 900 [medium-height] => 532 [medium_large] => https://cdn.arrowstreet.com/wp-content/uploads/2017/05/19220551/%C2%A9Arrowstreet_BrookeHS_web_10-768x454.jpg [medium_large-width] => 768 [medium_large-height] => 454 [large] => https://cdn.arrowstreet.com/wp-content/uploads/2017/05/19220551/%C2%A9Arrowstreet_BrookeHS_web_10.jpg [large-width] => 1140 [large-height] => 674 [1536x1536] => https://cdn.arrowstreet.com/wp-content/uploads/2017/05/19220551/%C2%A9Arrowstreet_BrookeHS_web_10.jpg [1536x1536-width] => 1158 [1536x1536-height] => 685 [2048x2048] => https://cdn.arrowstreet.com/wp-content/uploads/2017/05/19220551/%C2%A9Arrowstreet_BrookeHS_web_10.jpg [2048x2048-width] => 1158 [2048x2048-height] => 685 ) ) [9] => Array ( [ID] => 26383 [id] => 26383 [title] => ©Arrowstreet_BrookeHS_web_11 [filename] => ©Arrowstreet_BrookeHS_web_11.jpg [filesize] => 476909 [url] => https://cdn.arrowstreet.com/wp-content/uploads/2017/05/19220551/%C2%A9Arrowstreet_BrookeHS_web_11.jpg [link] => https://www.arrowstreet.com/portfolio/brooke-charter-high-school/arrowstreet_brookehs_web_11/ [alt] => [author] => 120 [description] => [caption] => [name] => arrowstreet_brookehs_web_11 [status] => inherit [uploaded_to] => 26264 [date] => 2017-05-25 18:05:28 [modified] => 2017-05-25 18:05:28 [menu_order] => 0 [mime_type] => image/jpeg [type] => image [subtype] => jpeg [icon] => https://www.arrowstreet.com/wp-includes/images/media/default.png [width] => 1155 [height] => 683 [sizes] => Array ( [thumbnail] => https://cdn.arrowstreet.com/wp-content/uploads/2017/05/19220551/%C2%A9Arrowstreet_BrookeHS_web_11-500x337.jpg [thumbnail-width] => 500 [thumbnail-height] => 337 [medium] => https://cdn.arrowstreet.com/wp-content/uploads/2017/05/19220551/%C2%A9Arrowstreet_BrookeHS_web_11-900x532.jpg [medium-width] => 900 [medium-height] => 532 [medium_large] => https://cdn.arrowstreet.com/wp-content/uploads/2017/05/19220551/%C2%A9Arrowstreet_BrookeHS_web_11-768x454.jpg [medium_large-width] => 768 [medium_large-height] => 454 [large] => https://cdn.arrowstreet.com/wp-content/uploads/2017/05/19220551/%C2%A9Arrowstreet_BrookeHS_web_11.jpg [large-width] => 1140 [large-height] => 674 [1536x1536] => https://cdn.arrowstreet.com/wp-content/uploads/2017/05/19220551/%C2%A9Arrowstreet_BrookeHS_web_11.jpg [1536x1536-width] => 1155 [1536x1536-height] => 683 [2048x2048] => https://cdn.arrowstreet.com/wp-content/uploads/2017/05/19220551/%C2%A9Arrowstreet_BrookeHS_web_11.jpg [2048x2048-width] => 1155 [2048x2048-height] => 683 ) ) [10] => Array ( [ID] => 26384 [id] => 26384 [title] => ©Arrowstreet_BrookeHS_web_12 [filename] => ©Arrowstreet_BrookeHS_web_12.jpg [filesize] => 482795 [url] => https://cdn.arrowstreet.com/wp-content/uploads/2017/05/19220550/%C2%A9Arrowstreet_BrookeHS_web_12.jpg [link] => https://www.arrowstreet.com/portfolio/brooke-charter-high-school/arrowstreet_brookehs_web_12/ [alt] => [author] => 120 [description] => [caption] => [name] => arrowstreet_brookehs_web_12 [status] => inherit [uploaded_to] => 26264 [date] => 2017-05-25 18:05:28 [modified] => 2017-05-25 18:05:28 [menu_order] => 0 [mime_type] => image/jpeg [type] => image [subtype] => jpeg [icon] => https://www.arrowstreet.com/wp-includes/images/media/default.png [width] => 1152 [height] => 683 [sizes] => Array ( [thumbnail] => https://cdn.arrowstreet.com/wp-content/uploads/2017/05/19220550/%C2%A9Arrowstreet_BrookeHS_web_12-500x337.jpg [thumbnail-width] => 500 [thumbnail-height] => 337 [medium] => https://cdn.arrowstreet.com/wp-content/uploads/2017/05/19220550/%C2%A9Arrowstreet_BrookeHS_web_12-900x534.jpg [medium-width] => 900 [medium-height] => 534 [medium_large] => https://cdn.arrowstreet.com/wp-content/uploads/2017/05/19220550/%C2%A9Arrowstreet_BrookeHS_web_12-768x455.jpg [medium_large-width] => 768 [medium_large-height] => 455 [large] => https://cdn.arrowstreet.com/wp-content/uploads/2017/05/19220550/%C2%A9Arrowstreet_BrookeHS_web_12.jpg [large-width] => 1140 [large-height] => 676 [1536x1536] => https://cdn.arrowstreet.com/wp-content/uploads/2017/05/19220550/%C2%A9Arrowstreet_BrookeHS_web_12.jpg [1536x1536-width] => 1152 [1536x1536-height] => 683 [2048x2048] => https://cdn.arrowstreet.com/wp-content/uploads/2017/05/19220550/%C2%A9Arrowstreet_BrookeHS_web_12.jpg [2048x2048-width] => 1152 [2048x2048-height] => 683 ) ) [11] => Array ( [ID] => 26377 [id] => 26377 [title] => ©Arrowstreet_BrookeHS_web_01 [filename] => ©Arrowstreet_BrookeHS_web_01.jpg [filesize] => 935836 [url] => https://cdn.arrowstreet.com/wp-content/uploads/2017/05/19220554/%C2%A9Arrowstreet_BrookeHS_web_01.jpg [link] => https://www.arrowstreet.com/portfolio/brooke-charter-high-school/arrowstreet_brookehs_web_01/ [alt] => [author] => 120 [description] => [caption] => [name] => arrowstreet_brookehs_web_01 [status] => inherit [uploaded_to] => 26264 [date] => 2017-05-25 18:05:20 [modified] => 2017-05-25 18:05:20 [menu_order] => 0 [mime_type] => image/jpeg [type] => image [subtype] => jpeg [icon] => https://www.arrowstreet.com/wp-includes/images/media/default.png [width] => 1350 [height] => 872 [sizes] => Array ( [thumbnail] => https://cdn.arrowstreet.com/wp-content/uploads/2017/05/19220554/%C2%A9Arrowstreet_BrookeHS_web_01-500x337.jpg [thumbnail-width] => 500 [thumbnail-height] => 337 [medium] => https://cdn.arrowstreet.com/wp-content/uploads/2017/05/19220554/%C2%A9Arrowstreet_BrookeHS_web_01-900x581.jpg [medium-width] => 900 [medium-height] => 581 [medium_large] => https://cdn.arrowstreet.com/wp-content/uploads/2017/05/19220554/%C2%A9Arrowstreet_BrookeHS_web_01-768x496.jpg [medium_large-width] => 768 [medium_large-height] => 496 [large] => https://cdn.arrowstreet.com/wp-content/uploads/2017/05/19220554/%C2%A9Arrowstreet_BrookeHS_web_01.jpg [large-width] => 1140 [large-height] => 736 [1536x1536] => https://cdn.arrowstreet.com/wp-content/uploads/2017/05/19220554/%C2%A9Arrowstreet_BrookeHS_web_01.jpg [1536x1536-width] => 1350 [1536x1536-height] => 872 [2048x2048] => https://cdn.arrowstreet.com/wp-content/uploads/2017/05/19220554/%C2%A9Arrowstreet_BrookeHS_web_01.jpg [2048x2048-width] => 1350 [2048x2048-height] => 872 ) ) [12] => Array ( [ID] => 26381 [id] => 26381 [title] => ©Arrowstreet_BrookeHS_web_05 [filename] => ©Arrowstreet_BrookeHS_web_05.jpg [filesize] => 751179 [url] => https://cdn.arrowstreet.com/wp-content/uploads/2017/05/19220552/%C2%A9Arrowstreet_BrookeHS_web_05.jpg [link] => https://www.arrowstreet.com/portfolio/brooke-charter-high-school/arrowstreet_brookehs_web_05/ [alt] => [author] => 120 [description] => [caption] => [name] => arrowstreet_brookehs_web_05 [status] => inherit [uploaded_to] => 26264 [date] => 2017-05-25 18:05:23 [modified] => 2018-12-17 19:52:30 [menu_order] => 0 [mime_type] => image/jpeg [type] => image [subtype] => jpeg [icon] => https://www.arrowstreet.com/wp-includes/images/media/default.png [width] => 1350 [height] => 814 [sizes] => Array ( [thumbnail] => https://cdn.arrowstreet.com/wp-content/uploads/2017/05/19220552/%C2%A9Arrowstreet_BrookeHS_web_05-500x337.jpg [thumbnail-width] => 500 [thumbnail-height] => 337 [medium] => https://cdn.arrowstreet.com/wp-content/uploads/2017/05/19220552/%C2%A9Arrowstreet_BrookeHS_web_05-900x543.jpg [medium-width] => 900 [medium-height] => 543 [medium_large] => https://cdn.arrowstreet.com/wp-content/uploads/2017/05/19220552/%C2%A9Arrowstreet_BrookeHS_web_05-768x463.jpg [medium_large-width] => 768 [medium_large-height] => 463 [large] => https://cdn.arrowstreet.com/wp-content/uploads/2017/05/19220552/%C2%A9Arrowstreet_BrookeHS_web_05.jpg [large-width] => 1140 [large-height] => 687 [1536x1536] => https://cdn.arrowstreet.com/wp-content/uploads/2017/05/19220552/%C2%A9Arrowstreet_BrookeHS_web_05.jpg [1536x1536-width] => 1350 [1536x1536-height] => 814 [2048x2048] => https://cdn.arrowstreet.com/wp-content/uploads/2017/05/19220552/%C2%A9Arrowstreet_BrookeHS_web_05.jpg [2048x2048-width] => 1350 [2048x2048-height] => 814 ) ) )