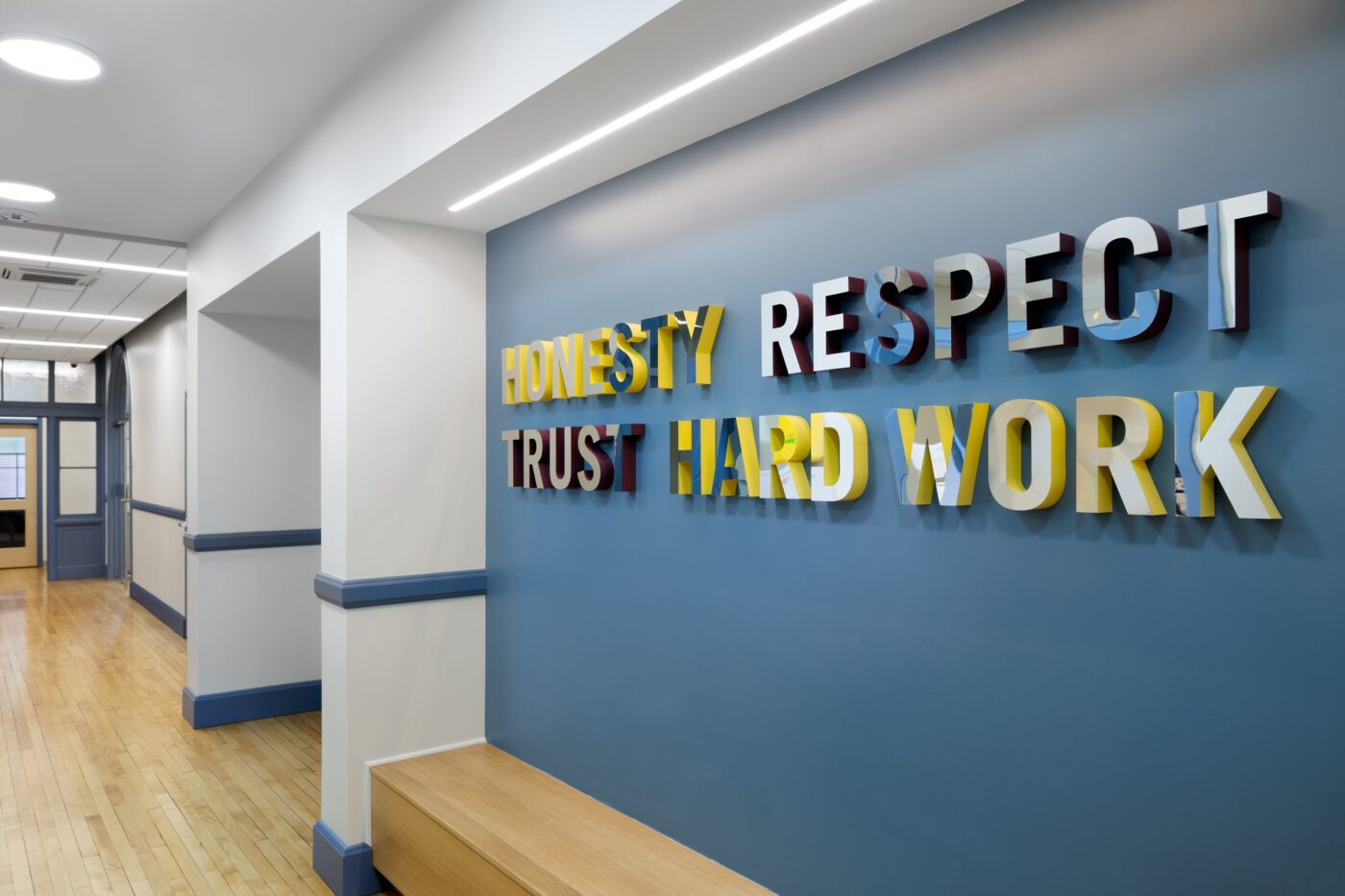 Global Learning Public Charter School partnered with Arrowstreet to convert a historic but underutilized former convent into a new STEAM education center to support their rigorous, award winning program for grades 5-12. The renovation combines state-of-the-art science laboratories with technology-filled classrooms to create an engaging learning center to inspire students, their families, and the New Bedford community. Our team of architects, interior designers, and graphic designers collaborated closely to ensure every aspect of the new building harmonized with the existing structure.
Drawing on the context of New Bedford, its community, and heritage, the design team conceived the theme "Mirrors and Windows". This vision aimed to inspire students by encouraging them to look outward at the possibilities that lie beyond the school's walls, while also reflecting their own potential, the school culture, and the vibrant city of New Bedford, Massachusetts. Environmental graphics were a key component for incorporating this story within the building's design.
Upon entering the school's lobby, visitors are greeted by an installation featuring global destinations. These destinations provide a window to the world of possibilities related to four areas of focus; arts & technology, math, science, and higher education. Students curated the list of destinations, fostering a sense of ownership and inspiration.
Mirrored faces adorn dimensional letters featuring the school's four core values: HONESTY, TRUST, RESPECT, and HARD WORK. These mirrored surfaces reflect the students themselves, emphasizing their integral role in upholding these values. Painted in the school colors of maroon and gold, the sides of the dimensional letters symbolize the unified school community.
In addition, unique donor and recognition plaques honor the individuals and organizations that played a vital role in making the STEAM Center a reality.
The graphics add an additional layer of depth to the school's overall design concept, creating meaningful opportunities for students, faculty, staff, and visitors to engage with the space. They embody the spirit of GLCPS, encouraging students to explore the world beyond and reflect on their own potential while fostering a strong sense of community and pride.
Project Details
Location
New Bedford, MA
Client/Owner
Global Learning Charter Public School
Year Completed
2023
Team
Photos by Ed Wonsek