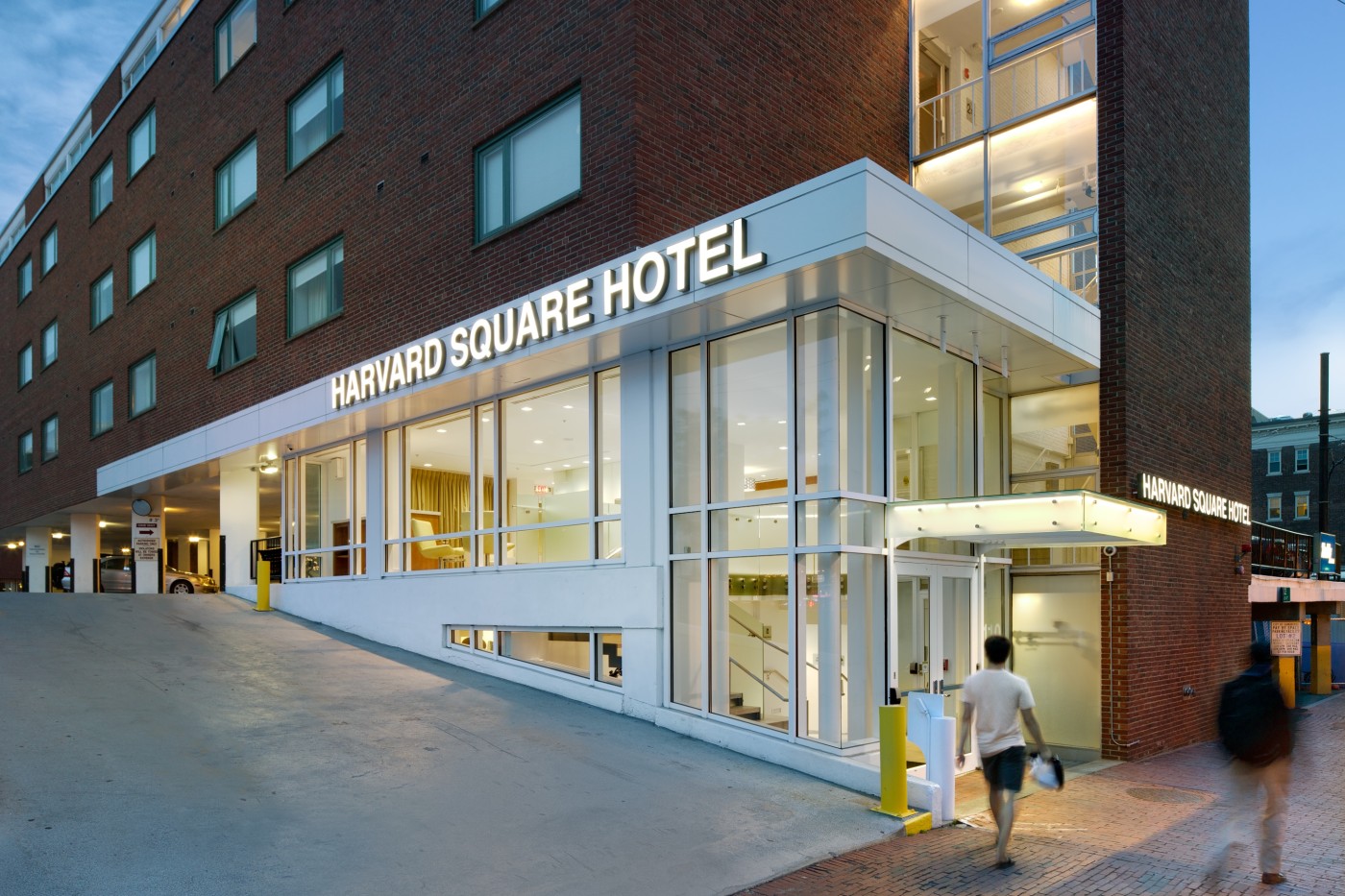 The design for the renovation of the hotel focuses on enhancing the guest experience and creating an oasis in the heart of Harvard Square. In the entry lobby a contemporary stone-and-glass stair invites guests up to the reception area. The mix of glass and natural stone create a welcoming atmosphere to the flexible space, which creates an area to relax and enjoy views of Harvard Square over coffee, a light meal, or an informal meeting. Guest rooms are fully transformed with new finishes to create a bright and airy environment. The design takes cues from Harvard's traditions and campus; lightly colored guest rooms are punctuated with crimson accents and oversized campus photographs.
Harvard Capital has worked with Arrowstreet repeatedly over the past 15 years and is currently in the process of its third redesign.
Project Details
location
Cambridge, MA
client/owner
Harvard Capital Planning and Project Management
categories
Hospitality
Quote
"This impressive transformation creates a sophisticated, modern boutique hotel ideally situated at the heart of Harvard Square. The hotel now truly reflects the sophistication of Harvard University, Harvard Square, and its many visitors."
– David Bois
Photos by Eric Roth Photography, Ed Wonsek ArtWorks Inc.
Architectural Plans / Process
Array ( [0] => Array ( [ID] => 27098 [id] => 27098 [title] => ©Arrowstreet_HarvardSq17_web01 [filename] => ©Arrowstreet_HarvardSq17_web01.jpg [filesize] => 623983 [url] => https://cdn.arrowstreet.com/wp-content/uploads/2015/03/19220321/%C2%A9Arrowstreet_HarvardSq17_web01.jpg [link] => https://www.arrowstreet.com/portfolio/harvard-square-hotel/arrowstreet_harvardsq17_web01/ [alt] => [author] => 120 [description] => [caption] => [name] => arrowstreet_harvardsq17_web01 [status] => inherit [uploaded_to] => 13353 [date] => 2017-09-14 17:42:38 [modified] => 2019-05-08 18:38:25 [menu_order] => 0 [mime_type] => image/jpeg [type] => image [subtype] => jpeg [icon] => https://www.arrowstreet.com/wp-includes/images/media/default.png [width] => 1350 [height] => 874 [sizes] => Array ( [thumbnail] => https://cdn.arrowstreet.com/wp-content/uploads/2015/03/19220321/%C2%A9Arrowstreet_HarvardSq17_web01-500x337.jpg [thumbnail-width] => 500 [thumbnail-height] => 337 [medium] => https://cdn.arrowstreet.com/wp-content/uploads/2015/03/19220321/%C2%A9Arrowstreet_HarvardSq17_web01-900x583.jpg [medium-width] => 900 [medium-height] => 583 [medium_large] => https://cdn.arrowstreet.com/wp-content/uploads/2015/03/19220321/%C2%A9Arrowstreet_HarvardSq17_web01-768x497.jpg [medium_large-width] => 768 [medium_large-height] => 497 [large] => https://cdn.arrowstreet.com/wp-content/uploads/2015/03/19220321/%C2%A9Arrowstreet_HarvardSq17_web01.jpg [large-width] => 1140 [large-height] => 738 [1536x1536] => https://cdn.arrowstreet.com/wp-content/uploads/2015/03/19220321/%C2%A9Arrowstreet_HarvardSq17_web01.jpg [1536x1536-width] => 1350 [1536x1536-height] => 874 [2048x2048] => https://cdn.arrowstreet.com/wp-content/uploads/2015/03/19220321/%C2%A9Arrowstreet_HarvardSq17_web01.jpg [2048x2048-width] => 1350 [2048x2048-height] => 874 ) ) [1] => Array ( [ID] => 27099 [id] => 27099 [title] => ©Arrowstreet_HarvardSq17_web02 [filename] => ©Arrowstreet_HarvardSq17_web02.jpg [filesize] => 571207 [url] => https://cdn.arrowstreet.com/wp-content/uploads/2015/03/19220321/%C2%A9Arrowstreet_HarvardSq17_web02.jpg [link] => https://www.arrowstreet.com/portfolio/harvard-square-hotel/arrowstreet_harvardsq17_web02/ [alt] => [author] => 120 [description] => [caption] => [name] => arrowstreet_harvardsq17_web02 [status] => inherit [uploaded_to] => 13353 [date] => 2017-09-14 17:42:39 [modified] => 2017-09-18 17:24:12 [menu_order] => 0 [mime_type] => image/jpeg [type] => image [subtype] => jpeg [icon] => https://www.arrowstreet.com/wp-includes/images/media/default.png [width] => 1350 [height] => 874 [sizes] => Array ( [thumbnail] => https://cdn.arrowstreet.com/wp-content/uploads/2015/03/19220321/%C2%A9Arrowstreet_HarvardSq17_web02-500x337.jpg [thumbnail-width] => 500 [thumbnail-height] => 337 [medium] => https://cdn.arrowstreet.com/wp-content/uploads/2015/03/19220321/%C2%A9Arrowstreet_HarvardSq17_web02-900x583.jpg [medium-width] => 900 [medium-height] => 583 [medium_large] => https://cdn.arrowstreet.com/wp-content/uploads/2015/03/19220321/%C2%A9Arrowstreet_HarvardSq17_web02-768x497.jpg [medium_large-width] => 768 [medium_large-height] => 497 [large] => https://cdn.arrowstreet.com/wp-content/uploads/2015/03/19220321/%C2%A9Arrowstreet_HarvardSq17_web02.jpg [large-width] => 1140 [large-height] => 738 [1536x1536] => https://cdn.arrowstreet.com/wp-content/uploads/2015/03/19220321/%C2%A9Arrowstreet_HarvardSq17_web02.jpg [1536x1536-width] => 1350 [1536x1536-height] => 874 [2048x2048] => https://cdn.arrowstreet.com/wp-content/uploads/2015/03/19220321/%C2%A9Arrowstreet_HarvardSq17_web02.jpg [2048x2048-width] => 1350 [2048x2048-height] => 874 ) ) )