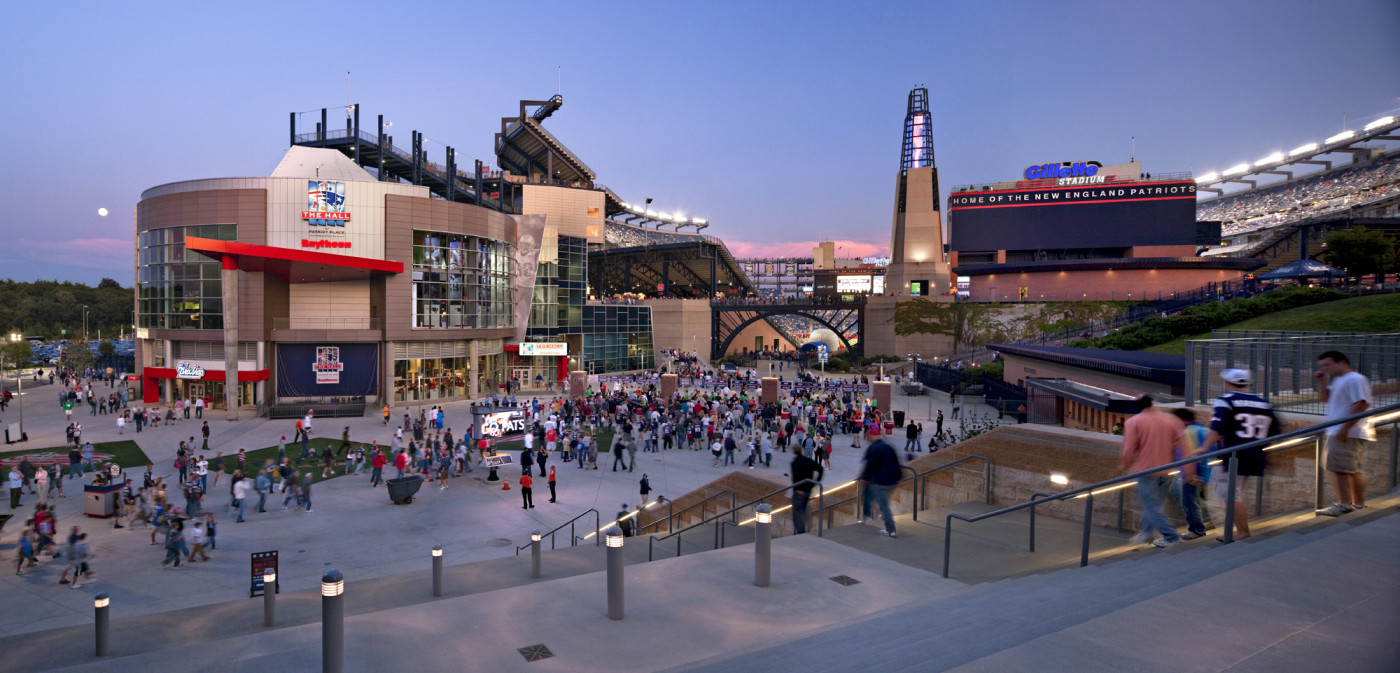 The owners of the world champion New England Patriots NFL team asked Arrowstreet to help them add four-season activity to the 450-acres around their stadium. Arrowstreet designed a retail and entertainment destination that has a unique sense of place. Totaling over one million square feet, this mixed-use pedestrian friendly development includes a sports-focused health care facility, a 200-room hotel, office space, restaurants, a flagship theater for National Amusements, and major national retailers, such as Bass Pro Shops Outdoor World. As part of the new Patriot Place lifestyle center, a 54,500 sf museum gives Patriots fans a unique venue to relive and celebrate great moments and great players. The Hall takes guests through New England Football history – the Patriots, college, and high school teams – utilizing cutting-edge video and audio. It also serves as a Hall of Fame for current and future members.
---
Related Services: Graphic Design
Project Details
location
Foxborough, MA
client/owner
NPP Development LLC & The Kraft Group
size
1.3 million SF
Team
Awards
Boston Business Journal Green Business Summit
Green Business Award for Design, 2010
Quote
We are proud to develop a lifestyle center with the scope and size of Patriot Place. It will revolutionize the shopping and dining experience for millions of visitors each year.
-Robert Kraft, Chairman and CEO of The Kraft Group
Photos by Robert Benson Photography, Ed Wonsek ArtWorks Inc.
Architectural Plans / Process
Array ( [0] => Array ( [ID] => 13212 [id] => 13212 [title] => sITE aERIAL.ai [filename] => PatriotPlace_02.jpg [filesize] => 1718689 [url] => https://cdn.arrowstreet.com/wp-content/uploads/2015/03/19223922/PatriotPlace_02.jpg [link] => https://www.arrowstreet.com/portfolio/patriot-place/site-aerial-ai/ [alt] => [author] => 147 [description] => [caption] => [name] => site-aerial-ai [status] => inherit [uploaded_to] => 13193 [date] => 2015-03-13 14:18:13 [modified] => 2015-03-13 14:18:13 [menu_order] => 0 [mime_type] => image/jpeg [type] => image [subtype] => jpeg [icon] => https://www.arrowstreet.com/wp-includes/images/media/default.png [width] => 1200 [height] => 902 [sizes] => Array ( [thumbnail] => https://cdn.arrowstreet.com/wp-content/uploads/2015/03/19223922/PatriotPlace_02-500x337.jpg [thumbnail-width] => 500 [thumbnail-height] => 337 [medium] => https://cdn.arrowstreet.com/wp-content/uploads/2015/03/19223922/PatriotPlace_02-900x677.jpg [medium-width] => 900 [medium-height] => 677 [medium_large] => https://cdn.arrowstreet.com/wp-content/uploads/2015/03/19223922/PatriotPlace_02.jpg [medium_large-width] => 768 [medium_large-height] => 577 [large] => https://cdn.arrowstreet.com/wp-content/uploads/2015/03/19223922/PatriotPlace_02.jpg [large-width] => 1140 [large-height] => 857 [1536x1536] => https://cdn.arrowstreet.com/wp-content/uploads/2015/03/19223922/PatriotPlace_02.jpg [1536x1536-width] => 1200 [1536x1536-height] => 902 [2048x2048] => https://cdn.arrowstreet.com/wp-content/uploads/2015/03/19223922/PatriotPlace_02.jpg [2048x2048-width] => 1200 [2048x2048-height] => 902 ) ) [1] => Array ( [ID] => 13213 [id] => 13213 [title] => PatriotPlace_04 [filename] => PatriotPlace_04.jpg [filesize] => 8448579 [url] => https://cdn.arrowstreet.com/wp-content/uploads/2015/03/19223921/PatriotPlace_04.jpg [link] => https://www.arrowstreet.com/portfolio/patriot-place/patriotplace_04/ [alt] => [author] => 147 [description] => [caption] => [name] => patriotplace_04 [status] => inherit [uploaded_to] => 13193 [date] => 2015-03-13 14:18:28 [modified] => 2015-03-13 14:18:28 [menu_order] => 0 [mime_type] => image/jpeg [type] => image [subtype] => jpeg [icon] => https://www.arrowstreet.com/wp-includes/images/media/default.png [width] => 4731 [height] => 3395 [sizes] => Array ( [thumbnail] => https://cdn.arrowstreet.com/wp-content/uploads/2015/03/19223921/PatriotPlace_04-500x337.jpg [thumbnail-width] => 500 [thumbnail-height] => 337 [medium] => https://cdn.arrowstreet.com/wp-content/uploads/2015/03/19223921/PatriotPlace_04-900x646.jpg [medium-width] => 900 [medium-height] => 646 [medium_large] => https://cdn.arrowstreet.com/wp-content/uploads/2015/03/19223921/PatriotPlace_04.jpg [medium_large-width] => 768 [medium_large-height] => 551 [large] => https://cdn.arrowstreet.com/wp-content/uploads/2015/03/19223921/PatriotPlace_04-1400x1005.jpg [large-width] => 1140 [large-height] => 818 [1536x1536] => https://cdn.arrowstreet.com/wp-content/uploads/2015/03/19223921/PatriotPlace_04.jpg [1536x1536-width] => 1536 [1536x1536-height] => 1102 [2048x2048] => https://cdn.arrowstreet.com/wp-content/uploads/2015/03/19223921/PatriotPlace_04.jpg [2048x2048-width] => 2048 [2048x2048-height] => 1470 ) ) [2] => Array ( [ID] => 13214 [id] => 13214 [title] => Full page fax print [filename] => PatriotPlace_05.jpg [filesize] => 1275021 [url] => https://cdn.arrowstreet.com/wp-content/uploads/2015/03/19223920/PatriotPlace_05.jpg [link] => https://www.arrowstreet.com/portfolio/patriot-place/full-page-fax-print/ [alt] => [author] => 147 [description] => [caption] => [name] => full-page-fax-print [status] => inherit [uploaded_to] => 13193 [date] => 2015-03-13 14:18:38 [modified] => 2015-03-13 14:18:38 [menu_order] => 0 [mime_type] => image/jpeg [type] => image [subtype] => jpeg [icon] => https://www.arrowstreet.com/wp-includes/images/media/default.png [width] => 1200 [height] => 713 [sizes] => Array ( [thumbnail] => https://cdn.arrowstreet.com/wp-content/uploads/2015/03/19223920/PatriotPlace_05-500x337.jpg [thumbnail-width] => 500 [thumbnail-height] => 337 [medium] => https://cdn.arrowstreet.com/wp-content/uploads/2015/03/19223920/PatriotPlace_05-900x535.jpg [medium-width] => 900 [medium-height] => 535 [medium_large] => https://cdn.arrowstreet.com/wp-content/uploads/2015/03/19223920/PatriotPlace_05.jpg [medium_large-width] => 768 [medium_large-height] => 456 [large] => https://cdn.arrowstreet.com/wp-content/uploads/2015/03/19223920/PatriotPlace_05.jpg [large-width] => 1140 [large-height] => 677 [1536x1536] => https://cdn.arrowstreet.com/wp-content/uploads/2015/03/19223920/PatriotPlace_05.jpg [1536x1536-width] => 1200 [1536x1536-height] => 713 [2048x2048] => https://cdn.arrowstreet.com/wp-content/uploads/2015/03/19223920/PatriotPlace_05.jpg [2048x2048-width] => 1200 [2048x2048-height] => 713 ) ) )