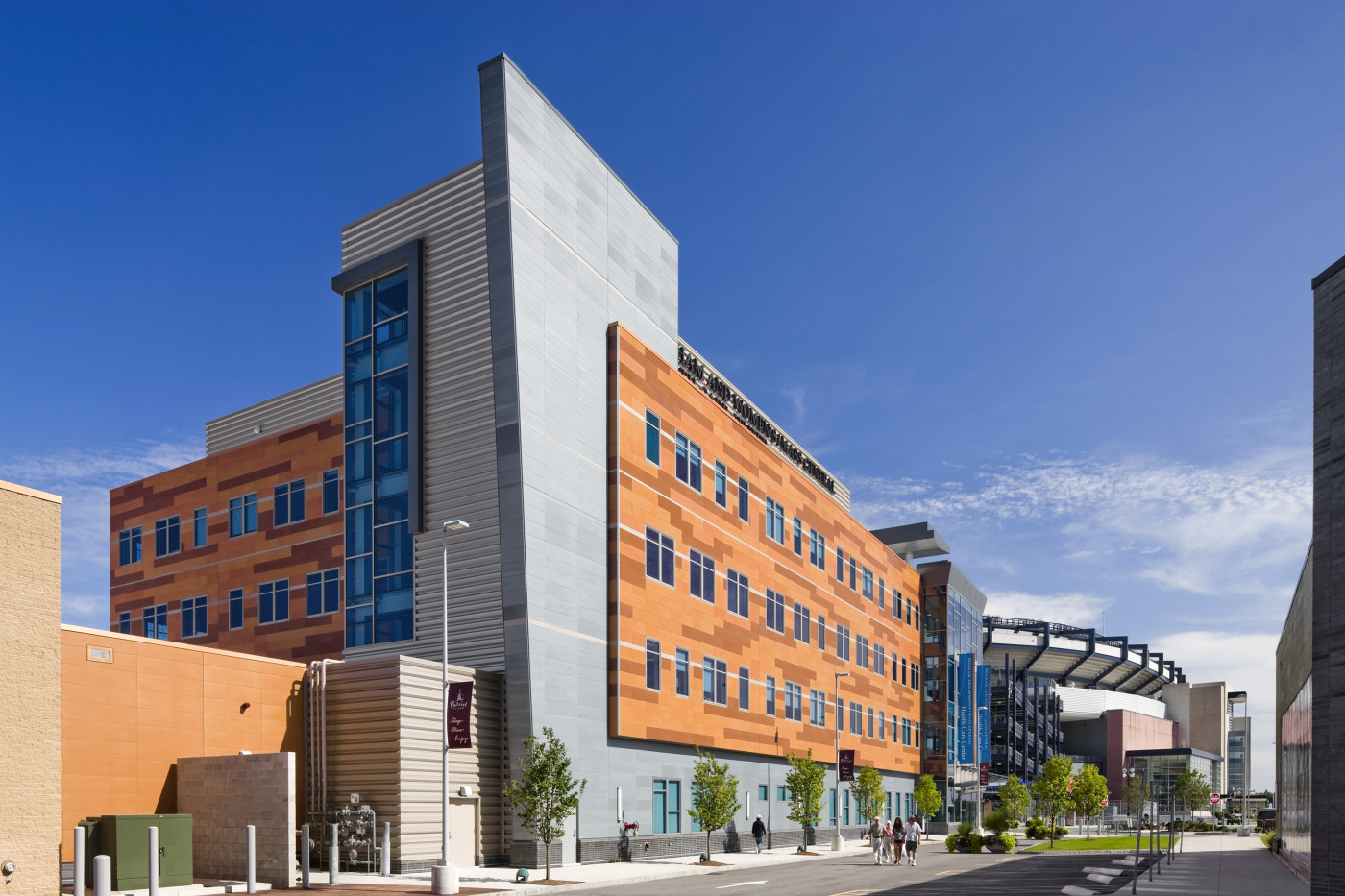 The owners of the world champion New England Patriots NFL team asked Arrowstreet to help them add four-season activity to the 450 acres around their stadium. As part of the new lifestyle center, Arrowstreet designed an 115,000-square-foot, 4-story, medical office facility for Partners HealthCare. The building provides height and density to create a diverse pedestrian-level experience. Employees and visitors benefit from the proximity of neighboring retail and restaurants.
Project Details
location
Foxboro, MA
client/owner
NPP Development LLC and The Kraft Group
size
115,000 SF
categories
Office/Lab
Related Projects
Photos by Ed Wonsek ArtWorks Inc.
Architectural Plans / Process
Array ( [0] => Array ( [ID] => 13187 [id] => 13187 [title] => xPatsMed-Aerial-NEW [filename] => xPatsMed-Aerial-NEW.jpg [filesize] => 2202717 [url] => https://cdn.arrowstreet.com/wp-content/uploads/2015/03/19223933/xPatsMed-Aerial-NEW.jpg [link] => https://www.arrowstreet.com/portfolio/partners-at-patriot-place/xpatsmed-aerial-new/ [alt] => [author] => 147 [description] => [caption] => [name] => xpatsmed-aerial-new [status] => inherit [uploaded_to] => 13174 [date] => 2015-03-13 14:09:29 [modified] => 2015-03-13 14:09:29 [menu_order] => 0 [mime_type] => image/jpeg [type] => image [subtype] => jpeg [icon] => https://www.arrowstreet.com/wp-includes/images/media/default.png [width] => 1500 [height] => 1127 [sizes] => Array ( [thumbnail] => https://cdn.arrowstreet.com/wp-content/uploads/2015/03/19223933/xPatsMed-Aerial-NEW-500x337.jpg [thumbnail-width] => 500 [thumbnail-height] => 337 [medium] => https://cdn.arrowstreet.com/wp-content/uploads/2015/03/19223933/xPatsMed-Aerial-NEW-900x676.jpg [medium-width] => 900 [medium-height] => 676 [medium_large] => https://cdn.arrowstreet.com/wp-content/uploads/2015/03/19223933/xPatsMed-Aerial-NEW.jpg [medium_large-width] => 768 [medium_large-height] => 577 [large] => https://cdn.arrowstreet.com/wp-content/uploads/2015/03/19223933/xPatsMed-Aerial-NEW-1400x1052.jpg [large-width] => 1140 [large-height] => 857 [1536x1536] => https://cdn.arrowstreet.com/wp-content/uploads/2015/03/19223933/xPatsMed-Aerial-NEW.jpg [1536x1536-width] => 1500 [1536x1536-height] => 1127 [2048x2048] => https://cdn.arrowstreet.com/wp-content/uploads/2015/03/19223933/xPatsMed-Aerial-NEW.jpg [2048x2048-width] => 1500 [2048x2048-height] => 1127 ) ) [1] => Array ( [ID] => 24766 [id] => 24766 [title] => Video_PatriotPlace_01 [filename] => Arrowstreet_PatriotPlace_01-1.jpg [filesize] => 673380 [url] => https://cdn.arrowstreet.com/wp-content/uploads/2015/03/19221044/Arrowstreet_PatriotPlace_01-1.jpg [link] => https://www.arrowstreet.com/portfolio/partners-at-patriot-place/arrowstreet_patriotplace_01-2/ [alt] => [author] => 43 [description] => [caption] => [name] => arrowstreet_patriotplace_01-2 [status] => inherit [uploaded_to] => 13174 [date] => 2017-01-17 18:07:57 [modified] => 2017-01-17 18:10:15 [menu_order] => 0 [mime_type] => image/jpeg [type] => image [subtype] => jpeg [icon] => https://www.arrowstreet.com/wp-includes/images/media/default.png [width] => 1200 [height] => 800 [sizes] => Array ( [thumbnail] => https://cdn.arrowstreet.com/wp-content/uploads/2015/03/19221044/Arrowstreet_PatriotPlace_01-1-500x337.jpg [thumbnail-width] => 500 [thumbnail-height] => 337 [medium] => https://cdn.arrowstreet.com/wp-content/uploads/2015/03/19221044/Arrowstreet_PatriotPlace_01-1-900x600.jpg [medium-width] => 900 [medium-height] => 600 [medium_large] => https://cdn.arrowstreet.com/wp-content/uploads/2015/03/19221044/Arrowstreet_PatriotPlace_01-1-768x512.jpg [medium_large-width] => 768 [medium_large-height] => 512 [large] => https://cdn.arrowstreet.com/wp-content/uploads/2015/03/19221044/Arrowstreet_PatriotPlace_01-1.jpg [large-width] => 1140 [large-height] => 760 [1536x1536] => https://cdn.arrowstreet.com/wp-content/uploads/2015/03/19221044/Arrowstreet_PatriotPlace_01-1.jpg [1536x1536-width] => 1200 [1536x1536-height] => 800 [2048x2048] => https://cdn.arrowstreet.com/wp-content/uploads/2015/03/19221044/Arrowstreet_PatriotPlace_01-1.jpg [2048x2048-width] => 1200 [2048x2048-height] => 800 ) ) )