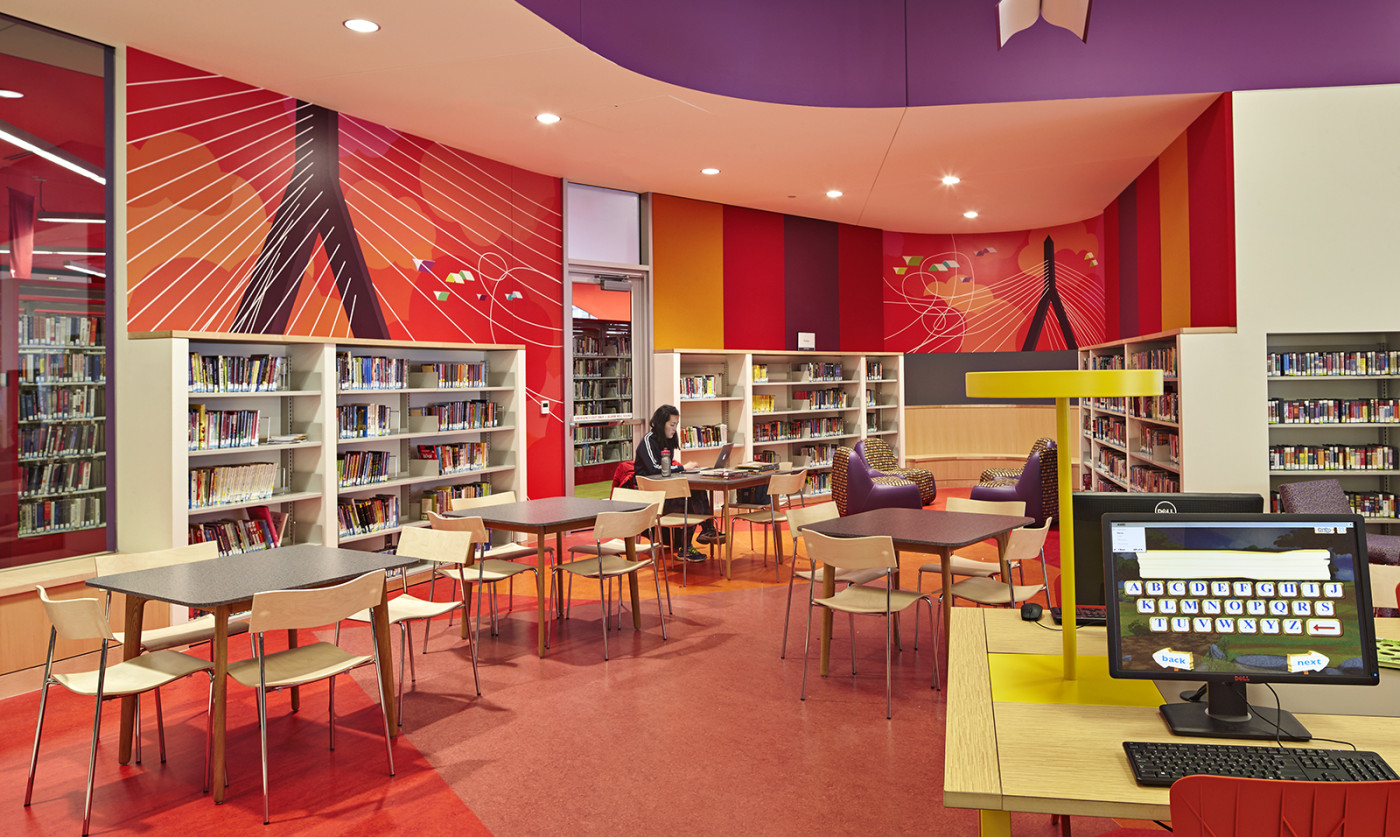 For the new Children's Library, five distinct zones reflect expanding programs and resources for Early Literacy, Storytime, Collections, "tweens" and programs to serve all ages. Bright, colorful graphics and interior design integrate elements found in celebrated Boston literature, public art and parks. Together, these features tie the experience of the library to the context and culture of the city. A gestural white line wraps around the space to thread together the different zones and experiences available within the library. The youngest users play alongside ducklings, frogs and swan boats. The Storytime space reflects the architecture of Boston's Back Bay with three-dimensional, kid-scaled rowhouses with stoops, doors, windows and integrated lights and bookshelves. A graphic of Curious George fishing in Boston Harbor greets visitors at the Program Room entrance. The "tween" space includes bookshelves and study areas beneath a graphic of the Zakim Bridge, a metaphor for the transition older kids make to Teen Central on the opposite side of the floor. The whimsical Children's Library has outpaced expectations for circulation, readers, program attendance and patron interactions while inspiring exploration, discovery and learning for its young users.
Project Details
location
Boston, MA
client/owner
Boston Public Library
City of Boston
architect
William Rawn Associates, Architects Inc.
categories
Graphics
Team
Awards
BOSTON PRESERVATION ALLIANCE
PRESERVATION ACHIEVEMENT AWARD, 2017
AIA/ALA
LIBRARY BUILDING AWARD, 2017
PRESERVATION MASSACHUSETTS
THE PAUL & NIKKI TSONGAS AWARD BIGGEST IMPACT-URBAN, 2017
BOSTON SOCIETY OF LANDSCAPE ARCHITECTS
MERIT AWARD FOR DESIGN, 2017
CONGRESS FOR THE NEW URBANISM
CHARTER AWARD, GRAND PRIZE, 2017
ASSOCIATION OF GENERAL CONTRACTORS (AGC)
BUILD NEW ENGLAND AWARD, 2017
ENR NEW ENGLAND
AWARD, 2017
CONSTRUCTION MANAGEMENT ASSOCIATION OF AMERICA
NEW ENGLAND PROJECT ACHIEVEMENT AWARD, 2017
ILLUMINATING ENGINEERING SOCIETY
SECTION AWARD, 2017
Photos by Robert Benson Photography